It's time to talk about sustainability and finance in RMG sector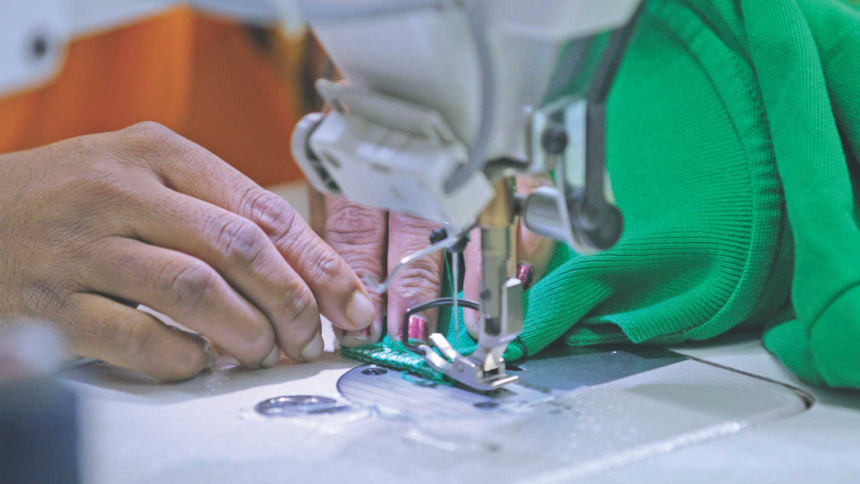 One thing that our industry people appear to be the best at is explaining, often in great detail, the problems and challenges that we face. The existing purchase practices are unfair and harming suppliers and their workers, we are told. Yes, we know that already. Fast fashion is harming the environment and leading to a surplus of poor-quality clothes, they say. We are aware of that, too. There is a "funding gap" in terms of supply chain upgrades and investment in sustainable garment production, we are informed. People have been telling us of all these for well over a decade. Garment workers are underpaid. Again, that's fairly obvious.
The latest report outlining our woes, but not really offering any meaningful and practical solutions, came out in the wake of the recently held UN Climate Change Conference (COP26). The report, the authors of which I will not name here, suggests that decarbonising global fashion supply chains to achieve a net zero fashion industry by 2050 will cost more than USD 1 trillion.
The report says 61 percent of the fund will be required to implement the "existing solutions," and the rest will be required to further develop, scale and implement new innovations. It says that investments should be focused on using renewable electricity and reducing coal dependence in supply chains, as well as using sustainable materials in fashion and finding options for extended use/recycling.
Most notably, as far as RMG suppliers are concerned, the report tells us that the current levels of financing are insufficient to succeed in decarbonising the industry before 2050. It is argued that the industry—that's us, the suppliers—is unlikely to achieve necessary transformation without a significant change in financing flows.
The report tells us that the USD 1 trillion fund that our industry needs to raise will come via financiers (debt and equity), manufacturers, brands, philanthropy, and governments.
USD 1 trillion is a nice round number, at least. With so many variables involved, so many different actors in play, the figure could easily have been double, and few would be in a position to question it. This figure seems quite arbitrary, but it will undoubtedly grab headlines.
A few thoughts pop up in my mind when reading reports like this, a great many of which have come out over the years. The first is that they are simply framing and rehashing a problem that the industry leaders all recognise—be it suppliers, buyers or other fashion industry stakeholders. The second thought is that these reports sell investment in sustainable supply chains as an "opportunity" quite often. In this case, the authors state that while an investment in excess of USD 1 trillion over the next 30 years is a huge amount, the majority of it is for projects that offer an attractive financial return on investment.
Really? For whom? In Bangladesh and other garment sourcing hubs, we have seen factories spending money on water- and energy-saving initiatives over the years and, yes, these do have a return, but a small one. It is also a simple fact that many factory owners struggle to even make small, incremental investments such as this.
In any case, to my knowledge, the investment required in Bangladesh as well as in supply chains globally is much greater. And I haven't seen investors queuing up to support RMG suppliers in Bangladesh to "green" their operations these past few years. Ask any garment manufacturer here about the challenges of getting access to finance for green investment. Yes, the money might be there, but accessing such finance is an onerous task. Moreover, things have become much, much harder since the pandemic broke out—many suppliers are still paying debts incurred after the huge downturn in business in 2020.
In terms of external investment, there have been various pilot initiatives over the years which typically involve a tripartite structure of factory, buyer and a third-party environmental non-profit entity, which can leverage public money for "green" projects over a certain period of time. Such initiatives are supposed to encourage and foster green investment, but I hear that such initiatives nearly always fall by the wayside as soon as the public money dries up. No one—certainly not the buyer or factory owner—has any desire to cover the funding of such work themselves.
We know there is a lack of capital to meet the needs of industrial upgrading required to future-proof our industry and make it more sustainable. With this in mind, it is time to move beyond framing the problem and onto actually developing clear, practical plans about how it will be tackled. We can't afford to have continued talking shops, which produce plenty of soundbites and nice corporate speak but do not move us any closer to where we want to be. The danger is that these same conversations will happen again in another five years' time, or even 10 years' time. It will be too late then if this status quo stays.
Coming back to the issue of poor purchase practices, I must say they are the root of all problems in our industry. We have all known this for years, and don't need another report to tell us so. Some mythical, outside investor is not going to come and save us all—of that we can be certain. This is a problem which, by and large, needs to be solved from within. The only real question is this: Who pays for it? Who pays to upgrade the supply chains? Is it the suppliers or the buyers, or both? And where and how do the government and other third parties come in?
These are the only questions I see as relevant moving forward. If we are going to have more talking shops, let's at least allow them to be about this issue where we can all have a frank, honest and transparent debate about how we are going to move our industry to where it needs to be.
We know the problems our industry faces. It's now time to talk in great detail about the solutions and set out clear, actionable goals about how those solutions can be achieved.
Mostafiz Uddin is the managing director of Denim Expert Limited, and the founder and CEO of Bangladesh Apparel Exchange (BAE) and Bangladesh Denim Expo.