Record economic growth and the tasks ahead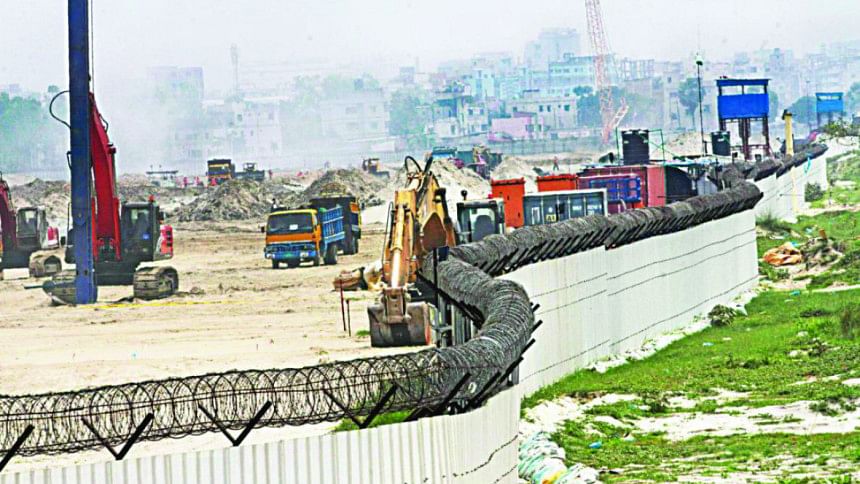 The 7.28 percent economic growth achieved in the last fiscal year, which the government has reported recently, is the second highest growth rate in Bangladesh's history. The country registered the highest growth of 9.6 percent in 1974, but it should be dealt with caution. The post-independence year of 1972 saw the highest negative growth of 14 percent, making the 1974 figure look exceptionally high since it rose from a very low base. If we ignore the 1974 figure, the country has earned 7-plus growth a total of five times—in 1978, 1981, 2007, 2016, and finally in 2017. And the 2017 figure is the highest among them. While this is a cause for celebration, this makes our planning for tomorrow tougher than ever before. 
Although the World Bank, IMF, and ADB may not be as optimistic, they all have to acknowledge that Bangladesh has entered a phase of moderately high-speed growth. The main challenge is to maintain the momentum in the coming years in order for the country to graduate to an upper-middle-income status by 2031, when per capita income would need to be greater than USD 4,000. Per capita income growth, which is roughly equal to GDP growth minus population growth, is more crucial to development. The population growth of 1.3 percent is taking a toll on our GDP growth, and the main policy task of the government is to bring the population growth down to 0.5 percent as soon as possible.
When a nation achieves a moderately high growth rate, the economic agents tend to behave desperately to scoop up profits however they can, even by damaging the balance of the ecosystem. The environment becomes a victim of the profit vultures. Ensuring the protection of the environment should be a top priority for the government. Maintaining a decent work-life balance is crucial to public health, which can help increase labour productivity in the coming days. Due attention should be given to updating knowledge and skills. And improving the quality of higher education is the best strategy to ensure a steady performance in public health, labour productivity, technology, and the environment. Bangladesh's performance in the knowledge economy sector is frustrating and calls for further government investment in modernising the education sector. Otherwise, the 7-plus growth is doomed to failure. 
The government would do justice by making the institutions target 8-plus growth. The financial sector is heading toward uncertainties and encouraging default behaviour. Depoliticising the institutions and bringing a professional ambience in the banking sector are essential for the record growth to continue. The regulators, including the central bank and the securities and exchange commissions, must be given more independence to act more professionally and productively. 
The justice system should be divided based on the nature of functions such as financial matters, family issues, infrastructure regulation, traffic rules, domestic businesses, and external affairs.  Otherwise, everything will remain tangled in British-style formalities and sluggishness. Constant brainstorming for reforms must be welcome, and private think-tanks as well as members of the Bengali diaspora should be engaged in strategizing an investment boom for the country. A 29-percent investment rate can never achieve 8 percent growth, which will need at least 34 percent investment regularly in the medium run.
Let us also think if we are encouraging savings too much. And this is true, reflecting a saving rate of 31 percent being higher than the investment rate. This tendency will bring idleness in the culture of entrepreneurship. Building modern infrastructure needs more outlook than funds. There should also be the courage to carry out "creative destruction." If the old airport is a hindrance to modern businesses, we need to build another by replacing it.      
The fact is, a fiscal reform is crucial to maintaining this record growth. A country with 7-plus growth along with a tax-GDP ratio of as low as 10 percent is a wonder of the world. And this "miracle" is destined to die. We're lucky that the main impetus behind the growth has come from private enterprises as well as public spending on infrastructure. That said, our public infrastructure spending is 2.87 percent of GDP, which is much lower than India's almost 5 percent and Vietnam's 10 percent. Infrastructural bottlenecks are another barrier to growth acceleration. Given the low tax-GDP ratio and weak budgetary capacity of the government, building adequate infrastructure remains a challenge unless the projects are competitively outsourced to global construction agencies. The responsibility of tax collection should be given to a full ministry, and tax offices should be established at Upazila levels, targeting 20 percent tax-GDP ratio in five years. 
A new department for infrastructure administration can be helpful. If you buy a new car and do not go for its servicing, the vehicle may fall into disrepair any time soon, making your initial investment a haemorrhage of resources. This is exactly what is happening in many of our mega infrastructure projects. I think the initial plan for any project should include at least 30 percent of its budget for infrastructure administration. More magistrates and a special police force are needed to oversee vehicular movements and to stop anarchy in the transport sector. 
At a growing stage of an economy, two sectors, transport and construction, play a crucial role in accelerating growth. Unfortunately, these two sectors in Bangladesh are at the root of public sufferings. As a result, their growth compared to the size of GDP has remained stunted. The shares of both construction and land transport sectors were 6 percent of the GDP in 2000. Despite one and a half decades of impressive sectoral transformation in the country, these two sectors contributed only 8 percent to the GDP in 2016. As different surveys showed, the sectors are the highest sources of corruption, requiring massive reforms.
Agriculture's growth of close to 3 percent, industry's growth of slightly over 10 percent, and services' growth of 7 percent jointly made the total economic growth of 7.3 percent. All the growth figures are acceptable except for the industry which can, and should, grow over 15 percent to help the country reach the upper-middle-income status by 2031. We need to change our attitude to make this happen. Induction of meritocracy and expertise instead of just obedience in all institutions must be ensured if the government really wants to fix the institutions for sustained growth to advance the nation.
Biru Paksha Paul is an associate professor of economics at a US university.
Email: [email protected]