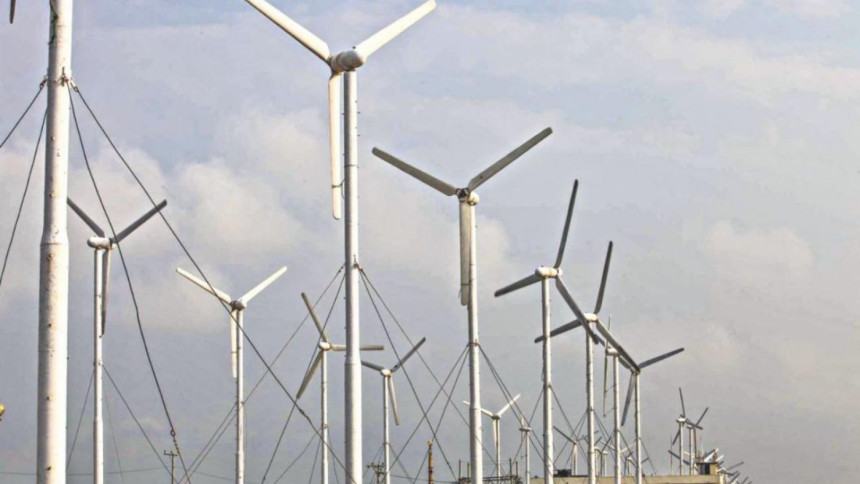 The American National Renewable Energy Laboratory (NREL) has found that we have potential pockets of wind that can be used to make energy. A comprehensive wind-mapping exercise has been done on a nationwide scale and what we learn from that is the average wind flow in nine places is between 5.0 to 6.0 metres per second.
Now that is very good news for Bangladesh, because for commercial production of wind power, one needs wind speed of 2.3 to 2.5 metres per second. If we look at the advancement of wind turbine technology (and China is number 1 in this area), it is now possible for a single wind turbine to produce up to 5MW (megawatts) of electricity. What is even more interesting is that with the large-scale adoption of wind turbines in countries like the Netherlands and elsewhere, the cost per unit of turbines has steadily declined, and this trend, in all probability, will continue.
Since Bangladesh is projecting to produce about 1,153MW from wind by 2021, the fact that we now have so many areas where wind turbine farms can be set up comes as a breath of fresh air. Energy from wind is clean, is pollution-free and does not produce any greenhouse gases (GHG). If we look in our neighbourhood, the Modi government aims to install 175GW (gigawatts) of renewal energy capacity by 2022 (of course, not all of it will come from wind, but the component is there). According to a report in this paper, published on November 11, "the government has targeted to generate 2,470 megawatts of electricity by 2021 through renewable sources—1,153MW of which was supposed to have been achieved by this year. In reality, the government is nowhere near hitting that target." That unfortunately, is the truth. The study by NREL states: "When proper filters are applied to screen out undesirable land for wind development, it suggests that Bangladesh's 10 percent renewable target by 2021 is achievable."
Unfortunately for us Bangladeshis, the potential for wind remains largely untapped. We chose to turn our short-term solution to meeting energy needs (oil-fired power plants) into a long-term mainstay plan to generate a significant share (about 40 percent of total power) of annual power needs (regardless of the huge expense that entailed). The government has been in power for nearly a decade and the 1MW wind turbines set up in Kutubdia in 2014 were allowed to churn out power half-heartedly. They were never run at full capacity because the focus was elsewhere. All this of course is history. Wind turbine technology has matured markedly during this time and unit costs have also gone down substantially. We need to think beyond the two wind-powered plants that produce a total of 1.9MW.
As we stand near the end of 2018, is the government plan to have 1,370MW of wind power by 2021 feasible? NREL's report titled "Assessing the Wind Energy Potential in Bangladesh" does point out that there is more than 20,000 square km of land with a gross wind potential of more than 30,000MW in Bangladesh (at wind speeds of 5.75-7.75 m/s). But for any of this to happen, we need attitudes to change at the policy level. There are diverse and entrenched interest groups who are against everything that is renewable. But as we are finding out (the hard way), importing energy is on the costly side and not necessarily what we can afford. The recent hiccup of a pipeline transporting LNG has taken some of the sheen off this imported fuel as Petro Bangla had to cough up USD 232,000 a day (according to a report in The Financial Express on November 6) despite being unable to take delivery (because that's what the contract says). Ultimately, the shipment had to be cancelled because of delays in repairing the pipeline.
In an energy-hungry nation like ours, every megawatt counts, and even if a fraction of this power comes from wind, where is the harm? Wind is free and any additional megawatts we generate through wind will only help ease the chronic power shortage in the backdrop of increasing demand and dwindling natural gas reserves. In an earlier article, I had written about the advancements in renewables that China has been making, and there it was stated that China intends to invest up to USD 360 billion by 2020. Indeed, according to the Global Wind Report 2017, China has been the "driver of global market growth for most of the last decade...largest overall market for wind power since 2009." Till 2017, China had installed 19.7GW of capacity, which at the time was more than double any other market.
Policymakers now have a wind roadmap in their hands. What they will do with it of course is their business. Some of the recommendations that have been put forward in the study are that the concerned ministry should start analysing the installation and financing costs for wind energy vis-à-vis the current 20-year forecasts for Bangladesh's cost of power. Sustainable and Renewable Energy Development Authority (SREDA) officials believe that such an exercise would give both policymakers and potential investors a clear idea of whether wind is the way forward for large-scale power generation from renewables. If we look at where China is today, the answer will be in the positive. If we look at India's experience of installing 4GW of new wind power capacity in 2017, then the answer will also be yes.
---
Syed Mansur Hashim is Assistant Editor, The Daily Star.
---
Follow

The Daily Star Opinion

on Facebook for the latest opinions, commentaries and analyses by experts and professionals.
To contribute your article or letter to The Daily Star Opinion, see our

guidelines for submission

.
---