Agility Global Logistics Index
Time to improve our logistics potential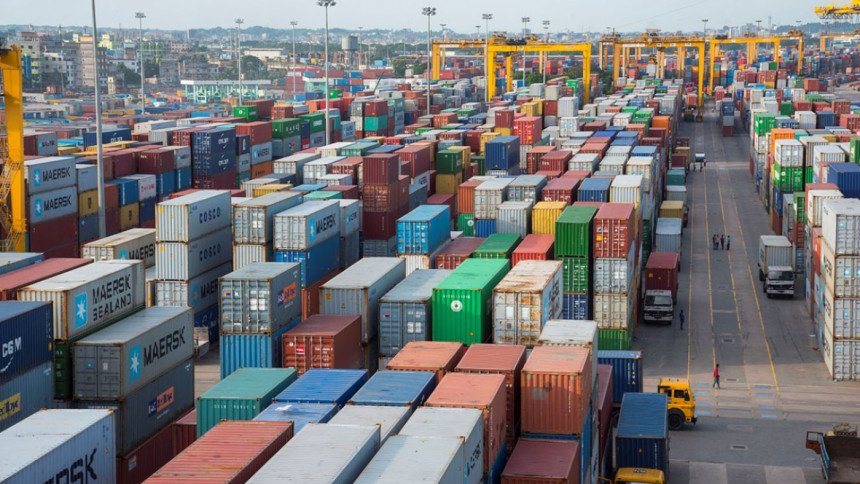 A new global report titled "Agility Emerging Markets Logistics Index" unveiled a week ago ranks Bangladesh at 39th position out of 50 emerging economies. The survey respondents comprised more than 500 logistics professionals who gave their opinion on the prospects and challenges of emerging markets in the years ahead. Agility, one of the leading logistics companies in the world, has been conducting this global survey since 2009. The key measures used to put the report together were based upon three broad categories: domestic logistics, international logistics and business fundamentals.
Bangladesh's score got dragged down in the business fundamentals sub-index that deals with some major issues like regulatory environment, contract enforcement and anti-corruption frameworks, etc. Unfortunately for the country, the report blames "weak frameworks covering finance, property rights and contract enforcement." Indeed, we did not score well on the anti-corruption frameworks.
While Bangladesh has been highlighted as one of the top performers in Asia over the last decade, with consistent annual growth rates averaging 6.3 percent, respondents also point out concerns over political uncertainty and "a struggling domestic banking system" as potential red flags for future growth. Low wage has been the primary driving factor in attracting foreign investment to the country over the years but that scenario has changed with the upward movement in wages—posting the highest climb in December 2018 with the introduction of a new wage board in the apparel sector, recording a 51 percent hike. The challenge, therefore, will be to make progress in other areas to keep Bangladesh as a preferred destination for low cost manufacturing.
From a logistical point of view, infrastructure and its efficient operation are major cost barriers. As pointed out by the president of Bangladesh Freight Forwarders Association (BAFFA), in a recent report published in The Financial Express on March 10, "deficiency in infrastructure ultimately increases the cost of doing business, which badly impacts exports." This was in response to the lack of capacity and facilities in the country's sea ports and airports. Indeed, there have been calls to privatise these key facilities in order to cut down on alleged graft and boost efficiency, which would ultimately result in the lowering of costs of moving freight and reduce lead times.
When we talk about privatisation, it does not mean selling off national key-point installations to private parties, domestic or otherwise. What we learn from the 2018 Agility Emerging Markets Logistics Index is that: "Many reforms are needed… The government is planning to cut red tape so that it takes seven days to start a business, rather than 19.5, and reduce the time it takes for a company to connect to the national grid to 28 days, from 404." These are bottlenecks we seldom like to talk about. The snail's pace at which reforms take place and the general apathy to tackle graft remain major issues for reducing cost of doing business in the country.
The continued debacles being experienced by the country's biggest international airport leaves much to be desired in terms of security. Beyond security and the threat these events pose to international ranking, the gross inefficiency in handling cargo, safety and lead times are mindboggling. The same parameters hold true for our international sea ports. Privatisation of ground handling both at the airport and sea ports is something that the policymakers need to ponder upon because as things stand now, the slow pace of cargo movement coupled with hidden charges (according to logistics companies) are all part of "extra" costs that are passed on to exporters—adding to the cost of doing business in Bangladesh.
Only when we put an end to our archaic and monopolistic idea of handling logistics in our sea and airports can there be real improvements in efficiency, which will result in faster imports and exports. Competition will also lead to competitive rates where multiple agents will vie to get business from logistics companies. This isn't a new idea. Other countries in the region, like India, have done it and reaped the benefits. As Bangladesh moves onto a trajectory of higher growth rates and the economy expands, where the country braces for multibillion-dollar foreign direct investments and the ground is prepared for some 100 special economic zones, we will need to shift to a higher gear resulting in a scenario where efficiency will dictate operations at major ports of entry and exit, be it air or sea.
---
Syed Mansur Hashim is Assistant Editor, The Daily Star.
---
Follow

The Daily Star Opinion

on Facebook for the latest opinions, commentaries and analyses by experts and professionals.
To contribute your article or letter to The Daily Star Opinion, see our

guidelines for submission

.
---