The poverty we choose to ignore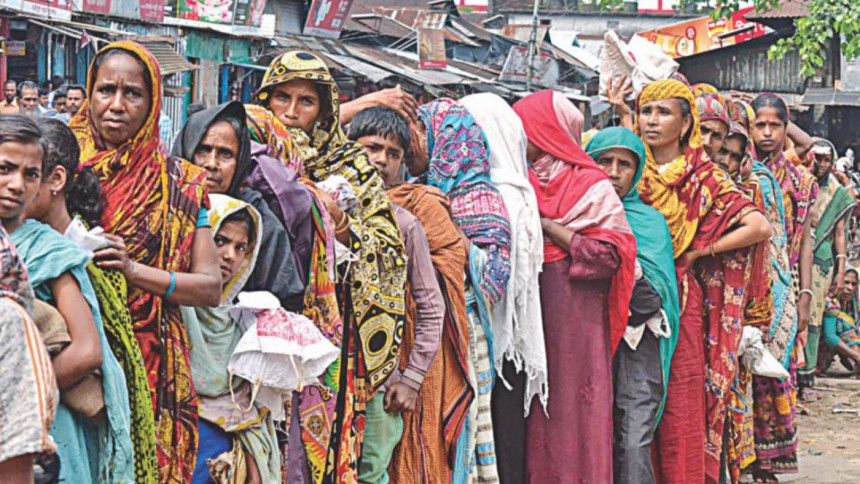 All the focus of late has been on Bangladesh's upcoming graduation from the group of the Least Developed Countries (LDCs) to the lower middle-income group. Indeed, we have much to be proud of. As pointed out by a group of independent experts who form the Committee for Development Policy (CDP), which reports to the United Nations Economic and Social Council (ECOSOC), Bangladesh has achieved this qualification by fulfilling the main criteria, i.e. per capita income, human assets and economic vulnerability. And if in the next review—which is due in 2021—we can maintain the benchmarks, then full graduation will come around in 2024. Progress is being made on a number of regional connectivity arrangements like the Bangladesh-India-Nepal (BIN) and then there is the One-Belt-One-Road (OBOR) initiative. Upgrading the domestic communication infrastructure is also at various stages of completion including the much-needed Metro Rail (with Japanese assistance); the country has just signed a framework for the future development of an underground rail service. These are all facts.
What is also a fact is that the rich-poor divide is expanding at a progressive rate. If we look at a recent government survey report titled "Household Income and Expenditure Survey (HIES) 2016", published by the Bangladesh Bureau of Statistics (BBS), the poorest five percent had 0.78 percent of the national income in 2010, and now that share has come down to 0.23 percent. By contrast, the richest five percent, who had 24.61 percent of the national income in 2010, managed to increase their share to 27.89 percent in 2016 (over the span of six years). Yes, Bangladesh is on track to graduate as a lower middle-income country but it is also on a list of countries which have significant numbers of people who are categorised as the "ultra-poor".
When we look at the World Bank report titled "Poverty and Shared Prosperity 2018: Piecing together the poverty puzzle," it says that many countries that have suffered high poverty numbers (like Bangladesh) are moving towards lower middle-income country status. "With this growth, most of the ultra-poor have also moved from being in low-income countries to being in middle-income countries, and nearly two-thirds of the world's poor people now reside in middle-income countries." And this is where it gets interesting: as more and more countries move from the low to mid-income status, so does the population share of poverty. "As of 2015, 5.5 billion people lived in middle-income countries as opposed to about 640 million in low-income countries, explaining why most of the ultra-poor— over 400 million—now reside in lower middle-income countries." While Bangladesh has, undoubtedly, proven the international pundits wrong by refusing to suffer the stigma of "an international basket case", we find ourselves in an unenviable position where "half of the people living in extreme poverty in 2015 can be found in just five countries," including Bangladesh, India, and Sub-Saharan Africa (Democratic Republic of Congo, Ethiopia and Nigeria).
While we deserve favourable ratings from the rating agencies on the performance of the economy, Bangladesh also topped the list of countries that saw the quickest growth in the number of ultra-wealthy people between 2012 and 2017 (according to the World Ultra Wealth Report 2018), where the number of ultra-high-net-worth (UHNW) individuals rose by 17.3 percent during the stated period. To earn the title of UHNW, an individual must have investable assets worth a minimum of USD 30 million, excluding personal assets and property like primary residence, collectibles and consumer durables.
As pointed out by the lead economist of the World Bank (Bangladesh) in a recent talk with Prothom Alo, the old model of tackling poverty was to increase GDP growth rate, the rationale being that higher growth rates would automatically reduce poverty, and the country has had a sustained six-to-seven-percent growth rate in the last decade. Unfortunately, with this growth, we have also seen increased inequality and a decline in the rate of poverty reduction. While the government is gearing up plans to eliminate poverty by 2030, it is nearly not as simple as that. For poverty to be reduced drastically, poor people's participation in economic development has to be increased.
That is not going to fall out of the sky. The government has to give special emphasis on increasing employment of the poor people. Agricultural productivity has to be increased, which will lead to a corresponding increase in labour wages. Looking beyond agriculture, the poor need to be brought under the purview of better education and quality healthcare so that they may join the labour force in greater numbers. For Bangladesh to reach the goal of "zero poverty", it is estimated that by 2030, Bangladesh will have to reduce poverty rate to three percent over the next decade, and as per BBS data, today the country has 11.3 percent extremely poor people. This is a huge challenge, so pragmatic policies will have to be adopted to prepare this large portion of the population to graduate from extreme poverty to a stage where they can enter the workforce as active players in the country's economic development.
---
Syed Mansur Hashim is Assistant Editor, The Daily Star.
---
Follow

The Daily Star Opinion

on Facebook for the latest opinions, commentaries and analyses by experts and professionals.
To contribute your article or letter to The Daily Star Opinion, see our

guidelines for submission

.
---