Death by water
In Bangladesh, too many children die every year by drowning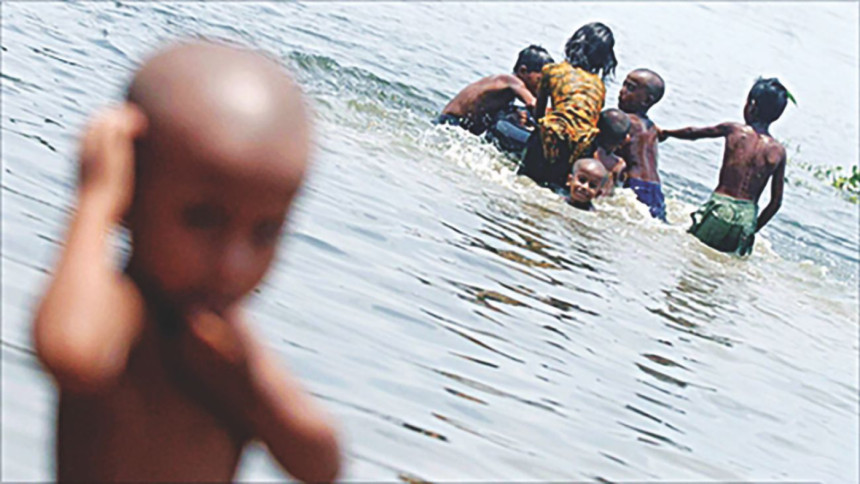 Four-year-old Sohel (not his real name) used to live in a small village in Sherpur. A bundle of energy, he was the apple of everyone's eyes in his family. Right after Eid-ul-Adha this year, Sohel's elder brother Noman went to the city to buy a refrigerator to store cooked food for Sohel who liked eating frequently. Noman came home with the appliance, only to find that his dear brother had drowned in a nearby ditch the day before. His distraught family will continue to imagine what a promising young man Sohel could have grown up to be. Sohel's unexpected death could have been prevented with increased supervision and more awareness.
There have been hundreds of cases of children drowning documented by NGOs. Strangely, drowning, not malnutrition, is the single largest killer of children (aged one to five years) in Bangladesh. It claims the lives of 30 children (aged under five) every day and occurs within 20 metres of the home, especially when children are left unsupervised. Children of the abovementioned age group are toddlers or at the pre-school stage. Nearly every household in rural areas has a pond, some a few feet deep (and some deeper than five feet). This puts children at risk because they run around, in and out of the homestead. It is not possible for parents to keep a watchful eye on them round the clock. Men work in fields or are involved in other professions. Some women are engaged outside the home whilst the bulk is engaged in household chores. It is easy for a child to slip out of sight and fall into a ditch or a pond and most children that young do not know how to swim to safety (because small children can drown even in buckets of water).
The global scenario places drowning as the third leading cause of death. Interestingly, over 90 percent of drowning fatalities take place in low- and middle-income countries. Since Bangladesh is situated in the deltaic plains, we have water all around us, including our homesteads (in rural areas particularly). Water is life, water is sustenance but ironically it is also the cause of death for the most vulnerable among us—our children. According to the International Drowning Research Centre (IDRC), an offshoot of the research agency Centre for Injury Prevention and Research (CIPRB) located in Bangladesh, "age is a major risk factor for drowning. The highest rates of fatal drowning are found in the 1-4 year age group, when children start to walk and venture away from supervision."
Sadly, the traditional rescue response to incidents of drowning is often counterproductive. As found by IDRC research, the practice may even limit the chance of survival, sometimes even causing death. For example, the body of the rescued child is laid straight on the ground and the whole body is rubbed and covered by ashes and/or salt. It is thought that the ash/salt can absorb the water and keep the body warm. Rotten food (commonly rotten banana leaf), uncooked eggs or kochur doga (arum stem) are forced into the child's mouth to induce vomiting which is believed to clear out water from the stomach.
Needless to say, though well-intentioned, such archaic practices are harmful. Instead, as soon as the child is rescued from the water, the bystander or rescuer needs to check if the child is breathing and provide CPR (either cardio pulmonary resuscitation help arrives or the child is rushed to the nearest health centre for assistance). Schools in our country should include CPR and first-aid training in their curriculum to equip the students to respond to emergency situations. The community members should also be encouraged to receive CPR training from their local fire service office or the Red Crescent Society. Some NGOs such as CIPRB also offer CPR training.
A Bloomberg Philanthropies funded research programme carried out together by Johns Hopkins University and two local research agencies (CIPRB and icddr,b) has proven that community daycares can reduce drowning deaths of children in Bangladesh by up to 70 percent, among other injuries. Further, the nurturing care framework developed by the World Bank Group, Unicef and WHO identifies inadequate supervision (78 percent) as a threat to development of young children in Bangladesh. Unfortunately, wide-scale daycare services are unavailable in Bangladesh. While one hears of some upscale daycare services in Dhaka for children of higher income groups or some government-run services in district towns, opportunities for poor families, especially in rural areas, are few and far between. Of late, many of the garment factories are including daycare facilities for the children of their workers as a part of compliance but a recent survey conducted among 10 factories by Phulki, a non-profit organisation that works with disadvantaged communities, questions the quality of these services.
It is noteworthy that the government is planning on passing a new Daycare Act early next year to widen the scope of the service and encourage private sector investment. Hopefully, it will also create opportunities for children of low-income groups, especially in rural areas. Recently, at a roundtable conference jointly organised by Synergos and Bangladesh ECD Network, the speakers expressed the need for increased government investments for early childhood care and development and for a range of ministries to work in coordination stewarded by the Ministry of Women and Children Affairs. As the daycare has multiple benefits, including prevention of child drowning, the government can also consider integrating other services with it such as cognitive development, health, nutrition, disability screening, among others. Examples of integration can be drawn from the 4,000 Para Centres developed for children in the three districts of CHT.
Our country is approaching middle-income status and donor-supported projects are likely to decrease in number. Therefore, our government, together with the community and local private sector donors, needs to take more responsibility of nurturing our children—their safety, education, health and overall development. Thirty deaths a day may not sound much in a land of nearly 170 million, but then we are talking about nearly 11,000 preventable deaths of budding flowers ready to burst into bloom.
---
Syed Mansur Hashim is Assistant Editor, The Daily Star.
---
Follow

The Daily Star Opinion

on Facebook for the latest opinions, commentaries and analyses by experts and professionals.
To contribute your article or letter to The Daily Star Opinion, see our

guidelines for submission

.
---