The Academic Experience Project
Insecurity: A foreboding shadow for female students
The Academic Experience Project is a faculty-student collaborative work aimed to glean insights about the experiences of tertiary-level students. Each Friday, The Daily Star publishes an op-ed highlighting its findings. This is the thirteenth article of the series.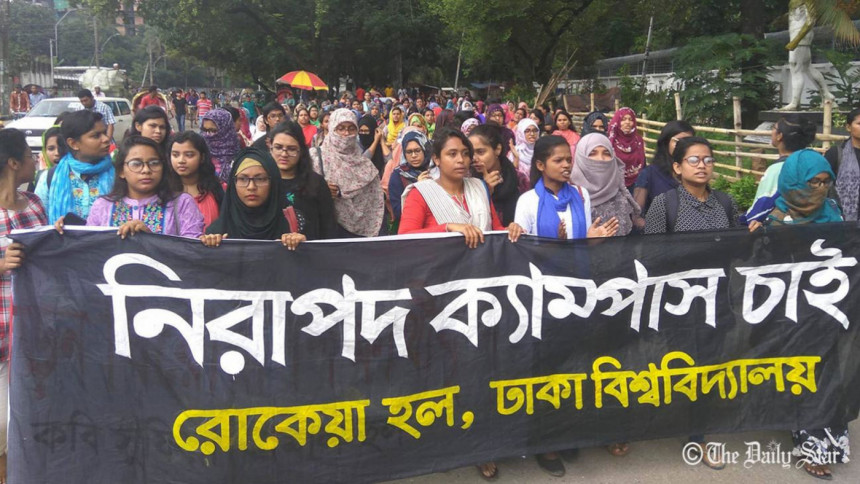 BUET students still remember Sabequn Nahar Sony who was killed in June 2002 during a fight between two rival political groups. Tragically, she died at the hands of a few wayward "students" at the very campus where she went to fulfil her dreams. In 2019, an undergrad student of Chittagong University was raped by a senior student of the same university. And in Sylhet's MC College, a gang-rape episode was again prime news recently. Campus violence has badly stained the academic environment for decades and women have often borne the brunt of such inhuman assaults.
The presence of female students in our higher education landscape goes back to 1921 when the University of Dhaka opened its doors. In the following 100 years, their presence has grown remarkably on campus as an index of equity, which is also a constitutional right. Unfortunately, their safety and security in the tertiary education environment remains uncertain. For many female students and their parents, the university campuses are not considered safe.
In a survey carried out by The Academic Experience Project, among other issues, safety concerns were also addressed. Overall satisfaction with education was the same for both males and females. However, there were large differences on the safety issue, which stood out as a sore marker. While it was not so much a concern for male students, their female peers were apprehensive. The significant gender differences in perceptions reflecting fear, insecurity, perceived risks, etc. show that the measures adopted by the authorities do not garner female students' confidence that they are safe on campus.
Bangladeshi social norms and perceptions have perennially reflected a patriarchal mindset. This has adversely affected female students, especially in the higher education sector. The rise of political muscle has also raised tensions on campus. Not only has this growing menace hampered overall education, it has also made the situation of female students one of serious concern, especially given the predatory proclivities of these bands of undesirable elements.
One of the most common complaints of female students is the on-campus sexual harassment they experience from their very own male peers and seniors. Female "freshers", especially in the public universities, are often victims of a pattern of ragging and other forms of harassment that shake the foundations of civic and moral sensitivities. Female students do not even feel safe from the gaze and other inclinations of their male peers in the university transportation they use together. But this is just the tip of the iceberg: matters are actually far worse.
There are reports of rape and assault of women, sometimes at gunpoint. Such acts are mostly committed by students who are politically influential and sheltered. In almost all of the cases, they go unpunished. Victims are also murdered after rape or gang rape. The steps taken by the authorities in such cases are far from satisfactory for which the abused women (and their families) are harassed further. In many situations, the victims are prone to committing suicide because of social shaming and institutional harassment.
A female-centric educational sector is medical and health studies which requires a one-year internship after completion of their academic term. Purportedly, female interns are constantly harassed and threatened by the hospital staff and, sometimes, even attendants of patients. Such incidents have a huge negative mental impact. 
Apart from these, political harassment on campus, especially in the hostels, has also been reported. During the anti-quota movement, female students were attacked by their opponents (themselves female) just for holding a different opinion. But the authorities took no steps to punish the culprits. Such indifferent reactions of the authorities can only help escalate harassment of and violence on women.
In some universities, there are "Sunset Laws" for female students which stipulate that they must get back to their residence halls before dusk for their own safety. But a sizeable number of the female students are financially disadvantaged. Not only do they bear their own expenses, they also, in some cases, support their families through tutoring school- or college-going students. The sunset laws place female students at a serious disadvantage in relation to male students. And while there is a High Court ruling (2009) to form sexual harassment prevention committees (SHPC) in every campus, progress has been disappointing.
Adding fuel to the fire, campuses across the nation have turned into a haven for drug addicts and dealers, mostly in the public universities. Female students often face crude remarks and harassment from these addicts. The numbers of these addicts continue to grow according to some estimates.
Delays in investigations and lack of appropriate punishment meted out to the variety of perpetrators have nurtured a culture of immunity and impunity, especially at the public universities. Campus politics in its present avatar also poses a serious threat to higher education in other ways. There are many students from SAARC countries who come to study here. Many feel harassed and unsafe and go back with negative experiences and impressions that can hinder the nation's internationalisation efforts with education. Imagine a future coalition-building effort by Bangladesh in an international setting where a traumatic memory of a student from another nation comes back to haunt the effort!
With a sizeable female student population in our universities and over 100 medical colleges, as well as other professional and vocational education sectors, there is no effective policy concerning campus safety of female students who are generally mistrusting and afraid of their male peers, their male teachers and even male staff at the universities. Parents, naturally, remain highly concerned about sending their daughters to any campus.
In a nation that started its journey fifty years ago with the promise to give citizens a better society, serious conversation must be restarted to address safety issues of our women who have crossed the threshold and ventured out from their homes to educate themselves.
We could begin by marking a special day of the year to protest and rally support against those who heap indignity, humiliation and other far serious tribulations on young women at any school, college or university. A collective social response is the immediate need of the day to change this obtuse culture of exclusion, harassment and oppression, especially of our academically inclined women. Unless we create for them—in fact, for all Bangladeshis—a safe, positive, nurturing, and friendly environment, the continuing social malaise will make our economic progression to middle-income status seem frivolous and our pride of accomplishment seriously besmirched.
Abu Sumaiya is working on his MBA degree at IBA, University of Dhaka. Syed Saad Andaleeb is Distinguished Visiting Professor at IBA, University of Dhaka, and former Vice-Chancellor, BRAC University. For more information on The Academic Experience Project, contact Dr Andaleeb at bdresearchA2Z@gmail.com.