Covid-19: Getting the messaging right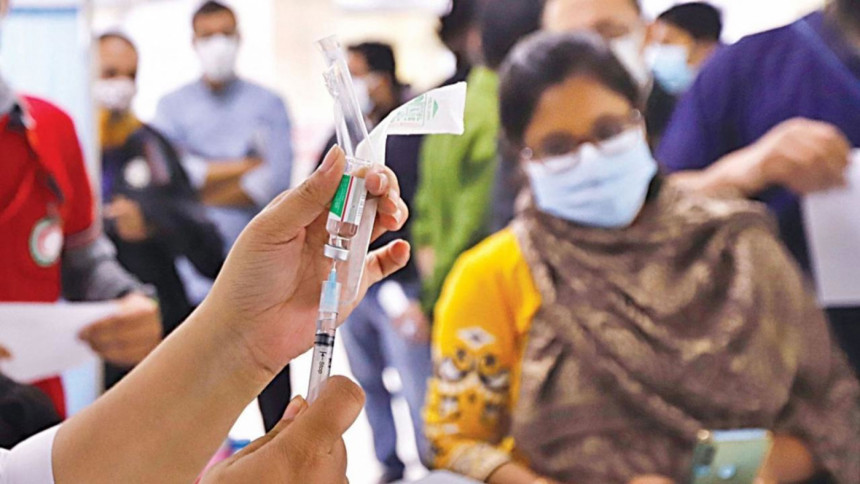 Bangladesh is currently struggling to overcome a massive surge in Covid-19 infections. In a country that bears one of the highest burdens of non-communicable diseases (NCDs) in the region—particularly diabetes and heart disease—the overwhelming of the healthcare system during this second wave of coronavirus poses the additional threat of "collateral damage", in terms of increased mortality and morbidity arising from delayed care of such diseases.
While the public may have developed greater awareness of the general signs and symptoms of Covid-19, particularly those necessitating hospital admission and dedicated respiratory care, it is unlikely that a similar health-seeking behaviour will be demonstrated in the case of the aforementioned non-communicable diseases. This is particularly pertinent to acute cardiovascular emergencies such as heart attacks and life-threatening heart rhythm abnormalities, where time is of the essence, and appropriate care is mandatory and life-saving.
In the absence of electronic health records and national healthcare databases, there remains a challenge in factual quantification of data attesting to the collateral damage caused by delays in care, resulting from late or non-presentations of non-Covid medical emergencies during peaks of the pandemic. However, during the initial phases of the pandemic last year, many physicians had anecdotally observed a marked reduction in the number of patients presenting to hospitals for non-Covid related medical emergencies. It largely coincided with the periods of the "general holiday", the term used for the nationwide lockdown measures instituted from March to May 2020.
Such delayed care or non-presentations to hospital, presumably owing to a fear of contracting Covid-19, were anecdotally observed for both medical and surgical emergencies, with potentially detrimental consequences downstream. This was perhaps further compounded by the restrictions of movement owing to the lockdown measures and a lack of easily available public transport, thus limiting and delaying the general public's access to hospitals.
Unfortunately, the ongoing strict nationwide lockdown, instituted in different stages in April 2021, bears all the hallmarks of a repetition of the healthcare consequences of the previous lockdown, perhaps further compounded by the advent of the fasting month of Ramadan.
In this regard, the importance of appropriate public health messaging cannot be understated. While social distancing measures remain one of the safeguards against the surge in Covid-19 cases, crucially, they should not serve as a deterrent to people seeking healthcare. The general public needs to be educated with an emphasis on the concept that the consequences of an untreated acute medical emergency could be fatal, and may outweigh that of any potential hospital-acquired Covid-19 infection.
Admittedly, while the healthcare sector was relatively under-prepared during the initial wave of the pandemic last year, experience and time have enabled better organisation of hospitals, and healthcare workers now are far better-equipped with knowledge and logistics in handling acute medical emergencies during the pandemic. Many tertiary centres have on-site coronavirus testing facilities, and have established well-designed triage mechanisms and zonal divisions within hospitals—such that non-Covid patients are well-separated from Covid cases—thus minimising the risk of hospital-acquired infections and transmission of disease. In addition to such preventive protocols, healthcare workers are better supported by the availability of appropriate personal protective equipment (PPE), thus minimising the risk of contagion.
Another important aspect of pandemic containment is the effective rollout of vaccines. This remains a formidable challenge in a country with a population upwards of 160 million, particularly in the absence of an organised routine digital healthcare records system. These logistical issues might be further compounded by vaccine hesitancy, which refers to the refusal of vaccination or a delay in its acceptance, despite the availability of the vaccination service.     
A study carried out on 1,134 respondents in Bangladesh reported a vaccine hesitancy of 32.5 percent. There is a concern that the advent of the Islamic lunar month of Ramadan and the obligatory fast might further propagate this vaccine hesitancy. As such, there needs to be clear public health messaging that vaccination does not invalidate one's fast, as has been reiterated by religious scholars.
This is in addition to evidence-based communication of the scientific basis and benefits of vaccines, promoted via mass and social media campaigns, as well as policy initiatives for an effective and consistent vaccine rollout. Efforts to curb the devastating effects of this pandemic need to be multi-pronged and multi-dimensional, involving stakeholders and policymakers from various sectors. With the burden of disease not just limited to Covid-19, the importance of effective public health messaging in what is already looking like an overwhelming second wave of this pandemic cannot be understated.
The message is simple: distance socially, vaccinate, continue to wear masks, and seek appropriate care in a medical emergency.    
Dr Aaysha Cader is an Assistant Professor of Cardiology at Ibrahim Cardiac Hospital & Research Institute, Dhaka. Dr Mohammad Ibn Abdul Malek is an Assistant Professor of Ophthalmology at Ispahani Islamia Eye Institute & Hospital, Dhaka. Views expressed here are the authors' own.