Assam NRC: Should Bangladesh be concerned?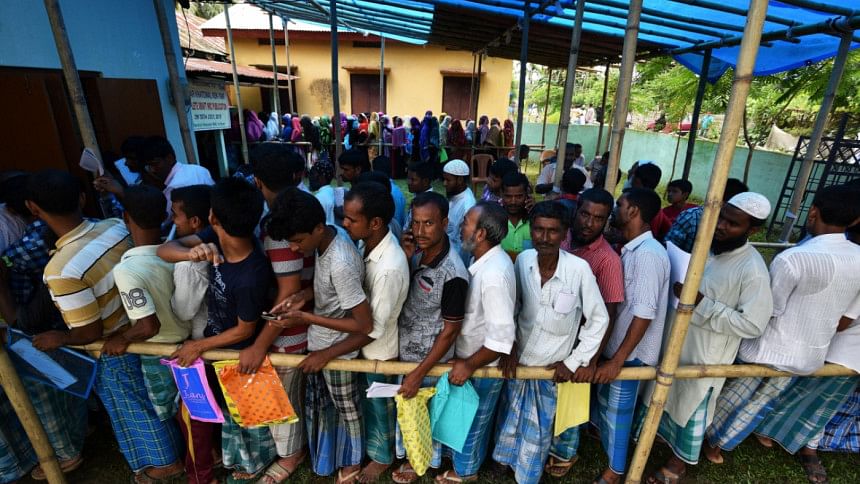 In July last year, the draft NRC (National Register of Citizens) in Assam had primarily delisted more than four million people from Indian citizenship—a process that is now pending for its final publication on August 31 of this year. NRC was meant to identify and delist those who are considered "illegal migrants", who entered Assam after March 24, 1971. The draft NRC, which raised concern for many in Bangladesh, was published when Bangladesh was going through its own struggle of having to shelter more than a million refugees fleeing from Myanmar. The concern was rather valid as the possibility of "deportation" of the alleged illegal migrants to Bangladesh was being emphasised time and again in political discourses and media debates in India. Since India has always refrained from bringing up the illegal migration issue in any official meeting with Bangladesh, Bangladesh did not officially express any concern over the NRC process.    
However, in unofficial media exchanges, high-level government officials did clarify Bangladesh's position stating that there had been no unauthorised migration from Bangladesh to Assam after the country's independence in 1971. Reportedly, however, through personal communications between the highest-level state officials of both countries, Bangladesh had been reassured that this was simply an "internal issue" pertaining to India and that India had no plans to deport those people excluded from the NRC to Bangladesh.
However, all these informal exchanges, interviews and media analyses took place in the pre-election context of India. Although this had never been spelt out, for many Bangladeshis, this process of delisting citizens prior to the Lok Sabha election was initially thought to be just a political rhetoric or a stance of BJP to influence the electoral landscape in Assam. However, the way the illegal migration issue had been emphasised in the pre-election campaigns and the pace with which the NRC process was being conducted after the election, did raise an alarm that the promise to delist the alleged "illegal migrants" was perhaps never only a political rhetoric. The last election manifesto of BJP had even promised to repeat the NRC process in future, in other parts of India.
As such, the essential post-election question for Bangladesh was if it should rest assured, based on only some informal communications, that the entire process of NRC is simply an "internal issue" of India with zero effect on Bangladesh. The so-called illegal Bangladeshis have always been at the centre of all debates and discussions surrounding the NRC in Assam. Even though there may have been debates over whether or not they should be returned to Bangladesh, there had hardly been any disagreement in the public discourse regarding the status of the illegal migrants as Bangladeshis. Even the very decision of the Supreme Court of India, which had sanctioned the NRC process, clearly expressed that the illegal migrants detected through the process should eventually be deported to Bangladesh. As such, there is hardly any scope to regard the NRC process as a mere "internal issue" of India that has no connotations for Bangladesh.
However, keeping in mind the friendly diplomatic relations that the two countries share, this much can be hoped that India would never send back such large numbers of denationalised people to the borders of Bangladesh. It had been indicated several times on behalf of the ruling BJP leaders and NRC officials that those who are finally delisted will have the chance to appeal to the Foreigner's Tribunals in Assam and the process can go as far up as the Supreme Court. Thus, although there is no specific policy explaining what would be the fate of the people whose names will not appear in the final NRC, the Indian government has from time to time assured that the entire process will take up a significantly long period of time before any person's citizenship claim can be finally settled by the Supreme Court. This implies that no one will probably be deported to Bangladesh in the near future.
However, even if not deported immediately, throughout this potentially long process, millions of people will, in effect, lose all their political rights for an indefinite period of time and will probably end up in some detention camps. The crucial question then is—for how long will these people, arbitrarily deprived of their nationality and political freedom, feel safe in Assam? The entire process of denationalisation will create an unprecedented number of stateless persons in this region and it cannot be assumed with certainty that they will not be subjected to persecution based on their communal or linguistic identity within Assam. This fear of being persecuted and the indefinite state of rights deprivation will inescapably drive these stateless people to seek refuge at the borders of neighbouring countries. Thus, the way this denationalisation process is drawing a dangerous polarisation in the region, the possibility that Bangladesh may have to face refugees crossing borders from India at some point cannot be negated.
Other than the potential refugee crisis, it is also to be seen as to how far this divisive political process, which may result in a state of communal instability in Assam, will eventually affect the existing communal harmony in Bangladesh. In fact, it doesn't require much political foresight to infer that this politically motivated division and the resulting communal discontent will not be limited within the borders of India alone. Depriving such large numbers of people of citizenship will certainly have an adverse effect on the overall regional peace and security, and the country that will be affected most, for understandable reasons, is Bangladesh. In the context of the upcoming final NRC publication on August 31, how far the diplomatic effort from Bangladesh is prepared to effectively address the ensuing crisis remains to be seen.
Taslima Yasmin teaches at the Department of Law, University of Dhaka. Email: [email protected]