Crusading children: Fault in our stars... or ourselves?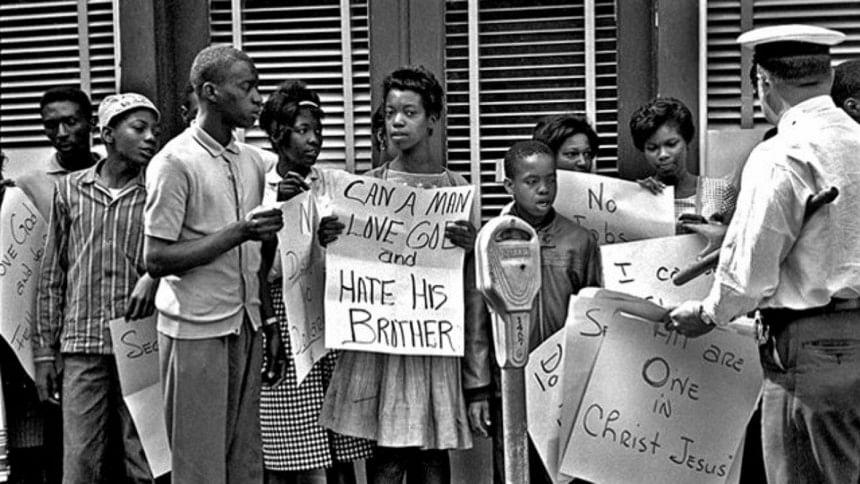 At least two truisms can be said about children: every mother and father goes out of her/his way to build the best possible future for them; and the state does not have a choice but to follow suit. Yet children increasingly question where they are being taken, what future awaits them from policies taken or left untouched, and how commensurate have adjustments to technological developments been. Children's resentment is not an isolated phenomenon, but pervasive; nor is it just a contemporary outburst, but historical. Though the notion "children crusades" can be traced far back, the growing institutional disconnection this entails (with family, education, law, or government) begs urgent reassessment.
Of course, the most referenced children's crusade is the one that might not have been at all. Ostensibly in 1212, or thereabouts, Stephen of Cloyes in France and Nicolas of Cologne in what was to become Germany led troops of boys across the Alps into what today stands as Italy. Ships would then carry them into their mission:  to liberate the Holy Land in the Middle East from Muslims. Whether just a story, or a historical anecdote amply bloated for public consumption, both motivations and aspirations demand remedial attention.
Among the motivators could have been a clarion church/papal call, escaping poverty, or digesting rumours spun by well-heeled kidnappers and slave/sex-traders. Since influence at such a youthful age shapes adulthood, we can better understand why, for example, anti-Islam western sentiments may not be new, that is, prompted by Syrian refugees swarming into Europe, or terrorism being associated with Muslims. Deeper medieval drum-beats echo too. Alternately, children could also learn from their own trials and error, the discrimination faced, and the hatred flung. In that sense, 13th-century children do not differ from their Rohingya, Syrian, or Yemeni refugee counterparts today: they could/can go either way, become a helpless victim (and thereby boost unnecessary alleviation expenses upon society), or fight back over time against the "criminal" practice of their perpetrators.
Fast-forwarding to more modern times, in May 1963, school children in Birmingham (Alabama) protested that desegregation was unfolding too slowly to make a difference. Martin Luther King and Ralph Abernathy "activated" only as a last resort. It paid off. Even though many were arrested or manhandled by police within a week, the concessions earned turned into the 1964 Civil Rights Act.
Fast-forwarding even farther, we saw the March 2018 "March for our Lives" movement against lax gun-control in the United States by children. Centred in Washington, DC, a city synonymous with selling laws to the highest bidder, the movement sparked a nation-wide outburst involving over a million students demanding universal background check for gun purchases. Triggered by the February 2018 Parkland (Florida) shooting of school children, the protest exposed lenient laws feeding a trigger-happy gun-toting or gun-trading population segment. No lessons were learned from a similar April, 1999 Columbine High School shooting in Colorado. With more guns than people in the United States, by a 120:100 ratio, the post-Christchurch shooting March, 2019 New Zealand gun-clampdown exposes the contrasting case of tightening access to killer instruments. A less dramatic and sporadic but more widely felt sentiment also played out on that same Christchurch shooting day: inspired by a 17-year-old Swedish, Greta Thunberg, a global protest sought to energise environmental protection actions.
All of these children's crusade cases carry identical features: external influence upon children, or around them resulting in adult-like actions; the resort to risky action by children, whether crossing the Alps into Italy in the 13th century, confronting a racist police force in Birmingham, or standing up more forthrightly and without qualms against the pivotally powerful National Rifle Association in the United States, or similar environment-dispensing organisations; and ultimately a widening wedge between children and institutions from such lapses.
Dhaka's students fall into this plight. The repeated student deaths caused by either callous or evil-headed bus-drivers or bus-conductors have reached a tipping point. Like in the 13th century, our unarmed children may also search for their "lost chord", or "holy-land", that is sovereign rights over judiciously using pedestrian crossing against an armada of "enemy" vehicles. As in Birmingham, 1963, our students mobilised quickly against the blatant Airport Road killing of two students in mid-2018. Even by assuming away the infiltrating anarchists exploiting those 2018 protests, our high-school students managed traffic control far more effectively, fluently, and respectably than even our paid traffic wardens. Yet, in a maddening March 2019, Abrar Ahmed Chowdhury was not the only victim of highfalutin bus-driving, and Progoti Sharani was not the only murder scene: a motorcyclist was similarly killed in Shewrapara (Mirpur), while in Sherpur, Sylhet, another student was actually thrown out by a bus-conductor to his run-over death. Dhaka's traffic malaise has become a national malaise. It is an utter disgrace to decent law-abiding citizens to let bus-drivers and bus-conductors behave like hoodlums so openly.
Prime Minister Sheikh Hasina underscored the gravity of what is at stake in her Independence Day message: these students are the very future of the country, she said. They need more collective nurturing of the kind their parents give them personally at home. Harming, hurting, or hacking them inflicts a mortal blow on a crucial portion of the country's future. Road-rage, particularly against pedestrians or any human user, must be outlawed immediately if we are to materialise our future goals and look more civil. No killer bus-driver or bus-conductor should even think of shielding behind the bus-owner's back or name. Murder is murder, and in any civilised society, the law must be played out in full, without favouritism, demands, or fear. It is the only anchor of a civil society.
Getting our act together on this issue is as vital for us adults as it is for the children. For us, we stand guilty of compromising the flawless raising of our children with the flagrant abuses of the law ourselves or through our silence (avoiding tax-payments or disobeying traffic signals, to illustrate): somebody somewhere will notice the discrepancy, and if too many adults keep making the same inconsistent behaviour, our fault will haunt the children's fate: destabilising their expectations only opens a can of worms.
With buses prowling upon the country's future assets, on the one hand, and the alarming growth of student-level drug abuses, on the other, the country's weltanschauung (world view) stands at a crossroads. Educational performances have been slipping, social media growing, and technological forces bombarding our adaptation capacities, all pushing Bangladesh towards some brink. Properly groomed (both at home and through the country's laws), our children are as capable of converting their parental and societal hopes into realities. They carry all the traits to become loyal party supporters in future elections if the party participates in that child's upbringing consciously, for example, through supportive legislations and safety precautions.
Ultimately, our future shadow of decency depends upon where we point our finger for our faults. Experiences show the fewer we ascribe to fate, the firmer our control of our own future.
---
Imtiaz A Hussain is the head of Global Studies & Governance Program at Independent University, Bangladesh (IUB).
---
Follow

The Daily Star Opinion

on Facebook for the latest opinions, commentaries and analyses by experts and professionals.
To contribute your article or letter to The Daily Star Opinion, see our

guidelines for submission

.
---