The combined power of capital and philanthropy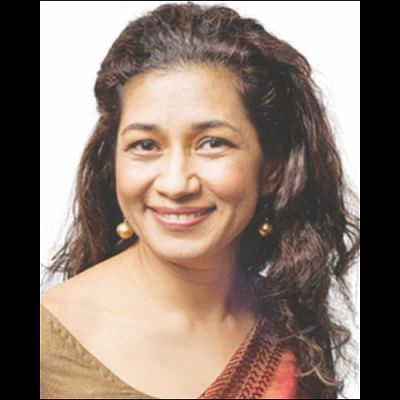 Durreen Shahnaz is the founder and chairwoman of Impact Investment Exchange (IIX), the world's first stock exchange dedicated to social enterprises. She recently won the 2017 Oslo Business for Peace Award for her work in spearheading the transformation of financial and capital markets that go beyond profit maximisation and focuses on social and environmental impact. Shahnaz, who describes herself as a "defiant optimist", talks to Nahela Nowshin of The Daily Star in an exclusive interview about the power of social impact financing.
---
Is it true that your foray into the field of social entrepreneurship is no coincidence? You have said that your formative years of growing up as a girl in a conservative society were deeply affected by the violence, poverty and instability left in the wake of Bangladesh's bloody Liberation War.
Yes, my commitment to doing good through business truly was inspired by my roots. I grew up as a young girl in Bangladesh, a post-war country at the time ravished by famine, and saw everyone trying to do their part to rebuild the country. My experience watching the country struggle to get back on its feet, both economically and politically, inspired me to be a relentless optimist and begin my search for a unique way to build a more equitable society. This search led me from working at Morgan Stanley as the first Bangladeshi woman on Wall Street to exploring microfinance at Grameen Bank, and from exploring academia and publishing to starting my own companies. In the end, I founded the Impact Investment Exchange (IIX), a company that brings the worlds of finance and development together. IIX is about promoting a more equitable society by building inclusive financial markets that work for everyone.
Do you remember the decisive moment in your career that eventually led you to establish IIX?
Rather than a decisive moment, the inspiration to create IIX came from the evolution of my career from Wall Street to Grameen Bank and then establishing my first company, oneNest, which was an e-commerce company that connected rural artisans worldwide to an online global marketplace. My various professional experiences brought to light in different ways how the existing traditional financial system was not inclusive and kept countless communities across the globe marginalised and trapped in poverty. After the financial crisis, me and a group of thought-leaders participated in a conference hosted by Rockefeller Foundation in Bellagio, Italy where we began conceptualising impact investing and how to harness the power of capital markets for good. Following this conference, the Rockefeller Foundation offered me the support to begin IIX and spearhead the impact investing movement from Asia. Hence, IIX was founded in 2009 and boldly began building the foundation for inclusive markets worldwide.
How has IIX pushed the limits of social capital markets?
IIX mobilises capital through its private placement platform, and innovative financial structures. IIX's Impact Partners platform is one of the world's largest private placement platforms with over 1,000 investors who value generating social and environmental impact alongside financial returns. To date, IIX has closed over 32 deals leveraging this platform, established a social stock exchange, designed a one-of-a-kind bond structure, and facilitated millions of dollars in investment capital for high-impact enterprises. Together, our programmes and platforms have impacted the lives of over 10 million people—bringing access to education, healthcare, sustainable agriculture, energy and clean water to communities in over 20 countries. We are also in the process of launching the IIX Growth Fund, a USD 50 million private equity fund focused on climate and women empowerment across Bangladesh, Myanmar, and Indonesia. Through our work, IIX is building an ecosystem to move impact investing, investment with the intention of creating social and environmental good, from the margins to the mainstream. While it has not been easy, our achievements are a testament that it can be done and we will continue to boldly push the limits of capital markets until a more inclusive and equitable system exists.
How is it that IIX connects the dots between investors and enterprises?
IIX's business model and holistic approach to building inclusive markets includes three groups of activities: mobilising capital, advancing knowledge, and empowering stakeholders. We connect high-impact enterprises with investment capital through both our Impact Partners private placement platform that I mentioned earlier as well as through the creation of cutting-edge financial instruments, like the Women's Livelihood Bond. This USD 9 million bond will impact the lives of over 400,000 women across Southeast Asia by unlocking capital for a group of high-impact enterprises and microfinance institutions.
What many people don't realise is that raising capital is only a small part of what IIX does. Because of our deep commitment to the space, IIX, together with its sister organisation, the IIX Foundation, goes on the field with each enterprise we work with in order to refine their business models, measure and optimise their impact, and help the companies become investment-ready through our impact assessment and technical assistance programmes before we raise the first dollar. IIX also has an educational arm, the IIX Impact Institute, which aims to strengthen the impact investing ecosystem by equipping individuals from the public, private, and philanthropic sectors with the knowledge and skills they need to play a catalytic role in the space.
Do you believe the social capital market—that IIX and Grameen are a part of—is the future for a developing country like ours? What would you say is the number one challenge for this market to grow?
Social capital markets are no doubt the future for the global market as a whole—including both developed and developing countries. It is about time that markets work for everyone and a more inclusive financial system is available—one that offers opportunity to even the most marginalised communities. While microfinance and impact investing have built a strong foundation for social capital markets, in order for an evolved financial system to exist—one that considers profit alongside people and the planet—we have to change traditional mindsets. We have to get people to acknowledge that there aren't enough dollars in philanthropy and not enough heart in capital markets to achieve sustainable development and recognise that financial profits and positive impact are not mutually exclusive. This has been and will continue to be the number one challenge to the growth of social capital markets.