Choking on Dhaka's air
Air pollution in Dhaka city is a serious threat to public health. Unplanned urbanisation coupled with a failure to enforce the existing laws got us to this point.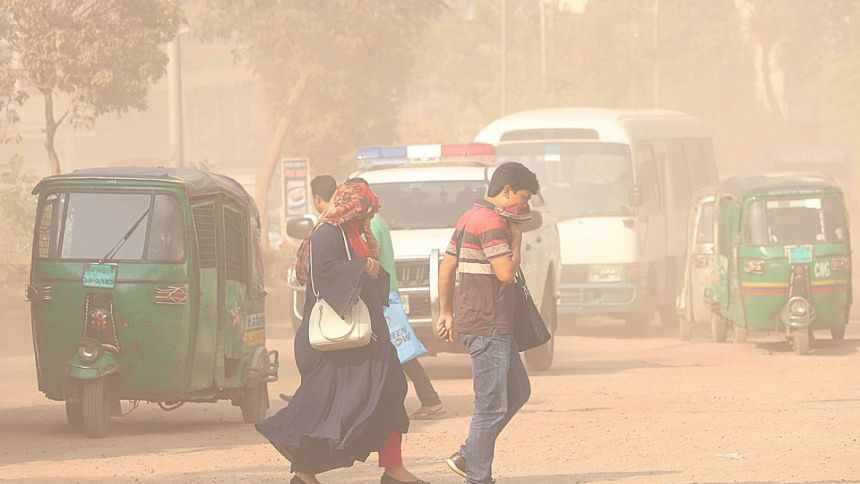 It's getting harder and harder to breathe—literally. Dhaka's air has become so unbreathable that it is almost impossible to pass the streets without noticing someone wearing a mask, trying to brave the triple whammy of construction dust, smoke from burning garbage and leaves, and vehicular emissions. That is why when in early November the Delhi government declared a public health emergency because of the toxic smog that enveloped the city, the news struck a chord with many Dhakaiites. Even though bad air is something we have to deal with all year round, the winter dry season—ironically the period of time Bangladeshis look most forward to—makes it all the more intolerable. Delhiites are not alone—we too have on our hands a public health emergency, make no mistake.
Dhaka dwellers don't need official data to tell them just how suffocating and dangerous the air they are breathing in is. But for the sake of curiosity and for outsiders fortunate enough to have never experienced Dhaka's air, let's do some simple math to see where we stand in the context of global standards. 
Particulate matter 2.5 (PM2.5) is a primary indicator of air pollution. PM2.5 refers to fine particles that are a complex mixture of solid and liquid, and are so tiny that they can penetrate and lodge deep into the lungs—making it one of the most harmful kinds of air pollutants. Exposure to high levels of PM2.5 has serious health implications and drastically increases the risk of cardiovascular and respiratory diseases such as asthma, bronchitis and lung cancer.
So how does Dhaka fare when its PM2.5 levels are compared with those of the air quality guidelines put forth by the World Health Organization—which provide the basis for global standards?
The recommended target of PM2.5 as per the "WHO Air Quality Guidelines" is an annual mean of 10 micrograms per cubic metre. In a report compiled by The Guardian early this year, where WHO data on PM2.5 has been disaggregated region by region, the PM2.5 level in Dhaka was revealed to be an annual mean of 90 micrograms per cubic metre—the second worst in Asia after Delhi. This is nine times WHO's recommended level of 10 micrograms per cubic metre.
"Pollution caused by brick kilns—the primary source of Dhaka's dirty air—is not simply a natural byproduct of urbanisation. It is also a result of the failure to implement the Brick Manufacturing and Brick Kilns Establishment (Control) Act which was passed in 2013 and came into effect the following year.
Dhaka residents need to take note. We can no longer ignore the smog hanging over the city thinking it's simply a harmless concomitant of open construction, industrial production, or the dry season. The first thing that one would typically lay the blame on is Dhaka's unplanned urbanisation—and that of course is irrefutable. But that doesn't tell the whole story behind Dhaka's filthy air. The fact is that air pollution in the city has exponentially grown worse because of a complete disregard for existing laws.
A public notice by the Department of Environment (DoE) in December 2016 claimed that the majority of particulate pollutants come from brick kilns—a whopping 58 percent—while dust (18 percent), vehicular emissions (10 percent), and burning of biomass (eight percent) also contributed to deteriorating air quality.  
The tale of the brick kiln industry gives a glimpse into the intricate and bleak picture behind Dhaka's air pollution. The brickfield cluster in northern Dhaka produces 2.1 billion bricks annually (around 14 percent of the country's brick production). Pollution caused by brick kilns—the primary source of Dhaka's dirty air—is not simply a natural byproduct of urbanisation. It is also a result of the failure to implement the Brick Manufacturing and Brick Kilns Establishment (Control) Act which was passed in 2013 and came into effect the following year. The Act, in an effort to bring brick establishments under control, gave them two years' time to switch to modern technology and relocate from certain areas such as in ECAs (ecologically critical areas) or within a kilometre from the boundaries of ECAs. The law also has a provision which makes it mandatory for all kilns to manufacture a minimum of 50 percent hollow bricks to discourage the use of fertile soil—the main ingredient for making bricks.
But none of these things are actually enforced. One, the shift from "fixed-chimney", i.e. dirty technology, to cleaner, more efficient methods such as the "zigzag" does not come cheap. Two, brick kilns are typically located in lowlands that tend to flood during monsoons, which is why the dry season is when brick kilns get to work. The shift to modern technologies would require highlands to avoid the risk of flooding—and with the soaring price of land in Dhaka, this is simply not doable for many brick kiln owners. Without government incentives to move to cleaner technology, the hands of the brick-making industry are tied.
This is just one of numerous cases in the country's history of weak environmental regulation. Similarly, laws related to the fitness of vehicles (as per the Motor Vehicle Ordinance 1983) which could go a long way in curbing air pollution are flouted openly in a city where the number of vehicles is going up every day.
That pollution is wholly an inevitable consequence of urban development is a myth easy to buy into—urbanisation is only part of the story. This simplistic line of reasoning also absolves public authorities and industries of their responsibility to act in accordance with the law and serves to conceal the impunity with which they are degrading the environment—depriving citizens of their right to a public good such as clean air. So whether one looks at it as an environmental issue or a health crisis in the making, what it's not is a "simple price to pay" for urban development. There is no denying that the main culprit behind Dhaka reaching its boiling point today is unplanned urbanisation; but it is the utter failure to enforce the laws in place that will perhaps expedite our plunge into environmental doom.
---
Nahela Nowshin is a member of the editorial team at The Daily Star.
---
Follow

The Daily Star Opinion

on Facebook for the latest opinions, commentaries and analyses by experts and professionals.
To contribute your article or letter to The Daily Star Opinion, see our

guidelines for submission

.
---