Paying a high price
Of all the reasons behind the rising cost of living in Dhaka, corruption has always been a root cause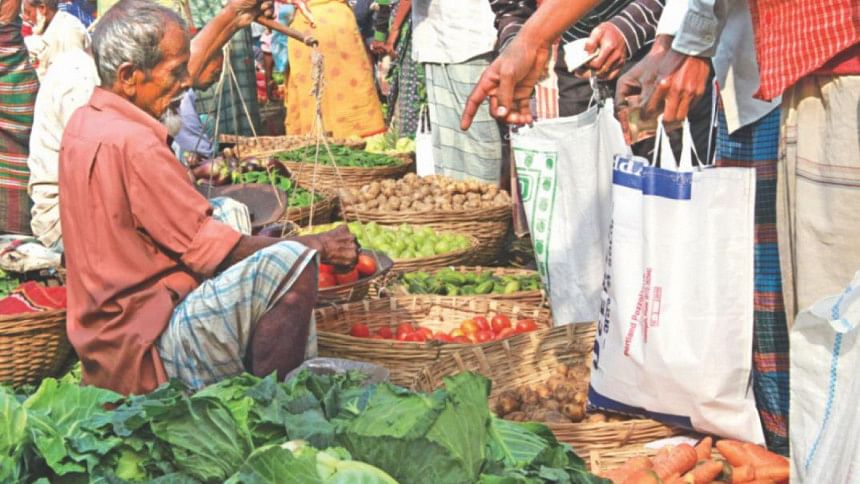 Living costs in Dhaka have soared so high that it's not just low-income groups struggling to make ends meet—the middle class is feeling the squeeze too. According to an analysis by the Consumers Association of Bangladesh (CAB), the cost of living in the capital hit a four-year high in 2017 due to rising prices of essentials and utilities. Onions had the highest price hike last year, followed by other vegetables, household gas, rice, liquid milk and beef. The change in the living costs in 2017 went up by an alarming 8.44 percentage points from 2016. Besides, house rent soared by 8.14 percent and electricity by 6.44 percent in 2017 from that a year ago.
We are talking about the rise in prices of all basic amenities—not luxuries that we can do without. If this trend continues, "affordable" living in Dhaka, for the majority at least, will become a fantasy.
While the cost of living for millions of Dhaka residents keeps going higher with little to no change in their income, the situation is not as bleak for many. The lucky few are government staff who, with the full implementation of the eighth national pay scale, saw their salaries go up drastically. And it is because of this that total expenditure in the first quarter of FY2016-17 was 15.5 percent higher than a year earlier. It is also because of this that there was a huge jump in non-development spending— up 19.35 percent to Tk 35,325 crore in the first quarter of FY2016-17 whereas only a year earlier non-development spending was 0.32 percent less than the year before that. The salary scale for non-government school, college and madrasa teachers also came into effect in 2017. Last year, it was also reported that the government had doubled pay for local government representatives in city corporations, municipalities, and councils for districts, upazilas and unions.
The reason I am citing these is simply because if you look at the numbers, the massive chunk of total expenditure being spent on government staff and representatives' and others' salaries simply cannot be ignored.
The debate about whether the salary increase of government staff under the eighth national pay scale is justified merits a separate article—and a lot has already been written about it in leading newspapers. But just to recap, economists have largely been in favour of the move to raise the pay of government officials because unlike in many countries, public service in Bangladesh has been less-than-rewarding in terms of pay and so, the boost in salary was seen as a way to attract meritorious candidates and tackle inefficiency in public institutions.
However, at the end of the day, this money is coming straight out of taxpayers' pockets. And whereas economic theory dictates that better wages boost efficiency, reality is far less simple. It has been observed that in developing countries like Bangladesh, good wages are not nearly enough to eradicate corruption—wealth status of a person matters little when we are talking about bribery. Now we have a situation where (i) taxpayers are paying more towards public servants' salaries, and (ii) corruption in public institutions still exists. So can we really say that we are better off? And how does this affect living costs?
The interlink between government pay raise and inflation is a whole other debate in itself—many sceptics believe pay hikes and inflation don't exactly have a causal relationship. But generally speaking, inflation is almost always one of the results of increased expenditure on government salaries.
The theory is simple. As purchasing power of a certain section of the population increases because their wages are now higher, there is more money in the market, leading to higher inflation. This of course greatly boosts traders' confidence who engage in corrupt (the magic word) practices, ultimately leading to skyrocketing prices of commodities and services.
This summary of the effects of a large portion of total expenditure being eaten away by government salaries is, of course, only part of the story. The spiralling prices of rice last year, as we saw, were attributed to a number of things—flash floods, shortage of rice in public granaries, failure to import rice on time, etc. There are a myriad of factors other than just apportioning a major pie of total expenditure to government pay raise.
All the hullabaloo surrounding gas prices last year is an example of how authorities won't even blink twice before dumping additional expenses on households, even if it means going against the law. The hike happened in two phases—first in March 2017 and then in June 2017. But thankfully, the High Court declared illegal the second phase hike on household consumers since increasing gas prices twice in the same year in a single announcement violated the Bangladesh Energy Regulatory Commission Act. Mind you, the two-phase hike of 2017 came just two years after gas prices were already hiked in 2015.
The High Court decision was by all means a victory for the people and for the Consumers Association of Bangladesh (CAB) which filed the writ petition challenging the legitimacy of the decision by the Bangladesh Energy Regulatory Commission to raise gas prices. This was a rare accomplishment by CAB whose influence and strength are far from adequate compared to their counterpart in other countries where consumer rights groups wield significant power. The authority CAB can exercise is limited, which means that it cannot easily bring policy changes that would protect consumer rights.
Of all the things behind the rising cost of living in Dhaka, what remains uniquely inexcusable however is the consistent failure of the government to reduce corruption; it has seeped into every aspect of our lives—and we are quite literally paying the price for it. No sector, no industry, no stage of the supply chain seems to be immune to corruption. And as things now stand, it would be naive to be even slightly optimistic about the future of living affordability in Dhaka. For ordinary people, many of whom already live hand to mouth, the road ahead will be tougher.
---
Nahela Nowshin is a member of the editorial team at The Daily Star.
---
Follow

The Daily Star Opinion

on Facebook for the latest opinions, commentaries and analyses by experts and professionals.
To contribute your article or letter to The Daily Star Opinion, see our

guidelines for submission

.
---