Stimulus for Bangladesh's export-oriented enterprises
Can this be made more sustainable and equitable?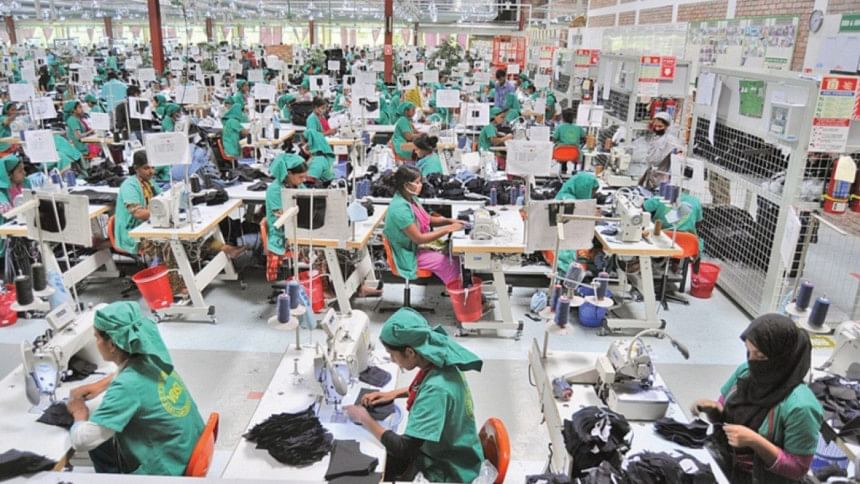 On March 25, 2020, Prime Minister Sheikh Hasina announced, in her address to the nation, that the government would provide an incentive package of Taka 5,000 crore for export-oriented industries. She explicitly mentioned the basic terms of reference, that the fund could only be used to pay the salaries and allowances of workers and staff. An assumption was that as export orders were possibly cancelled or deferred, entrepreneurs would face a mounting liquidity crisis for meeting the payment of wages and other short-term obligations. Industry stakeholders welcomed this scheme. The Prime Minister also announced a series of other incentives and measures for mitigating the economic effects of the novel coronavirus (Covid-19) pandemic. It is true that Covid-19 has disrupted the global apparel value chain. Some global buyers have either cancelled or suspended their export orders. Sourcing raw materials has also proved almost impossible, as China and other major economies are de facto closed from the rest of the world. After coronavirus infections began to surface in Bangladesh, the Government of Bangladesh imposed a voluntary lockdown of its citizens, effectively causing every industry to shut down their production.
A government notification came out on March 31, 2020 outlining the basic terms of reference of the incentive package. The regulation stipulates that a budgetary allocation would be given to Bangladesh Bank, which would in turn lend to commercial banks at zero interest rate. The commercial banks would extend the loan facility to exporters at a two percent simple interest rate. A few conditions—like only export-oriented and active industrial units are eligible for these loans and that the money could only be used for payment of salaries and allowances—are further imposed. Repayment terms are also simple, including a six-month grace period, to be followed by an amortisation of the loan over 18 monthly equal installments.
The internal control mechanism of the scheme is also proactive. Lending banks shall review salary sheets of a potential borrower for the three months preceding the outbreak of Covid-19 in March 2020. Banks will directly pay to the bank accounts of eligible workers or by a mobile cash transfer mechanism. No payment to a worker shall exceed an average gross payout over the last three months. Finally, any manufacturer exporting at least 80 percent of manufactured goods would be eligible under this scheme. It implies that the scheme does not discriminate between direct and deemed exporters.
Overall, the incentive scheme announced by Prime Minister Sheikh Hasina is timely, pragmatic and forward thinking. The actual design of it is also reasonably well-articulated. It is not a grant and not a pure subsidy to private entrepreneurs. The only subsidy is the borrowing cost from the sale of government securities used to finance the scheme. A few more considerations would make this scheme even more sustainable and equitable.
Firstly, an eligible borrowing firm could be charged at least at the bank rate plus a two percent spread so that the government would not be required to pay the interest amounts. Secondly, every apparel manufacturer might not have a liquidity crisis and would be unwilling to apply for this incentive if the actual borrowing cost was consistent with the opportunity costs. Note that apparel exporters demanded short-term liquidity, not subsidies. This indicates that the inherent design of the scheme whereby a borrower can borrow free of costs would encourage every exporter to apply for the incentive scheme. This design is flawed and may lead to excess demand for funds. The flawed design may also cause corruption, where exporters who are politically powerful or control bank management will abuse fake salary sheets for getting the maximum amount of loans. This possibility of corruption could be eliminated just by a simple rule—that access to liquidity is guaranteed at the bank rate plus a two percent spread. It is noteworthy that the provision of direct payment to the bank account (or bKash account) of a worker will help minimise the risk of corruption in the planned scheme.
Thirdly, this incentive will produce credit risks. Some borrowers will default and be unable to pay back. In its present form, it will be a cost for the lending bank and this is unacceptable. Fourthly, instead of a budgetary allocation via Bangladesh Bank, the financing scheme could be floated by Bangladesh Bank itself under the existing Export Development Fund (EDF) or a similar initiative. That would leave the Ministry of Finance with this money to help the most disadvantaged or meet more pressing needs in public health.
Finally, any government intervention should be based on the principle of neutrality. What will happen to micro, small and medium enterprises (MSMEs) and/or large ones that are not export-oriented but employ millions of workers? What will happen to the self-employed in the agriculture sector? The government should offer them windows of access to finance in these hard times. As of the latest labour force survey, agriculture alone employs 24.7 million workers. Service industries, including wholesale and retail trade, transportation, construction and others, account for 27.2 million workers. A staggering number of more than 50 million workers are also facing job loss, income loss and the prospect of transient poverty. We expect that the government of Bangladesh will also consider rolling out innovative financial schemes in order to supply liquidity to the self-employed, MSMEs and local industries and help them navigate the Covid-19 crisis.
Dr Mizanur Rahman is a Professor of Accounting and Public Policy in the University of Dhaka and an EducationUSA Fellow. E-mail: [email protected]