Slow death of Bangladesh's state-run jute industry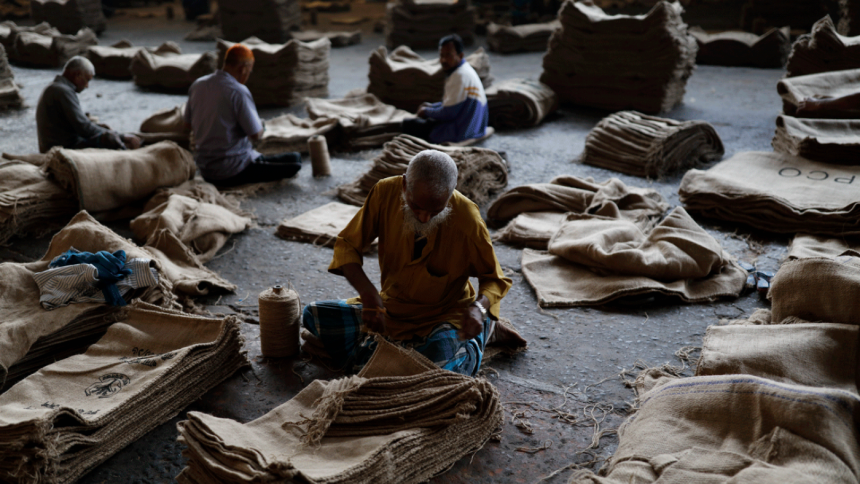 For hundreds of thousands of Bangladeshi state-run jute mill workers, this year began with an assurance that is all-too-familiar to them. After a month of protests, mostly by some 30,000 workers of nine state-run jute mills in Khulna's Khalishpur area, the government, on January 2, promised to implement the new pay scale and disburse all their dues within 15 days. Although the workers left the streets when the state minister for labour and employment, Monnujan Sufian, made this promise, they expressed their disappointment and suspicion over the government's commitment. These workers spent the entirety of December on the streets, staging protests and hunger strike for their dues. When around 1,000 workers fell sick and two of them died during the hunger strike, the state minister requested them to call it off and assured them of payment within a week. On December 21, the workers postponed the strike till December 28. However, nothing happened within that deadline. Subsequently, they started their strike and again the state minister came up with the same promise and a new, extended deadline. So, the workers' suspicion and disappointment are not baseless at all.   
While many private jute mills are making considerable profits, all the 25 state-run jute mills have been incurring such heavy losses that the mill authorities cannot even pay salaries and financial benefits to their workers. Workers of these mills are owed salaries of six to eight weeks, and since 2013, none of the retired workers got pension and gratuity. In 2015, the cabinet division headed by the prime minister approved a 100 percent increase of wages of workers of all the state-run factories. However, Bangladesh Jute Mills Corporation (BJMC) failed to implement it in the jute mills due to heavy financial losses. At present, the permanent workers of these mills get only Tk 4,150 to 5,600 per month. However, a majority of the jute mills are run mostly by temporary workers who have to work on a "no work, no pay" basis. In the jute mills of Khalishpur area, these temporary workers earn only Tk 277 as daily wage. Unfortunately, jute mill workers do not even get this meagre amount regularly.
As a result, the workers took to the streets for large-scale protests in late 2018. Their principal demands were implementation of the new pay scale, regular payment of wages, and payment of all their dues. They spent almost the entire 2019 on streets due to empty promises made by government officials that led to frequent strikes. Thanks to their relentless protests and strikes, on November 26, the government allotted Tk 100 crore to the BJMC to pay all due wages and financial benefits of the workers. The fund was allocated on several conditions—one of which was that the BJMC would not use it for any other purpose than the disbursement of outstanding wages and financial benefits of the workers. However, according to BJMC officials, the fund was too small to pay all the dues and implement the new salary scale, as the corporation has to spend around Tk 650 crore to pay salaries and wages for all of its workers and employees annually. At present, BJMC is asking for more funds from the government while the jute mill workers are passing days in abject poverty.
To save tens of thousands of these families, many of whom have been working in jute mills for generations, there is no option but to allocate necessary funds to pay their rightful dues as soon as possible. However, besides this humanitarian aspect, there is another more practical side to this crisis. The BJMC, an autonomous body tasked with operating and managing the state-owned jute industry, has been incurring financial losses for decades. It has earned notoriety for sucking thousands of crores of taka from the public funds without making any visible improvement of the industry.
When the Awami League government came to power in 2008, it made a promise to revive the country's jute industry. In 2009, the government allocated Tk 5,241 crore for BJMC to revive the shrinking industry on the condition that the factories would become self-sufficient and the BJMC would not borrow funds from the government anymore. However, within six years, the BJMC asked for Tk 700 crore in 2015 to purchase raw materials, and in 2018, the corporation again asked for Tk 1,000 crore to pay due wages and other financial benefits of the workers.
According to the workers and industry experts, corruption in procuring raw jute, lack of marketing and promotional initiatives, outdated technology, and lack of efficient officials resulting in extreme mismanagement are some of the key reasons behind this sustained financial crisis. For instance, instead of purchasing raw jute during the jute harvesting season in June-July, jute mill authorities procure their raw material in the dry season. Due to this delay, they have to buy raw jute at Tk 2,000-2,200 per maund (around 40 kg) whereas in June-July the cost per maund is only Tk 1,000-1,200. The jute mills also don't have any marketing and promotional initiatives. Thousands of tons of jute products are seen lying unsold for years. Currently, these mills sell their products, mostly sacks, to different government offices. For such limited production, large jute mills like Crescent Jute Mills and Platinum Jubilee Jute Mills are currently engaging less than 10 percent of their production capacity, but they are retaining a massive production line that comprises thousands of workers, officials and sophisticated instruments which require regular maintenance.
In this way, the state-run jute industry is confined to a vicious cycle of mismanagement and resultant financial loss that has threatened the very existence of the industry at a time when the global market of jute products is increasing significantly. According to several market research reports, the market of only jute bag products reached a value of USD 1.8 billion in 2018 and it will reach USD 3.1 billion by 2024. Besides manufacturing bags, high-quality carpets, mattresses, textiles, baskets, furniture and a diverse range of eco-friendly products can be made of jute. Many privately-run jute mills are making profit by diversifying their products although their production capacity is much smaller than the state-run mills.
Before pouring taxpayers' money into them, the government must devise a pragmatic and sustainable plan to rescue the industry. Radical reforms are necessary in BJMC and factory management to ensure transparency and efficiency. At the same time, age-old machines should also be replaced with modern technology. The jute industry is one of the few industries in Bangladesh that require very small investment, do not require any import, but can earn a huge amount of foreign currency. However, without these reforms, there will be no alternative to shutting down the state-run jute mills, and this will put the final nail in the coffin of this highly potential industry. 
Md Shahnawaz Khan Chandan is a reporter for The Daily Star. Email: shahnawaz.khan@thedailystar.net