How do we keep Omicron at bay? Together.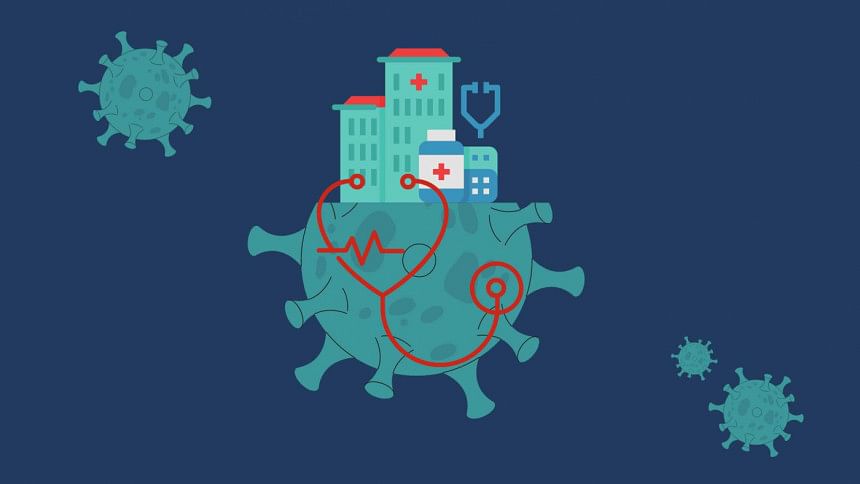 With Omicron spreading rapidly across the world, Bangladesh is bracing itself for the battle against a potential new wave of the pandemic. The health minister has already stressed that the country is prepared to fight the new variant. Earlier, health authorities had issued a set of 15 soon-to-be-enforced guidelines covering screening at entry points in the country, testing, quarantine, vaccination, and public movement and gatherings.
Meanwhile, according to media reports, the government has also been able to partly reinforce healthcare infrastructure to better handle the new wave, increasing the number of Intensive Care Units (ICUs) and High Dependency Units (HDUs) dedicated for Covid-19 patients.
In addition, more than 1,000 ventilators have been provided to hospitals at the upazila level and over 130 hospitals equipped with a central oxygen system. Abul Bashar Mohammad Khurshid Alam, the DG of the Directorate General of Health Services (DGHS), has been quoted as saying that oxygen generators are being installed in around 40 hospitals across the country. The government is working on installing more oxygen generators to support rising Covid caseloads.
However, the authorities must not lose sight of the fact that in the face of a full-fledged outbreak of the new wave, these reinforcement measures might not be sufficient. Over the last few weeks, there has been a noticeable spike in Covid-19 cases, with more Omicron patients being identified every day. On Monday morning (January 10), the country recorded a 8.53 percent Covid infection rate—with 2,231 new cases registered—a jump from 6.78 percent recorded on Sunday morning. Health experts fear a further rise in cases is imminent.
While the new measures being taken point to the farsightedness of the health authorities, including the National Technical Advisory Committee (NTAC) on Covid-19, DGHS, and other related bodies, their effectiveness would depend on how well they are enforced.
In the past, we have seen people "escaping" quarantine from hotels; public transports running over capacity despite restrictions; people grossly flouting social distancing guidelines, roaming around and enjoying long drives even during lockdowns (including misuse of the "movement pass" introduced to control public movement), or crowding restaurants, shopping malls, kitchen markets and other public spaces, often without wearing masks—the list goes on.
Even while many countries, including our next-door neighbour India, struggle in the face of Covid-19 surges, the people here could not help but celebrate the New Year or Christmas. Then there are those grand winter weddings that come with about half a dozen side events where hundreds, if not thousands, gather to "bless" the brides and grooms. There are also the weekend parties with family and friends. These occasions provide the perfect breeding grounds for the Covid-19 virus. Unfortunately, these can only be contained with state-imposed curbs. 
For the government, managing the crowd at airports is another sticking point, which has emerged as a major concern in recent weeks. With international flights being suspended for eight hours every day at the Dhaka airport due to on-going construction work for the third terminal, the airport authorities are under increasing pressure to accommodate the cramped flight schedules. It is only natural that the health desks and testing counters would be crowded too, and there should be strict enforcement of social distancing and testing guidelines for both in-bound and out-bound passengers to ensure their safety.
It is understandable that blanket curbs on public movement, including lockdown, are an extreme measure, with profound implications for countless people. Nonetheless, in our case, it would be worthwhile to consider the possibility of such measures in the long run, especially considering that many nations are having to resort to this to contain the new wave. In India, for instance, curfews have been imposed in Delhi and Mumbai and other states including West Bengal and Karnataka have had to impose various other restrictive measures and weekend curfews to cope with the rapid increase in Covid cases.
In view of the current scenario, the government in Bangladesh should consider planning ahead for the worst-case scenarios, including by determining the size and scope of stimulus packages, support mechanisms and related logistics for those who would be most affected—especially small businesses and the underprivileged segments. This will help reduce public sufferings and the likely economic backlash. Pre-planned measures are usually better implemented. And in the context of the fast-changing Covid landscape, one cannot be too careful. 
Omicron is highly contagious but comparatively less severe than other variants, with lower hospitalisation rates. Therefore, it might not be as demanding on our healthcare infrastructure as the Alpha or Delta variants. But the danger still persists. And with the virus mutating constantly, we cannot risk becoming complacent. We need to be on our guard at all times so that we can anticipate the new challenges and minimise the damage of the new wave. The new set of 15 guidelines also need to be enforced at the earliest.
The general public must also take ownership of their responsibilities and do their part to keep Covid-19 at bay. The government alone is not responsible for fighting the pandemic; it is the responsibility of each and every single citizen of this country. No matter how clichéd it sounds, we are in this together, and we can only flatten the curve if we put up a united front.
Tasneem Tayeb is a columnist for The Daily Star. Her Twitter handle is @tasneem_tayeb