Rupa, Rajib, Payel, Dia, Abdul Karim…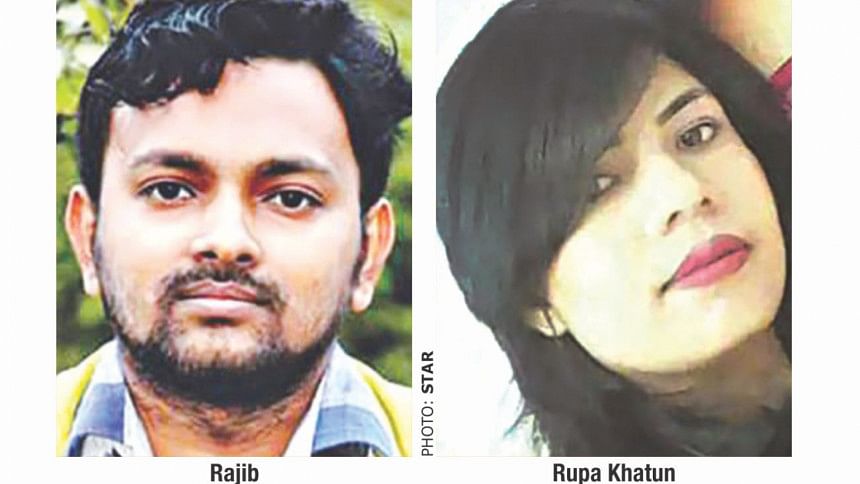 Passenger safety or dignity were never the strong points of transport workers starting from the ticket counter till pushing them off a bus. Behaving badly with passengers, almost deliberately, is the established culture. Female passengers have long been subject to sexual humiliation by bus driver and company. Demanding exorbitantly over published prices is the bus owner's monopoly and have led to many a spat on board.
One a ghastly night last August law student Rupa, the last remaining passenger in a Chhowa Paribahan bus from Bogura was gang-raped by three helpers (assistants) of the bus in the moving vehicle. On reaching Tangail-Mymensingh highway, when she screamed for help, the rapists in connivance with the driver broke her neck and threw her out at a secluded area. Five suspects were later arrested. She did not live to face them in a court of law.
In April this year, undergraduate student Rajib Hossain's right arm was caught between two buses at Dhaka's Bangla Motor, and severed from the elbow due to the rashness of the drivers of BRTC and Swajan Paribahan buses. The 22-year-old died two weeks later.
Tragedy cannot justifiably define what happened to university student Md Saidur Rahman alias Payel (20) on July 21. On his way to Dhaka from Chittagong along with two friends, when their Hanif Enterprise bus stopped at Madanpur (Narayanganj), he alone got down to relieve himself. Soon the bus started to move. Payel ran to get on board, but was badly injured on hitting the door. Bleeding, he lay on the road. Thinking the passenger was dead, the bus driver, supervisor and helper unthinkably threw Payel into River Fuldi from a bridge. His body was found two days later, his face unrecognisable, floating some distance away at Gazaria's Bhaber Char. Autopsy showed he was alive when the transport workers picked him up.
Two Jabal-e-Noor Paribahan buses were racing on the Mirpur-Airport Road flyover on the afternoon of July 29. One reached the stoppage at Armed Forces Medical College, Kurmitola, where passengers, including students of mainly Shaheed Ramiz Uddin Cantonment College, were waiting to board. The other hot-on-the-heel bus then rammed into the waiting people. Twelfth grader Abdul Karim (18) and eleventh grader Dia Khanam Mim (17) died on the spot. Several were severely injured. Said Dia's father, Jahangir Fakir, himself a driver: "Many bus owners recruit drivers considering relationship and recommendations of known people without properly examining their driving skills. By doing this the recruiters are virtually giving the unskilled drivers the license to kill". And they continue to kill.
Longstanding impunity is largely responsible for leading transport workers into believing they are Badshah Shahjahan, and therefore untouchable by law. That is not necessarily the only cause of the about dozen deaths daily on our roads with an annual death toll of around three and a half thousand, mostly pedestrians, from about three thousand accidents (not based on scientific data but garnered from media reports). Worldwide the figures will be one of the highest per kilometre of road and per million people; statistics not accolades for any country.
The king-of-the-road arrogance provides transport owners and workers the "road permit" to ply unfit vehicles devoid of any maintenance, lights (head, side & brake), and working doors, but of course with a deafening horn because that is power. Brake failure is not uncommon.
They have not fallen from the sky. Most of them have been promoted from the rank of windscreen wiper, via helper, to finally a five-star Ustaad. The skills of driving, they never learnt because they have been moving the bus/truck in the parking lot since puberty. After a while, when about 15-looking-17 many of them manage a license legally, complete with all paperwork.
Transport workers on the road essentially lack self-discipline, healthy food habits and rest/sleep. They are overworked, only resting on a ferry or in a jam, but many are reputedly into drugs to keep awake and apparently to feel good. Despite a strong directive from Prime Minister Sheikh Hasina on June 25 to enforce five-hour driving limit for the transport drivers on highways, as well as provide alternative drivers, restrooms, and service centres at specific locations along the highways, the situation has hardly improved.
Some drivers are expert in driving with one hand (two fingers actually) while talking on the mobile phone on even important family matters that seemingly do not upset them. They often do not live to tell. Others will sometimes perform a magic show by opening a bottle of water while driving. Look Ma, no hands!
A majority of drivers, including those of private cars, are reckless on the road with no toakka to traffic rules and signposting, deficient though they are. Despite a court order, driving American style continues with or without a flag fluttering and a siren blaring. Bus drivers also engage in unhealthy race for passengers. Last Sunday, that perhaps was the case at Kurmitola. Or, was it the wounded ego of the driver who lost the race on the ramp?
Wrongly overtaking, illogically speeding and dangerously overloading were all established when they were wiping the windscreen for their idol and idle Ustaad. Not in their control, however, are narrow two-way roads, dilapidated highways (?) with low potholes, occasioned by risky turning points, giving them the rush of adrenaline to foolishly exhibit their daredevil antics at blind corners, which again is in their control; the vehicle, more often than not, is not.
Clearly there is lack of minimum education among majority of drivers to the level of being able to read and write, and appreciate life. Road Safety should be taught from kindergarten, and included in the syllabus up to Class VIII. A driver's job should not be an employment opportunity gifted by nepotism because human life is involved.
A driving license should be earned by learning and passing stricter tests on traffic rules, eyesight, gender issues and love for self, society and country. It should not be bought. Any individual should not be allowed to instruct another at the expense of some unaware person's fuel. Driving Schools should be structured. Who are the instructors? What training do they have?
Our roads will take time to become safer (the rot is very deep), to reduce the daily death toll to an acceptable international standard. But to get there we need to urgently enforce punitive measures against culpable drivers, adopt short-term procedures to curtail erratic driving, introduce traffic teaching in schools, and integrate radio, television and print media in a national mass campaign.
P.S. - Those of you who are educated beyond Class VIII and do drive, please act educated.
---
Dr Nizamuddin Ahmed is an architect, a Commonwealth Scholar and a Fellow, a Baden-Powell Fellow Scout Leader, and a Major Donor Rotarian.
---
Follow

The Daily Star Opinion

on Facebook for the latest opinions, commentaries and analyses by experts and professionals.
To contribute your article or letter to The Daily Star Opinion, see our

guidelines for submission

.
---