The rigorous and (oops!) the negligent sides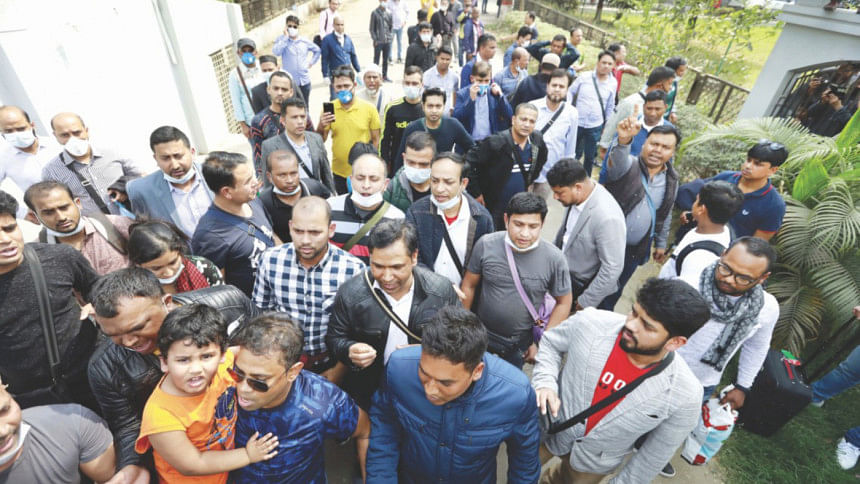 At five feet four, most people's mouth is where my nose is. In a democracy, they can do all the loud talking at a distance from me, but their flurry of drenched words requires my close proximity. My nose is again of the type that inspires free speech, supplemented with coughs and sneezes.
The astute Bangladeshi does not take the outside dirt to the inside of his home or workplace. His logic is he pays the municipal corporation, or someone does, to keep the city clean. Therefore, before entering his "clean" premises, he leaves everything behind. With a clamorous ensemble that begins with a deep outward pull of everything lodged in his larynx and further down the oesophagus, he does an encore by ejaculating at your feet the remnants of his last meal laced with cough and saliva. Covid-19 is happy and alive.
Many people do not realise that the containment of the universal coronavirus is proportionate with the hygienic practices of every individual. Yet, we get hooked to hourly news updates, praying and hoping, that the killer disease will bow out without human intervention as meekly as its first appearance at Wuhan.
Yet, there is enough "awareness" to induce widespread panic. Traffic is low. The streets are less populated. The convenient way to empty a busy marketplace or an apartment block is to announce the arrival of corona. The business tactic to empty a mall of a product is to circulate its benefits towards supressing the virus, or its proven medicinal potency.
We have seen the hero street vendor who was still selling masks, their effectiveness to protect the healthy debatable, at BDT 20, and only one piece per buyer. But then there were the rich and notorious traders who were selling the same at ten times their cost. Some on social media have called for the slapping of the unscrupulous businesspeople if they were to take undue advantage of a calamitous situation where people are desperate to rid themselves of the deadly germs.
Parts of the Western world, however, have emerged as "uneducated", going by their fright of the unpredictable and responding by hoarding foodstuff lopsidedly. The customers arriving after them will find empty shelves at shops and supermarkets. There will be more panic.
The use of hand gloves to handle food has increased, albeit on a minuscule scale, but the same gloved hand also handles money. One research in this country found human faeces in Bangladeshi money. "Taka notes and coins contain bacteria like E. Coli and faecal coliform which are very harmful to health," revealed the research conducted by Nishat Tasnim, a final-year student of the Environmental Science discipline at Khulna University.
The situation could be worse elsewhere. Do we really think we are having fuchka and sugarcane syrup, only?
In jest or in all seriousness, people are avoiding shaking hands. Hugging has indeed taken a dip in this country of growing huggers in the face of selective reluctance. Touching of elbows, toe shakes with footwear on, fluttering of the eyes without sunglasses, and even bumper to bumper kisses have taken over. The predicament and worry is that free mixing will help spread the sickness. There lies its aggressiveness and danger.
Last Saturday, there was a protest by returnees from Italy at their designated quarantine camp at Ashkona, and simultaneous lack of preparedness by the concerned authorities. After daylong chaos, they were allowed to go home. What?
Italy has at least, 23,073 active coronavirus cases, 1,851 of whom are in serious or critical condition. Although 2,749 Italy-based patients have recovered among the 27,980 coronavirus cases, the country has suffered 2,158 deaths, the highest outside China.
Letting the Italy returnees go home in Bangladesh for self-quarantine (and there have been reports of violations at individual levels) was wrong. Not showing live symptoms does not mean a person is not a carrier. This was known to all early on, when the catastrophe first struck. Letting the expats mix with their local relatives and friends could spell escalation and growth. We are not ready for that.
Not ready were also the Ashkona administration. This has to be an inter-ministerial responsibility. One complaint was that doctors were not in attendance even after five hours had gone by. There was no food available to buy or on offer for the returnees, some of who were children. One can guess that sleeping arrangements were equally unready. Most importantly, there seemed no person/s of authority in charge. After a long flight, add a few more hours for airport travel, formalities and wait—the situation can be frightening and demoralising for the returnees.
It begets confusion and belies logic. The same protocol handled well the large number of returnees—312—who returned on February 1 from China's Wuhan, the epicentre of the Covid-19, after the outbreak and deaths there. They went into compulsory 14-day quarantine at the Ashkona Hajj Camp, and left for home in healthy conditions. No questions asked, no protests, but total cooperation. Perhaps because they were all students.
Our fear is that severe complacency has set in among the field workers, doctors and all. The China-returnee success and not finding any indication of the virus among other returnees has helped to tilt the decision in favour of letting the Italy returnees go home. But why? Who is monitoring them?
It will help to remember that the five confirmed cases of Covid-19 in Bangladesh are connected to overseas persons. On March 8, Bangladesh confirmed its first three cases—two of them were Bangladeshis arriving from Italy, while the third was their family member living in Dhaka. About a week later, two patients arriving recently, respectively from Italy and Germany, were quarantined.
In some countries, refusing quarantine is now a punishable offence. Was it then such a wise decision to let the Italian returnees, in spite of their raucous protests, leave the designated quarantine areas to be at home with their relatives? And friends? Of the first three cases, one was a relative.
Concerned ministries and agencies should have made the situation conducive at Ashkona Hajj Camp by adequate planning and logistics so that those arriving from Italy would have favoured voluntary isolation. Call it compulsory. Fund is not a factor.
Dr Nizamuddin Ahmed is a practising Architect at BashaBari Ltd., a Commonwealth Scholar and a Fellow, a Baden-Powell Fellow Scout Leader, and a Major Donor Rotarian.