Make them eat their mangoes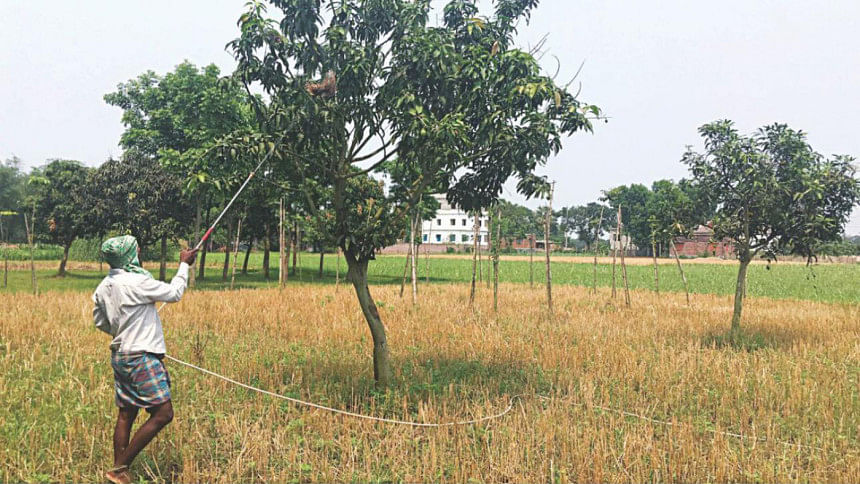 You left a restaurant, content, so much so that you tipped the waiter heavier than your usual. Two days later, a news flash on the TV scroll: "Sona Dana Khana Pina Restora fined Tk 1 lakh for freezing rotten fish and expired chicken." Nausea overtakes you. To an immaculately attired waiter, you had ordered vetki dopiaza and chicken jhaal farazi. You wipe your lips to check if there are any remnants.
Your mother was admitted to a topnotch hospital last week. She is now recuperating at home, so happy, but continuing with tablets and capsules supplied by Guaranteed (to get well) Hospital. That very hospital that defines modern health facilities and even advertises imported smiling doctors with a side pose, arms folded, has now been caught with outdated medicines. You subconsciously cry out, "Amma..." The hospital owners were not beaten up, but were slapped with a Tk 2 lakh penalty.
Television news coverage shows a video with background audio narrating the demise of 15 maunds of contaminated mangoes. Ali Fazlee with cameraperson Gopal Bhog reported that the mangoes were squashed by a roller that was indeed too big for the job. You glance at the two small mangoes remaining on your dining table. You bought them a week ago.
In addition to the monetary penalty, the Sona-Dana-making restaurant owner, his astute manager, chef, cooks, and waiters should have been made to sit at their table. Guests present should have served them chicken (old) spicy and fishy Russian roulette till they vomited on the floor. Such restaurants must be closed for good and the operators banned from doing similar businesses for 10 years. We are talking of life or death here.
Consequent to the cash fine, parents and neekot family members of the hospital businesspeople and the medical staff of the reputed commercial enterprise should have been forcibly admitted to chee-chee-you. There, irrespective of their diagnoses, each of them should be administered with the outdated medicine thrice a day live on television. The idea here is, two can play the game. If hospitals can try to kill the paying public, hospital shareholders should be made to taste their own medicine. Such hospitals must be closed for good and the operators banned from doing similar business for 10 years. We are talking of life or death here.
Mangoes are the love of our children. Fazlee, Gopalbogh, Himsagar, Lyangra… you name it—the delicacies are the toast of any Bengali summer. Those greedy and selfish merchandisers and their top-level employees, who medicated the fruit to ripen them early and delay their decay, should be asked to call their children. Before the big roller moves, which accounts for their economic loss, their children should be made to eat those poisoned mangoes. If they want to save their children, they must save ours. Hammurabi's dictum, "An eye for an eye, and a tooth for a tooth", must be practised to the fullest. Such traders must be banned from doing similar business for 10 years. We are talking of life or death here.
We have today stooped to such an abysmal state that a food recipe may sound like this. Do not try this at home.
Step 1: Turn on your outdated gas cylinder. Lightly fry soybean oil, flour, flavoured matching paint (that's ghee), sprinkle some grounded brick dust (that'll be turmeric), shreds of bark from a mature tree (forget the dog's liquid legacy, call that ginger) and a sliced stem of Rajanigandha flower (onion anybody?), add stone granules (salt).
Step 2: You would already have thawed expired cow meat (frozen) so that no one can smell authenticity, and prepared dicey diced pieces. Don't worry about the "best before" date; it is any date after human consumption. Moreover, a cow has to expire before it can be eaten. But, if you really care for your health, wash the slightly odorous meat with WASA water that looks like an orange drink. Think not twice because the chairman has guaranteed its purity, saying WASA's (coloured) water was "cent percent drinkable". Save the water because you will need it for completing the dish.
Step 3: Add the meat to the pan of hot spices. Stir to make it smell more. Add tomatoes ripened by a red chemical solution. Stir for three minutes till everything turns light brown. Boom! The cylinder too has expired.
There have been calls for capital punishment, no less, for food adulterers, notably from the Awami League presidium member and spokesperson of 14-party alliance Mohammed Nasim and RAB Director-General Benazir Ahmed.
At an iftar gathering (food contamination could not be ruled out even here), Mohammed Nasim said, "Those who push the countrymen to death by adulterating food are enemies of the country as well as the nation. Capital punishment should be executed against them." (Dhaka Tribune, May 20)
Benazir Ahmed, at a discussion on keeping the price of daily necessities stable during Ramadan at the Dhaka North City Corporation, sought amendment to the Food Safety Act-2013, and requested to incorporate capital punishment, terming the food adulterer as a "murderer". (Daily Sun, May 7)
They have perhaps expressed the sentiment of the suffering public, who seemingly have nowhere to go, except in helplessness and trepidation to the doctor, hospital, pharmacy, and, more unfortunately, to the quack doctors. Their lives and those of their children are pawns in this deadly game of our need and their greed.
Dr Nizamuddin Ahmed is a practising architect, a Commonwealth Scholar and a Fellow, a Baden-Powell Fellow Scout Leader, and a Major Donor Rotarian.
Follow The Daily Star Opinion on Facebook for the latest opinions, commentaries and analyses by experts and professionals.
To contribute your article or letter to The Daily Star Opinion, see our guidelines for submission.