Trump's unilateralism over Jerusalem isolates America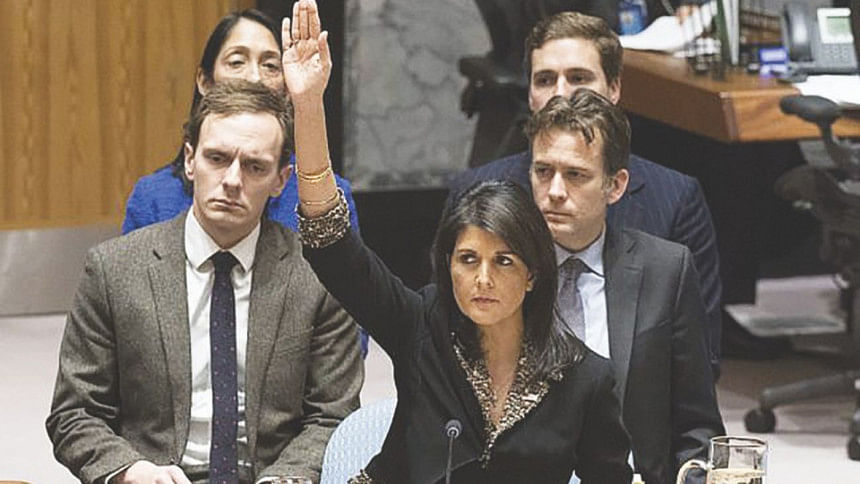 It is now clear that Donald Trump's decision on Jerusalem is part of his "America first" slogan. The conspiracy to deny the Palestinians their rightful state began way back during Donald Trump's campaign. While delivering his infamous speech in March 2016 to the American Israeli Public Affairs Committee (AIPAC), he declared amid cheers, "we will move the American embassy to the eternal capital of the Jewish people Jerusalem."
Then when Benyamin Netanyahu visited the White House soon after Trump's inauguration, Trump did not for once support the two-state solution at the press conference on February 15, 2017. There are other clues—Trump's repeated anti-Muslim tweets and the Muslim-ban; choice of David Freidman, and staunch supporter of Israel, as US ambassador to Israel; when Trump visited Israel in May 2017, he broke with tradition to be the first US president to visit the Old City and prayed at the Western Wall (Wailing Wall, holiest site for Jews). However, he did not make the Jerusalem announcement early in his presidency, although the conspiracy was cooking ever since he walked into the Oval Office. Clearly, Trump's preposterous decision came in connivance with Netanyahu.
However, one must give credit to Trump for finally taking off the mask of "honest broker". He has come out clean on Washington's ultimate aim on Palestine. Over the past decades under both Democratic and Republican presidents, America has played the game of duplicity—assuring the Palestinians and arming the Israelis and condoning every illegal act of Israel. There are now fears that Trump may go a step further and recognise Israel as a "Jewish state" and legitimise all illegal Jewish settlements built in occupied Palestine. The Oslo Accords (1995) is now dead along with the two-state solution. Palestinians and the world are now relieved of American chicanery.
Two important diplomatic demarches were activated following Trump's declaration. First, was the OIC Extraordinary Summit in Istanbul on December 13 called by OIC Chair, Turkish President Erdogan. Second, were the UN Security Council and General Assembly meetings, which were held on December 18 and 21 respectably.
The OIC summit was attended by all 57 members of the organisation at the highest level. Rejecting Trump's move the Islamic world in the Final Declaration titled "Freedom for Al Quds" condemned the "US administrations unlawful statement regarding the status of Al Quds" and stated, "we recognise the State of Palestine with East Jerusalem as its capital, we invite the whole world to recognise East Jerusalem as the occupied capital of the State of Palestine." What is noteworthy despite political differences among members was that the Final Declaration was adopted unanimously.
The UN Security Council meeting came when non-permanent member Egypt moved a draft resolution on Jerusalem on December 18. The resolution did not mention the US specifically, but expressed "deep regret at recent decisions concerning the status of Jerusalem." The resolution called on all states to refrain from establishing diplomatic missions in Jerusalem. It was a stunning rebuke to Trump's decision as it went against established international consensus as also international law. All 15 members, except US, voted for the resolution. US Ambassador Nikki Haley vetoed the resolution and threatened other members of the Security Council saying that the resolution was "an insult" and that would not be forgotten.
When US vetoed the UNSC resolution, permanent representatives of Yemen and Turkey called for an emergency meeting of the General Assembly on December 21. The draft resolution expressed "deep regret" over recent Jerusalem decisions and demanded that all countries comply with Security Council resolutions, which constitutes international law, regarding the status of Jerusalem. US and Israeli Ambassadors tried to block the resolution but were totally isolated. Sensing defeat Ambassador Haley issued blatant threats that she would be "taking names" and that President Trump will be watching this vote carefully. Fuming, Haley went on to say that those voting against would face retaliation and cuts in US aids.
The resolution was adopted by an overwhelming 128 votes in the House of 193 members. Only nine members voted against, while 35 abstained. Bangladesh also co-sponsored the draft resolution. It is not surprising that Guatemala, which voted against, succumbed to US pressure and decided to move its embassy to Jerusalem—as it is financially dependent on America.
This non-binding resolution carries tremendous moral weight. The votes of 128 countries proved that these nations were not supporting the Muslim nations but upholding international law against unlawful unilateral attempts to change its status. Angry Netanyahu rejected the resolution calling the UN a "house of lies". Palestinian President Abbas described the resolution as "a victory for Palestine".
Palestinians no longer have any illusion of a two-state solution. Unfortunately, they remain badly divided. Sadly, Yasser Arafat is not around to unify opposing factions and lead the peace process. Keeping the PA divided has been a conspiracy of both America and Israel. As long as Fatah and Hamas are enemies—the PA remains weak, unable to mount an Intifada, which is to the advantage of Israel. The worry is that the conflict is likely to take a new shape as there will be new realignment of forces.
Unilateralist Trump's bankrupt Middle East peace policy has made America terribly isolated. The Trump-Netanyahu one-state solution will not succeed as two opposing nationalism cannot exist in a small state. "Can two swords share one scabbard?"—asks an Arab proverb.
Clashes with Israeli forces have killed 14 Palestinians so far, and have marred the Christmas festivities in Bethlehem on December 25 for fear of violence. Pope Francis in his Christmas message said that the Middle East needs two states to end the conflict. Palestinians have given lots of blood for their state over the past seven decades. They seem destined to pay more in order to establish an independent State of Palestine.
---
Mahmood Hasan is former ambassador and secretary of the Bangladesh government.
---
Follow

The Daily Star Opinion

on Facebook for the latest opinions, commentaries and analyses by experts and professionals.
To contribute your article or letter to The Daily Star Opinion, see our

guidelines for submission

.
---