Merkel's chances in the upcoming election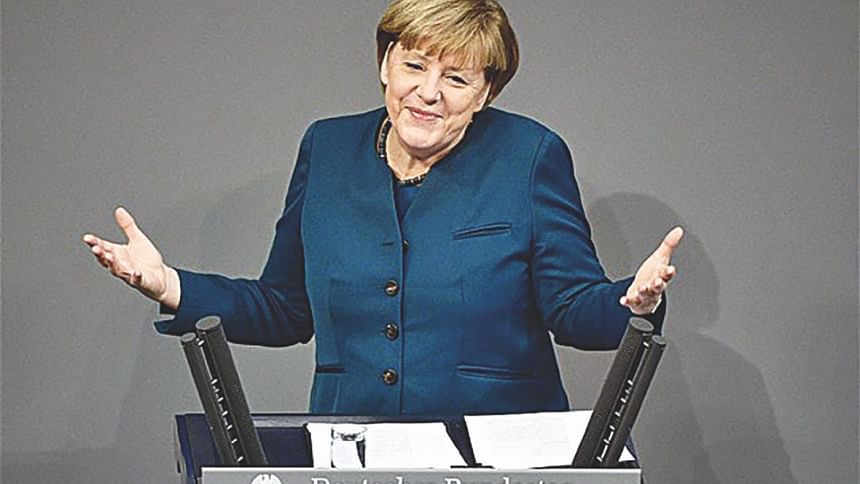 Urope's economic giant Germany is set to hold its federal election on September 24, 2017. All eyes are now focused on Chancellor Angela Merkel, who is seeking a fourth term. If elected, Merkel, the first woman ever to lead Germany, may match the records set by Konrad Adenauer (14 years) or Helmut Kohl (16 years).
There are seven parties in reckoning—Christian Democratic Union (centre-right conservative), Christian Social Union (centre-right), Social Democratic Party (centre-left), The Left (far left), The Greens (centre-left), Free Democratic Party (centre-right), and Alternative Für Deutschland (centre-right).
Coalition governments have led Germany since 1949, primarily because neither of the two main parties—CDU and SPD—have had the numbers in the Bundestag (parliament) to form a government on its own. But forming a coalition has not always been easy. Angela Merkel's first government was formed on November 22, 2005, though the election was held on September 18, 2005. It took 64 days to thrash out the coalition deal. Since the last election of 2013, Angela Merkel has been leading the grand coalition of centrist parties—CDU-SDP-CSU with 309 seats in the Bundestag out of 598.
German politics was greatly shaken by the surge of populist ultra-right nationalism in America and Europe at large. It started with the Brexit referendum of June 2016 in Britain, followed by strong anti-immigrant sentiments across Europe particularly in the Netherlands, France and other countries. Then came the American election of November 2016, which gave the White House to Donald Trump. The rise of populist movements threatened to disintegrate the European Union. During this period Angela Merkel stood firmly for the unity of Europe. Her hands were strengthened when Emmanuel Macron won the French Elections in April 2017, defeating Marine Le Pen. The conservative Merkel suddenly emerged as the "leader of the free world".
Among the issues that have come up for vigorous debates are immigration, economy and unity of EU, Russia and security, transatlantic relations with US, NATO, Turkey's EU membership etc. Broadly seen, the position of the major parties on security and foreign policy are not much different from one another. With transatlantic relations (NATO) facing challenges because of Donald Trump, most leaders have spoken about improving relations with Russia, in spite of the annexation of Crimea. Brexit remains a pain in the EU's neck.
The TV debate on September 3 between Merkel and SDP leader Martin Schulz was indeed exciting. Though SDP is in the current coalition, Schulz has thrown his hat in the ring for chancellor. Analysts say that the positions and policies of the two leaders on major issues were so convergent that Merkel demolished Schulz. Migration was the central issue of the debate with Merkel remaining firm on her decision to admit 1 million migrants in 2015. Though it was a humanitarian gesture it had strong economic compulsions. With the indigenous population aging, Germany needs to infuse young blood into the economy to keep the wheels churning. The debate left Merkel with 55 percent approval against Schulz's 35 percent, according to one poll. Analysts say it would be difficult for Schulz to claw back the popularity that he had enjoyed earlier.
One wonders whether the rise of AfD in 2013 is embarrassing or refreshing for German politics. Its anti-immigrant and anti-Islamic agenda gained popularity as Merkel opened Germany's door to immigrants. Though AfD leader Frauke Petry is on the back-foot after the defeat of Geert Wilders in the Netherlands and Le Pen in France, it would be naïve to underestimate its appeal to voters. Gnawing at the centrist vote bank it has made inroads in 10 out of 16 regional parliaments. Though it did not cross the 5 percent threshold in the 2013 election to enter the Bundestag—it will get seats for the first time in 2017. AfD's main thrust is to remove Merkel and turn Germany into an illiberal nationalist state.
Merkel's strong faith in globalisation has made the German economy the strongest in Europe. Germany has the lowest unemployment rate in Europe—labour strikes are rare because of excellent labour relation. It is the fourth largest economy in the world with a strong GDP growth of 2 percent (2016). Tax revenue is flowing unhindered and no new debts have been added in 2016. Observers say economic growth and political stability will boost Merkel's bid for a fourth term.
Germany's multiparty democracy and five percent threshold to win seats in the Bundestag discourages wild swings to the left or the right. This is the reason why no single party can garner enough seats to form government and has compelled parties to form coalitions. This election will most likely produce another coalition government, but under whom?
From opinion polls it appears that CDU will lead in seat count but fall short of clear majority. Will the coalition be a repeat of the past or will new alliances shape up? For instance, the CDU partnering with FDP and Greens under Merkel's leadership. The Green, hitherto excluded from coalitions, is a likely partner after Merkel, accepting their main demand, has phased out nuclear energy. What will be the role that the SDP, the other major party, play? There are several possibilities. The Left and AfD, however, are excluded.
According to polls, though almost 50 percent of voters are still undecided, Merkel is leading by a significant margin against Schulz and other party leaders. Angela Merkel (63) originally from the then East Germany was inducted in Helmut Kohl's cabinet after the re-unification of Germany in 1990. Merkel is seen as a pragmatist not an ideologue. She has earned the respect and trust of Germans and world leaders for her pragmatic policies. This election is indeed a referendum on Angela Merkel's policies over the past three terms.
Europe will have to wait with bated breath until the results are announced after the September 24 voting. The 19th Bundestag convenes on October 24, 2017. The tricky coalition negotiations will come later, followed by secret ballot to elect the next Chancellor. Will it be Angela Merkel? She certainly looks to be, for now, the favourite.
---
Mahmood Hasan is former Ambassador and Secretary.
---
Follow

The Daily Star Opinion

on Facebook for the latest opinions, commentaries and analyses by experts and professionals.
To contribute your article or letter to The Daily Star Opinion, see our

guidelines for submission

.
---