Merkel still searching for a government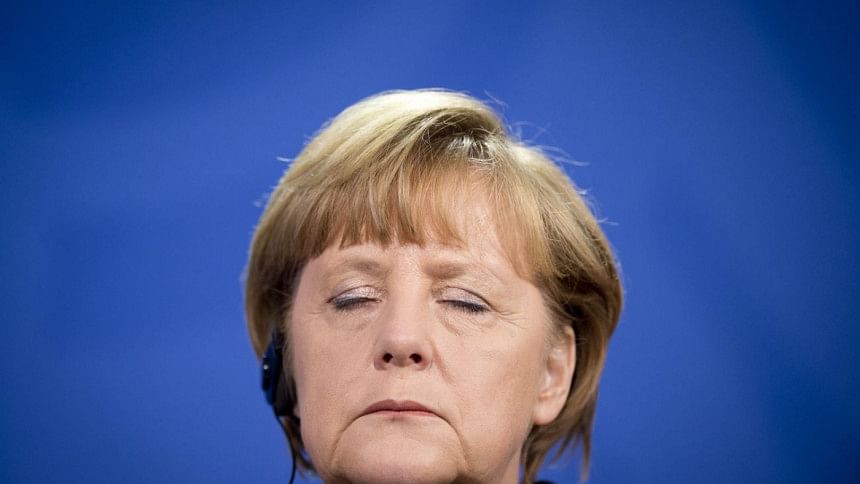 What is extraordinarily unusual is that Germany is still without a government since the election on September 24, 2017. Even after heading the largest party in the parliament Acting Chancellor Angela Merkel has not been able to form a government for almost four months. Merkel has been in marathon talks with other parties to build a coalition government and retain her position.
All governments in Germany since 1949 were coalition administrations, as no single party commanded the numbers in the Bundestag. After the election in September 2005 it took 64 days before Angela Merkel succeeded in forming the grand coalition government. But this time around the coalition deal has eluded Merkel so far.
This situation has arisen primarily because of the arithmetic of seats in the Bundestag (parliament). In the 709-seat current Bundestag, 355 is needed for majority. Among the six parties that now represent the Bundestag, none succeeded in getting a majority individually.
Angela Merkel's CDU (pro-European centre-right conservative) got 246 seats together along with CSU (conservative) of Bavaria. SPD (centre-left, social democrat) led by Martin Schulz managed only 153 seats.
The AfD phenomenon, which was thought to be an aberration in German politics, was written off by some psephologist. But its rise since 2013 on an anti-immigrant plank has already altered the political discourse in Germany. This ultra-right-wing group led by Alice Weidel and Alexander Gauland made significant gains by crossing the five percent threshold of votes in 2017. It garnered 12.6 percent votes and entered the parliament for the first time with 94 seats. As the third largest party it is set to play a crucial role in the parliament, particularly on immigration.
FDP (classical liberalism) of Christian Linder came out fourth with 80 seats. The Left (leftists, democratic socialism) led by Sahra Wagenknecht came out fifth with 69 seats. And the Greens (environmentalists) led by Katrin Göring-Eckardt was last with 67 seats.
With a high voter turnout of 76.2 percent, the election results have shown a swing away from the CDU and SPD when compared to their performance in 2013. CDU and SPD, which were partners in the last government, lost 65 seats and 40 seats respectively in 2017. Most of their lost seats went to the populist ultra-right nationalist AfD.
The SPD, which was part of the outgoing government, believed that it will do better than CDU in 2017. But after being badly mauled, Martin Schulz decided to lead the opposition parties in parliament. SPD feared that continuing with the grand coalition under Angela Merkel's shadow would further erode its political influence with the polity.
Merkel began negotiations in earnest to build a three-way coalition with liberal FDP and the environmentalist Greens soon after the election results were announced. That was supposed to be the "Jamaica coalition"—the colours of the three parties representing the colours of the Jamaican flag. But after more than six weeks of parleys the deal collapsed on November 20, 2017, when FDP pulled out because of differing views with CDU. That made Merkel's political future uncertain and thrust Germany into a critical situation with the possibility of fresh election.
The most important sticking point was related to asylum, immigration and family reunification of one million refugees that Merkel allowed in 2015, much to the opposition of AfD. The other major contentious issues were climate protection, EU and Eurozone policy, and tax cuts and social development.
At that point Merkel said that she would not lead a minority government with the Greens, rather face fresh elections. The trouble is fresh election may not resolve the problem of numbers in the parliament. According to some opinion polls a fresh call for vote would lead to a fragmented parliament again. Predictions said the vote percentage may go down even further for the CDU and SPD— giving more seats to AfD and the Greens.
Merkel's failure to stich a coalition is ominous for the European Project. Germany is the pivotal member of EU and delays in forming a stable government may jeopardise issues such as Eurozone reforms, immigration, defence of Europe, Brexit negotiations etc. EU needs a stable German administration to push the European Project.
Worried at the political stalemate, President Frank-Walter Steinmeier (former Foreign Minister from SPD) urged parties involved in negotiations to form the government. He said Germany was facing the worst governing crisis in the 68-year history of its post-World War II democracy and pressed all parties in the parliament "to serve our country".
Developments as of January 12 suggest that Merkel has been able to strike a preliminary deal with the SPD. Martin Schulz agreed to speak to Merkel after the tri-lateral talks collapsed. The return of the grand coalition would give Merkel a comfortable score of 399 seats in the Bundestag. But some SPD party men are wary saying that the deal did not make sufficient concession for the centre-left party. The 28-page coalition document apart from agreeing on give-and-take between the two parties, pledges closer cooperation with France and not to sell arms to countries involved in the Yemen war. For the coalition to take off the document has to be approved by SPD party conference on January 21. Martin Schulz said that the deal would preserve and strengthen welfare in Germany with tax cuts, additional investments in education, home-building and research.
Speaking to newsmen after the preliminary deal Merkel said, "We have realised that the world isn't waiting for us…we are convinced that Europe needs a fresh start and have developed the right ideas to go with it." Martin Schulz added, "I believe we have reached outstanding results."
In the past three governments, Merkel's style was based on building consensus among all political parties. One wonders whether that practice is coming to an end. One thing that is not yet clear is whether Angela Merkel (63) will continue as Chancellor for the next four years or there will be change in Chancellorship before 2021.
---
Mahmood Hasan is former Ambassador and Secretary.
---
Follow

The Daily Star Opinion

on Facebook for the latest opinions, commentaries and analyses by experts and professionals.
To contribute your article or letter to The Daily Star Opinion, see our

guidelines for submission

.
---