Securing our energy future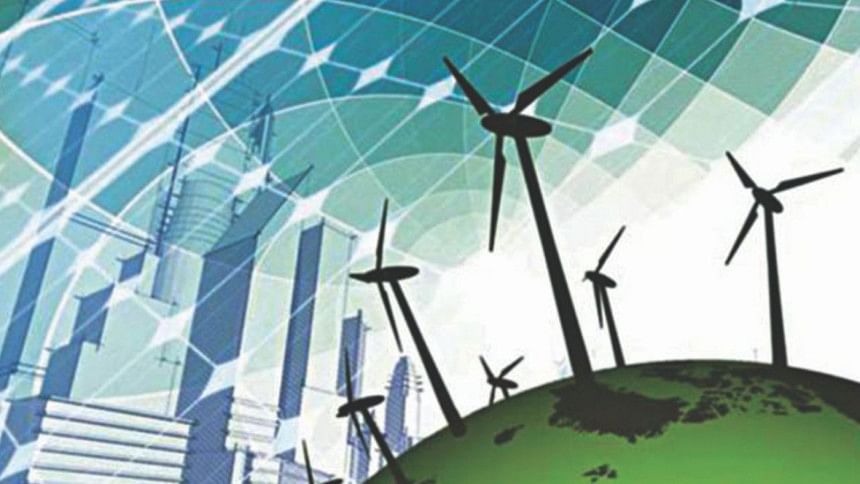 In a recently held international conference sponsored by Bangladesh Chamber of Commerce and Industry (DCCI), Mr. Anders Hasselarger, an energy expert from Denmark pointed out in his keynote speech that the share of renewable energy, mostly solar and wind, in the energy mix in Denmark is 30 percent at present with prospect of raising it to 50 percent by 2030. Many other European countries are also forward moving towards an all renewable energy market.
What Mr. Hasselarger tried to suggest based on the European energy sector concept, was that Bangladesh should have a diversified future energy mix with a long term perspective towards renewable energy sources with solar energy as the primary source. However, biomass, wind, hydro and wave or tidal water systems could also be relevant.
Denmark and other European countries are not rich in sunlight. Sunlight is abundant in Bangladesh, yet the share of renewables (including solar, wind, hydro) in the energy mix in Bangladesh is only 3 percent, way behind a sun poor Denmark. Bangladesh targets to raise the renewable share in the energy mix from 3 percent today to 10 percent by 2020. This implies an increase of renewable based power to 2,400 MW (10 percent of projected generation capacity of 24,000 MW) from the present 450 MW in just four years. The absence of visible projects to fulfil the target led most observers to be sceptical about its success.
Solar energy has very small share in the present energy mix in Bangladesh - less than 2 percent. Yet in one count, solar has a successful story. Bangladesh hosts the fastest growing solar home system in the world with 60,000 SHS units being installed per month. In terms of megawatt this may be tiny (solar produces only 190 MW while the national total power production capacity is 13,000 MW), but its contribution is enormous in socially uplifting millions of people, by raising their standard of living, by providing solar electricity to those who would never have grid electricity.
Lighting a remote off the grid house with small solar power is one thing; providing energy feed for a large mass of people aspiring for rapid industrialisation is quite different. This is a bigger challenge. Bangladesh at present is energy starved. Its aspiration for entering the club of middle income country requires an increase in per capita energy use to boost the per capita GNI, a prerequisite for the above transition.
The core problem Bangladesh faces is a shortage of primary energy to run the rapidly growing industry and power installations. Being a local gas based mono energy nation for the last four decades, Bangladesh was caught unprepared with an energy crisis when the trend of depleting gas reserve was confirmed. Although good amount of coal reserves are known to occur in north Bangladesh, local coal could not be used immediately as an alternative to gas because of the absence of enough coal mining. This leads Bangladesh to look for energy from outside. In the medium to long term future, Bangladesh plans to source its energy needs through imported fuels including coal, liquefied natural gas, LNG and oil. In one estimate, Bangladesh will have 90 percent dependence on imported energy sources by the year 2030. And this would come at a cost.
The present downward prices of oil, LNG and coal are likely to be short lived and will bounce back to their original or even higher positions. Therefore, long term dependence on imported fuel for most of its requirement will introduce stress on the economy and will increase prices of industrial products including electricity and import inflation.
Introduction of LNG in the short term future to compensate for the immediate gas supply deficit is perhaps justified, but the merit of a long term supply of large volume of costly LNG may be questionable. A rightful alternative is to launch serious gas exploration. Major exploration for hydrocarbon has not been undertaken in the country for more than a decade and a little gas reserve could be added to the reserve base. The gas exploration in Bangladesh may be called anything but serious with less than 10 exploratory wells drilled in the last 10 years. In spite of the fact that a large ocean area has now been claimed by the government as undisputed following the verdict of the international court, there has been too little activity by Bangladesh offshore. Yet, on the other side of offshore boundary, Myanmar has been registering significant gas discoveries since the boundary dispute was settled in 2012. Interestingly, the offshore Rakhaine Basin of Myanmar, where the late gas discoveries are being made, is a geologic continuation of the SE offshore Bangladesh. Geologists are therefore pointedly suggesting that the latter area would be equally gas prospective as the former. Unfortunately the Bangladesh offshore sees little exploration to prove it right.
Bangladesh stands at a cross road of transition from an under-developed power and energy sector to a more developed one with projections of attaining a power generating capacity of 39,000 MW by 2030 and 56,000 MW by 2040. A major challenge for its successful implementation is to secure a cost effective sustainable primary energy supply.
The government plans major changes in the way Bangladesh runs its energy business. As per the government's plan and publicity, an energy mix is forthcoming in the mid to long term future with massive imported coal, large volume of imported LNG, imported oil, significant cross border electricity, nuclear energy, renewables and some local gas. This is likely to visibly change the energy and power scenario in the country, but the impact of such large volume of imported energy sources raises one question: how would the economy react to the price shock that comes with the large scale energy imports?
Bangladesh should prioritise hydrocarbon exploration especially in the offshore, optimise renewable prospects especially solar and develop local coal to mitigate the energy crisis in the short to mid-term future. For the long term future (beyond 2030 or even 2040) cross border hydro power from Nepal, Bhutan and India and cross border gas import linking projects like Iran-Pakistan-India (IPI) or Turkmenistan-Afghanistan-Pakistan-India (TAPI), should these materialise, are among the most feasible options. Into the distant future (2060 and beyond) we tend to believe that renewable energy will gradually take over the world energy market until a point when fossil fuels will find their place in the history books. The world will be a better place to live by then.
The writer is Professor, Department of Geology, University of Dhaka.