A runaway bureaucracy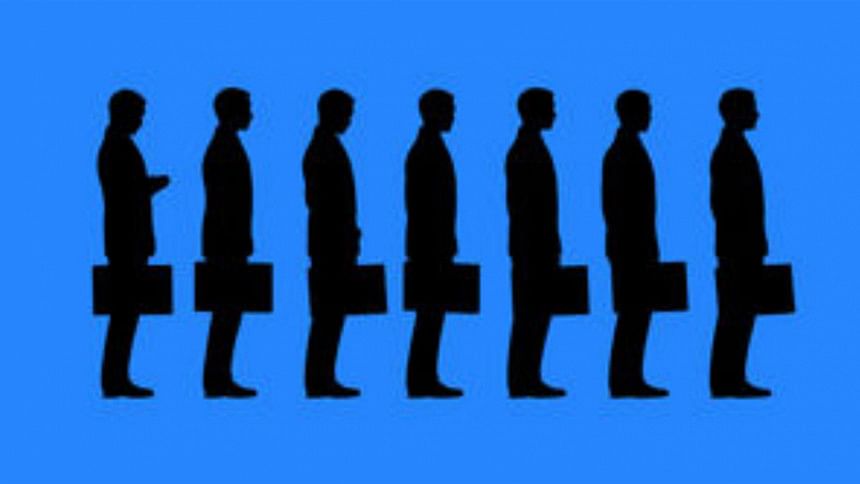 In 1972, shortly after liberation, I used to work in the Prime Minister's secretariat in a small cubbyhole of a room that was hardly big enough for one desk and two chairs. I did not make much of the small space as I was one of many government officers back then who were crammed in one floor of a small secretariat building. Next to my room was my senior's office, who was a deputy secretary, which was slightly larger than mine.  Very often I would have to be in his office for consultation.  
One day, I heard to my delight that my senior colleague had been promoted to joint secretary (many of his juniors were already joint secretary because they had crossed over to India during the Liberation War). When I went to his office, I found a small wall mirror, a new towel, and a small package of soap on a chair next to his desk. I asked him if he had bought these for his home. He said these were government supplies given to him. Amazed I asked why. He replied as joint secretary he was entitled to a private bathroom, but as there was a dearth of rooms with private bathrooms, the general supplies department had no alternative but to give him at least the toilet materials. Apparently, there were more joint secretaries than there were office rooms to accommodate them. 
I am talking about a period when joint secretaries did not crowd the corridors of the Secretariat nor were there secretaries and additional secretaries a dime a dozen. That time there was dearth of space as the secretariat was built for a provincial government but not of work. Now there are more high positions in the government than there is actual work for all of them. 
From 1972 to 1982, the number of secretaries and additional secretaries was held to a reasonable level, consistent with the requirement of government and expansion of government functions. But then began an onward rush to promotions to create a politically pliable bureaucracy and accommodate ever increasing intakes in the civil services that were mostly ill-planned.
In the mid-eighties, there were more recruits in the services than the total intake in the country's first decade.  Since promotions in the civil services are mostly based on the number of years spent in the job rather than merit, the recruits of each year clamoured for the next rung in the hierarchy as time passed. The government also yielded since politics had infiltrated the management of bureaucracy, and patronage ruled the bureaucracy rather than the objective criteria of personnel management based on merit and performance. So as the government expanded, the opportunities for promotion also grew. There are now at least 72 government officials at the rank of secretary or equivalent (including eight senior secretaries), 382 additional secretaries or equivalent and 888 joint secretaries or equivalent.  Many of the newly promoted moved up in grade without having any new assignment. 
Growth in government is indispensable in a country where the government controls most of the functions that regulate public life and services, as well as manages development. But governments everywhere face a daunting paradox. On one hand, they operate in an increasingly complex environment and must deliver on an expanded set of policy objectives. On the other hand, governments are hampered by shrinking budgets, rising costs, and increasing demand for public services.  Most governments try to meet this paradox by observing the golden rules of management of a simple organisation structure, managing demands through innovation and training employees with new techniques and skills. In our country, however, the response to higher demand and expansion in government function has been higher recruitment and an expanding organisation with more people at the top, managing or supervising functions of others below them by following Parkinson's Law. 
Two key features of Parkinson's Law are:  1) The Law of Multiplication of Subordinates, and 2) The Law of Multiplication of Work. According to the first law, an official wants to multiply subordinates, not rivals; and according to the second, officials make work for each other. When a top official feels overburdened, he does not share his work with another colleague, he instead demands that the work be done by two or three others who will report to him. This inevitably leads to the second law when work that was done by one person is now being performed by three others. 
Bureaucracies grow because work and personnel expand to consume the available resources. According to a research, in hierarchical organisations, personnel are promoted up to the point when their incompetence becomes manifest. Ironically, the more incompetent the bureaucracy becomes, the more is the need for people to manage work, thus leading to more promotions. That is why we have a disproportionately higher number of people at the top to the point that they virtually have nothing to manage.
Political scientists have observed that when a bureaucracy becomes too big, political power may be gathered undesirably by bureaucratic hands. The administrative apparatus becomes so large that it becomes immune from popular control. These are not the only problems that arise because of a bureaucracy that has run out of control; an unwieldy bureaucracy leads to the ultimate transfer of real power from democratically elected representatives to an unaccountable administrative team. 
Massive promotions will not rid us of our bureaucratic inefficiencies or an unresponsive government; these will only fester the problems that the country faces. The greatest rewards that the government can give to its employees are job satisfaction, job security, and of course, adequate compensation.
Employees will not seek political patronage for promotion if they know that their career growth is dependent on merit and performance, and not on loyalty tests. The way to avoid massive promotions in jobs that do not exist is by ensuring that recruitment and promotions are made on a need basis, not on political exigencies or the desire to placate a disgruntled group of civil servants.
The writer is a political commentator and analyst.