Blatant disregard for human life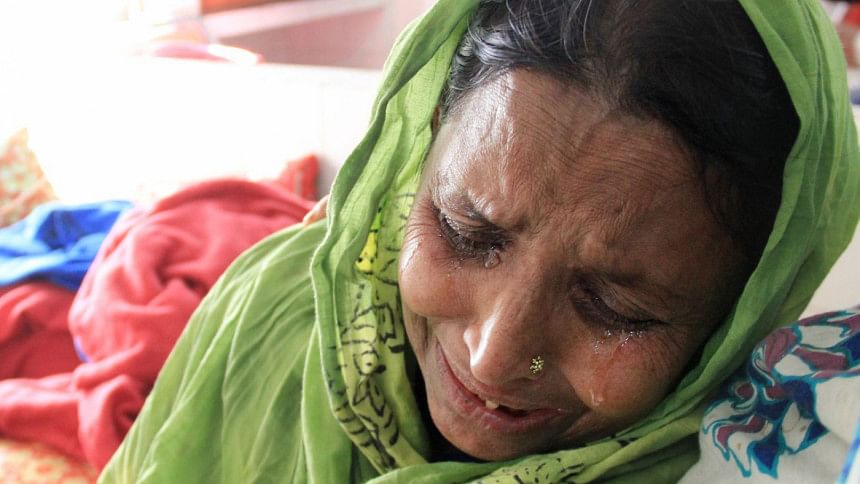 ON the darkened highways of Bangladesh; in the gloomy forests of Nigeria; in the merciless deserts of Iraq, Libya and Syria; in the windy ravines of Afghanistan; inside quiet mosques and vibrant schools in Pakistan, precious human lives are being ripped asunder by guns and bombs of demons of hell who call themselves humans. Why? To crush, conquer, control, exploit, extort and rule over the unarmed common people. Terrorising them into subjugation through display of brutality unrestricted with wanton killing is the name of the game. Territorial gain with an eye on natural resources of the country are the main motivating factors that work behind such attacks on human settlements and destruction of human lives. Many of these murderers take pride in declaring themselves as followers of Islam. But, in reality, the only religion they believe in is -- power. And power brings them infinite wealth. To achieve their objective they do not hesitate to shoot a baby in its mother's arm. Taking human lives under one pretext or another has become the order of the day and blood-letting has taken the form of a sport, once enjoyed by the sadistic Roman emperors of the likes of Caligula and Nero. 
But, history tells us that the days of the barbarians are over and Attila the Hun and Halagu Khan are long gone. Political pundits tell us that now is the age of education and enlightenment, of civility and refinement, of free thoughts and freedom of speech, and of justice and rule of law. They tell us that this is the era where democracy is the most accepted means of governance, where people enjoy the right to vote to elect their chosen candidates to power. They tell us about the benefits of multi-party democracy and the freedom of press in eloquent language. 
But when we look around the globe we do not see any reflection of the above in two-thirds of the world where more people jostle with one another to survive than anywhere else. In these countries, some man-made disaster-like situations are kept alive to make it possible for some corrupt political leaders to sweet talk, bribe and coerce the people into electing them to power, and in return they exploit them and loot public wealth with total impunity. Poverty and illiteracy, food shortage, unemployment, disease and disability, inequality and injustice, disparity and depravity are perennially present in these countries. No matter how good the GDP may look, the vast majority will always have to break their back to manage two decent meals a day. The chasm between the rich and the poor will keep widening and "never the twain shall meet." 
Present Bangladesh situation 
When we narrow down our vision and look at Bangladesh; when we take a stock of what is happening here in the name of politics, we cringe in fear of the unthinkable that may happen to us as we venture out on the roads to earn a living. Voice of wisdom is being rejected by the powers that dwell in the dark. Anti-people elements are dancing to the maddening beat of war drums. Violence and vulgarity have become order of the day. 
It is of least concern to them that the wheels of economy are slowly coming to a standstill, or that education has virtually stopped in its tracks. People are unnecessarily divided into many factions, brewing contempt for one another. The common people find breathing in the highly politicised environment almost a rib-breaking exercise. In a supposedly democratic country people's voice hardly rises above the exploding cocktails. And in the chaotic situation the goons of the political parties are taking the country's coffer apart. 
There is veritable disrespect for opposing views and blatant disregard for human life. Records of horrific deaths and destruction are piling up as common, non-political people are coming under petrol bomb attacks inside passenger buses, private cars and auto-rickshaws. The burn units at the hospitals are running short of medicine and space. Every day arson victims are dying, some remaining unrecognisable and some un-identifiable. 
There is a growing and self-destructing trend here to 'glorify' politics over every other institution, over every other occupation. According to the politicians in this country it is politics first, everything else is secondary. In their attempt to seize state power, they have created a war like situation throughout the country and are coaxing the common people to join in and lay down their lives for them. In this volatile situation,  education, agriculture, office work, factory production, shipment of exportable commodities, port activities, hospital work, transportation of perishable goods etc., are suffering immensely and yet we find little concern among the politicians who are actually supposed to facilitate smooth work in all sectors. It is beyond our comprehension why people do politics if it obstructs development. If not for development, growth and progress, why should politics be there anyway? It should be 'development' first, not politics. And sooner the politicians will accept this, the better it will be for the country. 
The writer is Special Supplements Editor, The Daily Star.