Out of Bangladesh
The great money migration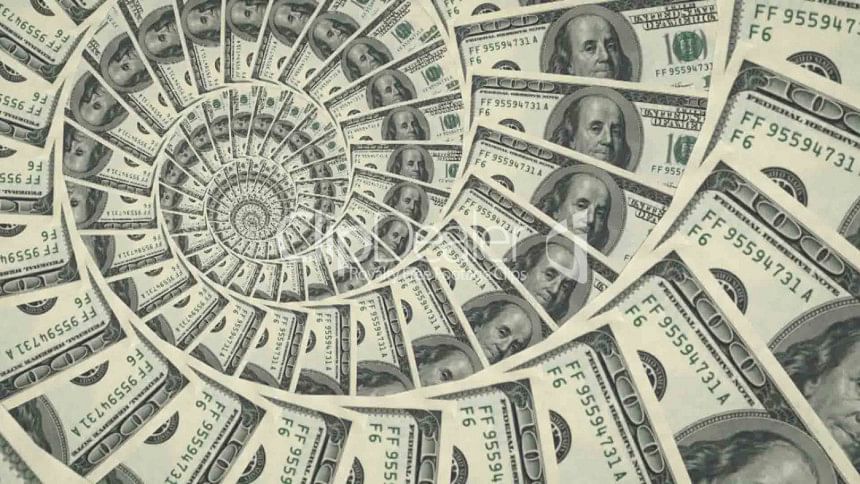 According to a research report titled "Illegal Financial Flows from Developing Countries: 2004-2013", recently published by the Washington based research institute Global Financial Integrity (GFI), Bangladesh stands 26th in the list of 149 developing nations, in terms of flight of capital including money laundering (The Daily Star, December 10, 2015). More than $57 billion has left the country illicitly between 2004 and 2013, thwarting poverty reduction and economic growth. In another report, the Malaysian High Commissioner in Dhaka Norlin Othman recently said that Bangladesh is among the top three countries eligible to avail itself of the "Malaysia my second home (MM2H)" programme. As many as 2,923 Bangladeshis have so far taken advantage of the offer. According to the Malaysian government rules, to settle in that country under the MM2H programme, one needs to deposit liquid assets worth at least RM 500,000 (about Tk 12.2 million) and show offshore income of RM 10,000 (about Tk 245 thousand) per month. Based on this information, one may calculate that around Tk 35.66 billion (3,566 crore) has been taken out of the country by those who want to settle in Malaysia. Sadly, all this information has been revealed just when Bangladesh has been desperately looking for local and foreign investment.
The term "flight capital" generally does not encompass criminal proceeds but instead refers to commercial and private funds being moved from one country to another. A distinction must be made between its legal and illegal manifestations. The legal component of flight capital is generally after-tax money that is properly documented, as it passes across borders, and it remains on the books of the entity from which it is transferred. Such free market operations are accepted as largely beneficial to investment, trade and development, leaving aside the question of the utility of short term capital controls. The illegal component of flight capital is quite different, illicit financial flows consist of money earned illegally and then transferred for use elsewhere. The money is usually generated from criminal activities, corruption, tax evasion, bribes and smuggling. Furthermore, it is improperly documented which means that it disappears from the records in the country of its origin. The motivations for these two forms of flight capital differ. The legal component is normally fleeing to safety and can be expected to return to the country of origin when investment conditions are attractive. The illegal component is fleeing to secrecy, to be accumulated in a hidden manner, and rarely returns to the country of origin.
Legal capital flight becomes illegal when some multinational companies evade taxes through misuse of a mechanism, known as 'transfer pricing.' Transfer price is the price at which divisions of a company transact with each other for goods or services. It takes place when two related companies - such as a parent company and a subsidiary, or two subsidiaries controlled by a common parent - engage in international trade with each other for goods and services. Sometimes, related entities of a multinational firm show artificially high prices for an imported product or service in an attempt to deflate profits to evade taxes. This practice is known as "transfer mis-pricing." Several studies show that Bangladesh loses a huge amount of tax money because of the abuse of the transfer pricing mechanism by foreign firms. Global Financial Integrity (GFI) said a total of $34.12 billion between 1990-2008, and more than $16 billion (Tk.1.28 trillion) during 2002-2011, had been illegally taken out of Bangladesh. It means the country lost around $1.8 billion a year in capital during this period, causing the tax authority to lose a huge amount of revenue. Another form of capital flight comes from foreign aid and loans intended to build the country's infrastructure but corrupt politicians, government officials and businessmen keep their commissions and kickbacks from such deals in foreign banks.
The costs of this financial haemorrhage have been significant for Bangladesh as it has heightened income inequality and jeopardised employment prospects. On an average, $5.59 billion was siphoned out a year, and in 2013 alone, the country witnessed illegal flight of capital to the tune of $9.66 billion. To put matters into perspective, that figure is three times the amount of foreign direct investment (FDI) Bangladesh has received in the last so many years. Illegal capital flight takes place when businesses and individuals feel insecure because of rising political tension and shift their money out of the country.  In Bangladesh flight of capital is not a new phenomenon. Since independence, people who have felt uncomfortable with our politics and political situation have moved their wealth and invested somewhere else. In the early '70s, investments were made in the United Kingdom, United States and Canada, and now Malaysia, Thailand and Dubai have been added to the list. Today Malaysia is one of the fastest growing economies in the region, and the Malaysian economy has witnessed tremendous changes in the last three decades. Malaysia is also offering one of the best investment schemes in the region and the quality of life there is amazing. These countries have always welcomed such investments because it has boosted their economy.
Although political turmoil and uncertainty during 2013 is partly to blame for such massive outflow of capital, it also an indicator of how widespread the problem is of illicit channels being used in Bangladesh to send monies abroad.  One needs to understand that businesses tend to avoid unstable and conflict-prone areas and as such the rate of illicit flow from Bangladesh has risen no less than 33 percent, as reported by the GFI. It was reported that some politicians and politically blessed businessmen are mainly responsible for shifting huge sums of capital out of the country. Now the question is, if we let the trend continue, can we imagine what sort of impact it would have on our economy? A country like ours, where actually the wealth of the nation is attributed among  a small group of rich people, if a good portion of them decide to stop business activity and shift their wealth and business to some other country, our economy will fall into deep trouble. Businesses and factories will be shut down, creating unemployment; law and order will deteriorate; the real-estate sector will surely collapse; demand for foreign currency will go up, which can cause the domestic currency to fall in value, which in turn can lead to tremendous instability and harm to the entire economy. Therefore, before things become uncontrollable and the country goes into deep crisis, the sticky issue of graft has to be tackled head on. Governments should adopt and fully implement all anti-money laundering recommendations of the Financial Action Task Force and the laws already in place should be strongly enforced.
The writer is a businessman.
Email: [email protected]