Doklam standoff, Bhutan and its quest for greater freedom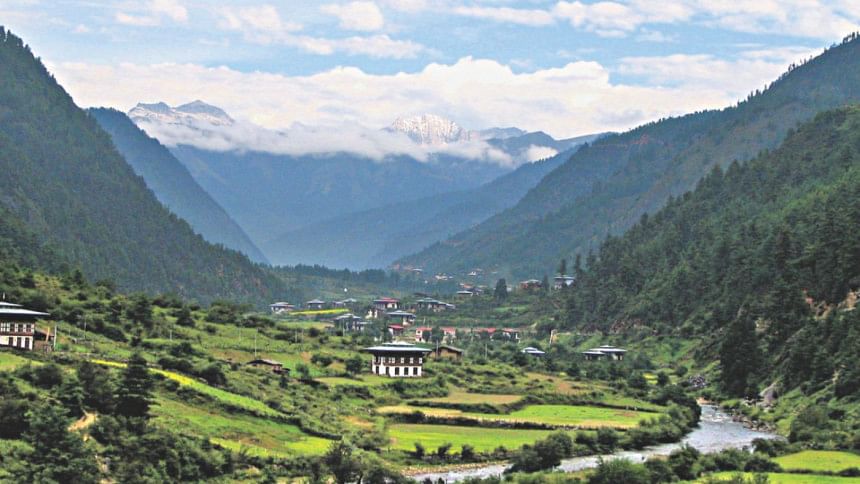 The ongoing border standoff in Doklam between India and China could escalate further. China has already issued some strongly worded statements, including warning India not to test Beijing. 
The standoff began in mid-June this year when China attempted constructing a motorable road in the disputed Doklam region—at the tri-junction of India, China and Bhutan—considered by India as Bhutanese territory, and viewed by China as its own. India sent its troops to the region in a bid to halt China's construction of the road, and there has been a military standoff between the PLA and the Indian Army ever since.
India claims that China's road construction is an effort to get close to Doka La—which lies on the western edge of the Doklam plateau and is the last Indian military post on its border with Bhutan and China. This poses huge security concerns for India because if China successfully builds the road, it will shorten China's route to India's sensitive "Chicken's Neck", aka Siliguri Corridor, that connects seven northeastern states with the rest of the country. Siliguri Corridor is also vital for India's military formations in the northeast and so, the corridor, if isolated, would lead to supplies and reinforcements to the military being cut off.
"As the turf war between India and China unfolds, all eyes seem to be (as expected) on the future course of relations of the world's two most populous countries. But what has evaded almost everyone's attention is Bhutan.
China has put its foot down and demanded that Indian troops be immediately withdrawn to end the military standoff. China, through its official state news agency Xinhua, has unequivocally stated that "Doklam is Chinese territory and there is no doubt or dispute about it." China is adamant about its stance on Doklam—make no mistake about it. China's Defence Ministry has warned India to not "push its luck" and "harbour any illusions." China has said that its "restraint has a bottom line" and is ratcheting up rhetoric and ramping up pressure on India to remove its troops from the Doklam region, saying that India—under the pretext of security concerns or protection of Bhutan—has no legal basis to station troops in another's territory.
A great deal of words have already been exchanged between high-level officials of the two Asian giants, but there doesn't seem to be any solution, at least in the very short term, to the border impasse. Neither India nor China is going to back down anytime soon—neither one of them wants to throw up its hands and look weak. Backing down this early would only embolden the other to encroach on its territory or sphere of influence.
But things are much, much more complicated than that.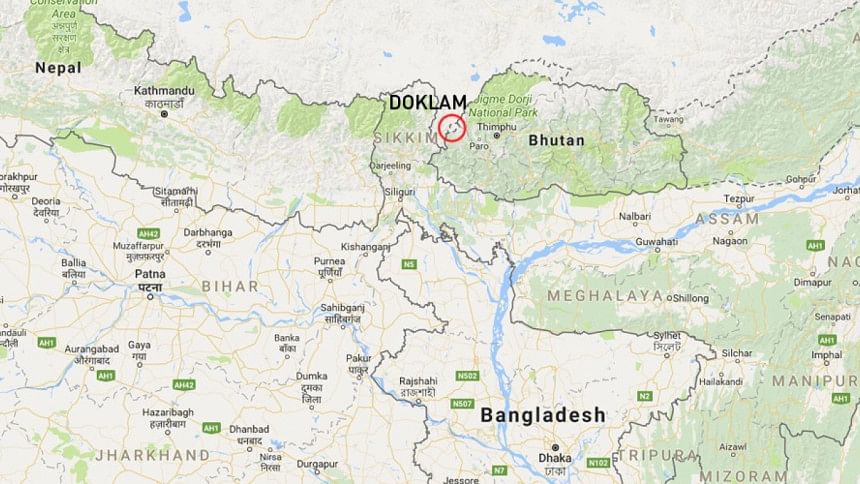 Amidst the ongoing crisis between the two countries who are no strangers to border disputes, China has repeatedly invoked the 1890 China-Britain treaty which, the Chinese Foreign Ministry recently said, clearly defines China-India boundary in the Sikkim part of the border. And India has been citing a non-public 2012 agreement according to which the tri-junction boundary points would be finalised in consultation with the concerned countries (including Bhutan); so any unilateral move to determine these points would therefore be a violation of this understanding. 
Beijing sees a clear demarcation of borders according to the 1890 treaty—claiming 89 sq km in the Doklam plateau south of where India sees the China-Bhutan border—but Delhi thinks Beijing is mistaken. According to India, China is misinterpreting their previous agreements which take into account unresolved boundary issues at the tri-junction and India has affirmed the 1890 treaty on "the basis of alignment" of the India-China border in Sikkim based only on watershed, and not the treaty's other aspects.
As the turf war between India and China unfolds, all eyes seem to be (as expected) on the future course of relations of the world's two most populous countries. But what has evaded almost everyone's attention is Bhutan. Has anyone asked what Bhutan—the tiny kingdom hidden in the folds of the eastern Himalayas—has to say?
Bhutan in its official website of the Ministry of Foreign Affairs issued a statement saying "the construction of the road [by China] inside Bhutanese territory is a direct violation of the agreements and affects the process of demarcating the boundary between our two countries. Bhutan hopes that the status quo in the Doklam area will be maintained as before 16 June 2017." This is a reference to the 1988 and 1998 agreements stating that Bhutan and China "agree to maintain peace and tranquility in their border areas pending a final settlement on the boundary question, and to maintain status quo on the boundary as before March 1959."
While China has asked India to back off and said that it is a matter strictly between China and Bhutan, it has not issued a statement on Bhutan's discontent with China.  
Bhutan, since issuing a demarche to Beijing, has kept mum. It does not want to rile up tensions with China with whom it has several border disputes and has had 24 rounds of border negotiations. But Bhutan's official statement isn't to say that it does not wish to resolve border disputes with China. In fact, it has been said that the prevailing sentiment in Bhutan is quite the opposite. Bhutan wants to settle the Doklam boundary issue with China once and for all, without giving in to India's interests, so that it can exist peacefully alongside its neighbours. China too has shown an inclination towards establishing diplomatic ties with Bhutan (currently there are none).
But given Bhutan's historical relationship with India—which was in charge of guiding Bhutan's foreign policy as per the 1949 Friendship Treaty up until 2007 when the treaty was updated freeing Bhutan from seeking India's guidance on foreign policy and getting permission for arms imports—Bhutan cannot easily shake off India's sway over the kingdom's policy interests, particularly when China is in the mix. Not to mention Bhutan settling border disputes with China, which could mean Bhutan ceding Doklam plateau to China, is highly undesirable for India.
The Doklam standoff (and Bhutan in turn) has turned into yet another flashpoint of power play between the two giants. As the world keeps a close watch amidst fears of the latest conflict between India and China boiling over into an all-out war, it is easy to forget that what is also at stake here is the sovereignty of an independent nation—Bhutan—caught in the crossfire. Bhutan, like any free country, wants to wield control over its own affairs free of the influence of either Delhi or Beijing. But that is, for Bhutan, merely a fantasy, at least for the time being. For Bhutan, which is physically sandwiched between India and China, charting out its own path would necessarily mean keeping Indian interests at bay and prioritising its own.
Caught between two bigger powers flexing their muscles, the time will come sooner or later when Bhutan will have to take some calculated risks: establish ties and solve border disputes with China and face the wrath of its longtime ally India, or let border issues with China linger, increasing the likelihood of China overstepping its boundary, and let India do all the heavy lifting (to keep China in check) when push comes to shove.
---
Nahela Nowshin is a member of the editorial team at The Daily Star.
---
Follow

The Daily Star Opinion

on Facebook for the latest opinions, commentaries and analyses by experts and professionals.
To contribute your article or letter to The Daily Star Opinion, see our

guidelines for submission

.
---