Jealous husband couriers wife's boss live snake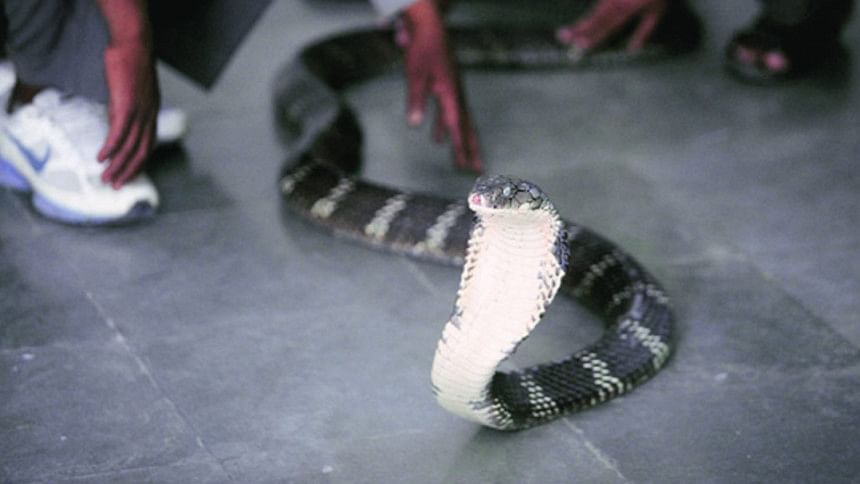 An angry husband in India was opposed to his wife working under her boss, so what does one do in this case?
Sending a hate mail is too clichéd, so are threatening phone calls. So this husband gets a bit too creative with his jealousy.  
A First Division Assistant (FDA) at an office of the state run Bangalore Electricity Supply Company in central Bengaluru has claimed to have received a threat this week in the form of a green snake sent in a parcel to him, reports The Indian Express. The snake is suspected to have been sent by the jealous husband of a female employee, the FDA has claimed.
The frightened FDA, identified as Keith D'silva, has filed a complaint about the incident with the High Grounds police station in Bengaluru. The police have taken up a non-cognizable case and have sought legal opinion to pursue it. According to D'silva's complaint he received a parcel from a courier boy at his office around 12 noon on October 13 and was shocked to find a live snake in the box. Scared by the snake, D'silva claims to have released it in an open field near his office. He later found a letter in the parcel box threatening him of dire consequences.
Police sources said the FDA had turned the needle of suspicion on a person identified as Devi Prasad the husband of a female colleague. "D'silva told us that Prasad was opposed to his wife working under him in the office and also objected to her receiving work calls at home," police sources said.
"We have sought legal opinion to register a case of criminal intimidation. As per our preliminary investigation the parcel was sent from a courier office at Rajajinagar in North Bengaluru," an investigating officer said. The police said that the complainant had not shown the snake to anyone. He however enclosed a copy of the threat letter and a photograph of the green snake with his complaint police said.