Twitter becomes a Freeway of Love for singer Aretha Franklin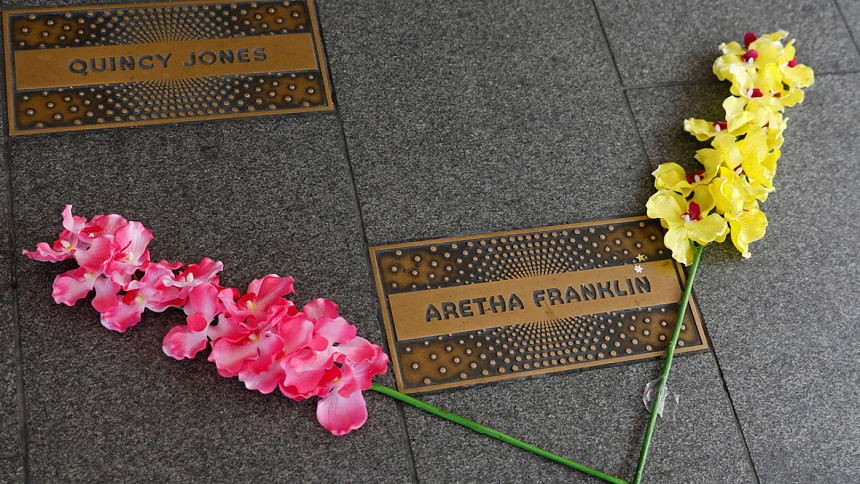 Grammy winner Aretha Franklin earned her title "the Queen of Soul" with a voice could be both powerful and plaintive. Her music became part of the American soundtrack beginning in the 1960s through to her death on Thursday.
Soon after her death, the following tributes poured out onto the internet:
"In her voice, we could feel our history, all of it and in every shade - our power and our pain, our darkness and our light, our quest for redemption and our hard-won respect. She helped us feel more connected to each other, more hopeful, more human. And sometimes she helped us just forget about everything else and dance."
- Former President Barack Obama and wife, Michelle, in a statement.
"Let's all take a moment to give thanks for the beautiful life of Aretha Franklin, the Queen of our souls, who inspired us all for many many years. She will be missed but the memory of her greatness as a musician and a fine human being will live with us forever. Love Paul."
- Former Beatle Paul McCartney on Twitter.
"I'm sitting in prayer for the wonderful golden spirit Aretha Franklin."
- Singer Diana Ross on Twitter.
"She was obviously unwell, and I wasn't sure she could perform. But Aretha did and she raised the roof ... She sang and played magnificently, and we all wept. We were witnessing the greatest soul artist of all time. I adored her and worshipped her talent."
- Elton John on Twitter recalling Franklin's final performance - a benefit for his AIDS foundation in November.
"The greatest voice in American popular music has been stilled. Our beloved #ArethaFranklin has gone. For me, she was a musical lighthouse, guiding and inspiring with every note."
- Singer Bette Midler on Twitter.
"Her voice/swagger was peerless."
- Movie director Ava DuVernay on Twitter.
"From listening to 'Mary Don't You Weep,' to standing in the living room dancing to 'Rock Steady' over and over again, to hearing from the Queen herself how lucky I was to be young, gifted and black — Aretha's songs were the soundtrack of my childhood. America has lost a legend. RIP."
- US Senator Kamala Harris on Twitter.
"Whether it was Gospel, Blues, Jazz, R&B, Pop, or Civil Rights, Aretha Franklin was the greatest gift and the voice of a generation. She could turn any song into a hymn. She will be greatly missed here on earth, but that band in heaven just got our Angel."
- Country singer Willie Nelson on Twitter.
"We were blessed to live in a world with #ArethaFranklin. Beyond her tremendous singing voice, she was a voice in the Civil Rights Movement."
- Bernice King, daughter of the Rev Martin Luther King Jr, on Twitter.
"This morning my longest friend in this world went home to be with our Father. I will miss her so much but I know she's at peace."
- Motown singer Smokey Robinson on Twitter.
"Hers wasn't just music about freeways of love and being one of the chains of fools for a man or taking a bridge to get over troubled waters. Her music was the music that got black folks through. And it still does. Because in the late 1960s, she was creating music that would resonate half a decade later."
- ESPN broadcaster Jemele Hill writes.
"It's difficult to conceive of a world without her. Not only was she a uniquely brilliant singer, but her commitment to civil rights made an indelible impact on the world."
-Actress-singer Barbra Streisand, whose Twitter post included a picture of her with Franklin from 2012.
"Thank you for the music, we will be listening to you forever."
- Lin-Manuel Miranda, creator of the Tony-winning musical "Hamilton," on Twitter.
"The Queen of Soul, Aretha Franklin, is dead. She was a great woman, with a wonderful gift from God, her voice. She will be missed!"
- US President Donald Trump on Twitter.
"She made millions feel like natural women, and she earned our everlasting Respect with each performance. May Aretha Franklin's voice ring now throughout the heavens."
- "Star Trek" star George Takei on Twitter.