Umbrella modifications for monsoon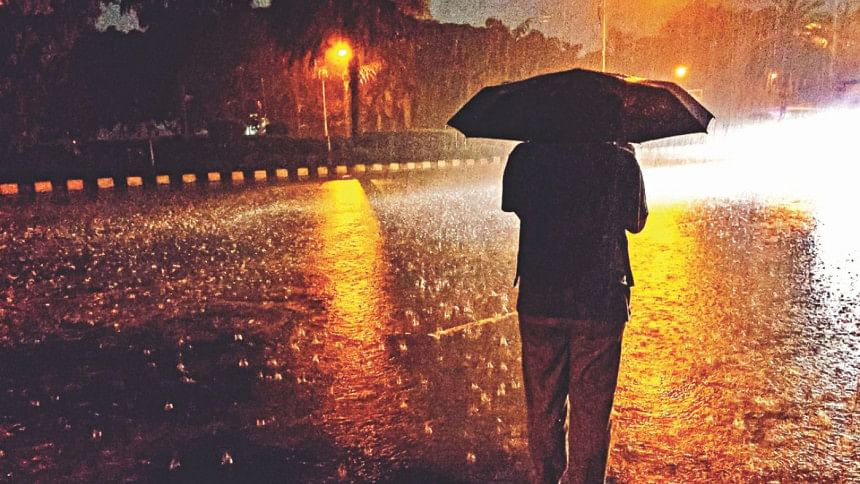 Ah, monsoon. Who doesn't love free swimming lessons every time you leave your house. Wading through knee-deep brown water is every little boy and girl's dream, and your buddy monsoon has it covered. Of course, I hear some weirdos don't like getting their clothes washed for free when they go outside. For these people, I've come up with a few solutions to make life a little less exciting and a little less wet during the rainy season.
PARTY PACK
Ever get anxious when two people have to share an umbrella? I know I do, especially because of how someone always gets more of the umbrella and in an attempt to compensate for that you keep bumping into the other person. To avoid such awkwardness, we could have a range of oversized umbrellas. With quadruple the radius of an ordinary umbrella, this will ensure you, your friend, and both your extended families can pass dry through the most violent showers. Just stay away from narrow alleys, for obvious reasons.
I BLESS THE RAINS DOWN IN UMBRELLA
With all the rainwater around, it would be a shame to not put it to good use. Imagine if during the next rainfall your umbrella stored the water in a tank instead of splashing it away. Think of all you could do with that water. You wouldn't have to buy mineral water the next time you were thirsty on the road. You could also use it to wash your feet after crossing a particularly muddy stretch of road, like Mirpur. Heck, you could even pay for the DLC water-gun attachment and go to town when someone annoys you on the roads. Water you waiting for?
SOS
Some roads will always get flooded after light showers. By now we've adapted to it, so that's not much of a problem. What is a problem is when the manholes in flooded streets lack their covers. Maybe they need to be open for better drainage of water, but these gaping holes aren't always marked well enough to be spotted by pedestrians. If you find yourself in one of those scenarios with your body slipping deep into the murky depths, your umbrella could save your life. Made of buoyant fabric and fitted with LED lights and sirens and a flare gun, even if you've gone under your flashing emergency umbrella could point rescuers to your unfortunate location. I can't guarantee that you'd want to keep the sewage-stained umbrella afterwards, though.
These were some of my revolutionary ideas to make umbrellas multipurpose devices fit to challenge Swiss Army knives. Stay safe in the rain, kids, and don't forget to pay me my royalties if you actually build any of these.
Wasique Hasan fights N'wahs during the day and TØP haters during the night. Fight him at the time of your choosing at: facebook.com/hasique.wasan