Saat Masjid Road: More trees felled in name of development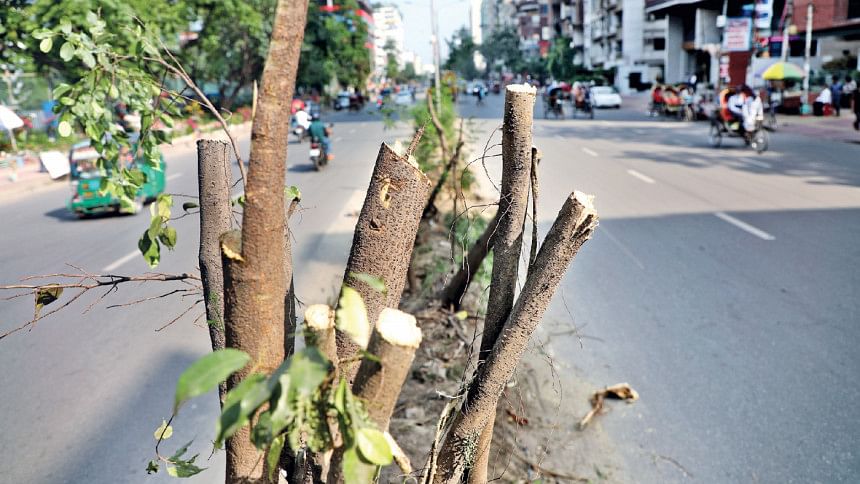 Dhaka South City Corporation is cutting trees in the name of infrastructure development and beautification works at Saat Masjid Road in Dhanmondi, amid the existing scarcity of greenery in the capital.
The felling of trees started in the middle of January. The process came to a halt before Eid, after cutting a good number of trees from Jigatala to near the Abahani playground. However, the tree felling resumed again after the Eid vacations, said locals.
Environmentalists have protested the move and termed the initiative unplanned. They believe that the development work could have been done by protecting all the trees on the road medians.
The trees are being cut under a Tk 9.62 crore project, aiming to develop different infrastructures, including the beautification of islands, footpaths and road medians, and the construction of public toilets, under Dhaka South City Corporation.
The project, which commenced on September 20, 2022, is scheduled to be completed by June 30, 2023.
During a visit to the Saat Masjid Road yesterday, this correspondent found the remains of many trees that were felled near the Abahani playground. Around 20 big trees were cut down by contractors appointed by DSCC and taken away, said locals.
Over a thousand more trees on the medians from in front of Abahani playground to Sankar are counting their last minutes.
"We used to get shade from the trees during the scorching summer heat. Now, we are being deprived of these facilities," said Md Dukhu Mian, a security guard of a private company near the road.
Mohammad Alamin, a tea stall owner, said there were banyan trees, Nim trees, plum (Borai) trees and many other kinds of trees on the median, which currently stands empty.
Terming the move immature, Adil Mohammad Khan, former general secretary of Bangladesh Institute of Planners, said such activities will reduce the remaining greeneries in Dhaka.
"The development of the median could have been done by protecting all the trees. The condition of the medians was fit for the purpose," he said.
DSCC did not discuss it with professionals, neither did they care about public opinion before going ahead with this move. Public participation and professional engagement are two very necessary factors before deciding on such issues. Beautification can never translate to getting rid of trees, he added.
"The authority's attitude in this regard is as if trees were never needed in the first place and only nice buildings would be enough for us," said Abu Naser Khan, chairman of Save The Environment Movement.
DSCC chief engineer Saleh Ahmed said the city corporation plans to replace the felled trees with trees of higher quality in those places.
"The geometric dimension of the space requires that we double the size of the medians. In our plan, we have kept designated spaces to plant new trees on these medians," he added.