16th Young Artists' Art Exhibition
M. Hasan Morshed: Generating awareness through art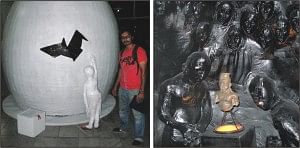 Though M. Hasan Morshed's background is on Oriental Art, for his first installation work titled "Jadu Ghar fake behind the trust", Morshed has won 'Honourable Mention' at the 16th Young Artists' Art Exhibition. The exhibition, organised by the Department of Fine Arts of Bangladesh Shilpakala Academy, is currently on at the National Art Gallery.
The bamboo, paper mache and clay made installation features the image of a child, who is looking through a hole of a big egg, watching images of artefacts and demons.
Morshed said, "The white big egg is a symbol, which addresses our contemporary problem: we are not aware of our rights. The recent incident regarding valuable Bangladeshi artefacts could have been avoided, if we were more aware."
"In fact it's not an isolated incident. Shady activities are going on almost everywhere in the society," he added.
Morshed further informed that the image of the child represents our future generation. "When the future generation will look back, what would their observation be? What kind of country we are leaving for them, where people disregard the values of national assets for minor interest?" he said.
On the reason behind participating at the exhibition with an installation, though his background is on Oriental Art, Morshed said, "Installation is becoming popular all over the world and I'm interested to work in the medium."
"There is no scope of studying installation academically in our country at present. But watching installations done by the senior artists, I'm trying to learn the medium," he added.
A BFA final year student of Oriental Art at the Institute of Fine Arts, Morshed became fascinated with art in his childhood. He learnt the basics from his father.
Morshed hopes to pursue higher education in art abroad. He wishes to contribute to the welfare of the society through his artistic endeavours. "My intention is not only to address the problems of the society but also to show a solution," claimed Morshed on his approach to art.