Outbreak of Bronchiolitis and its optimum management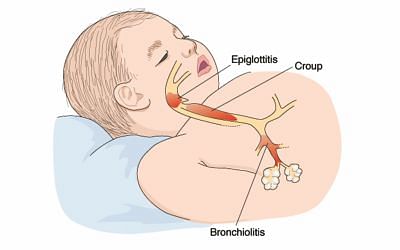 Bronchiolitis — an infection of airways (bronchioles) leading to the lungs, produce symptoms like fever, cough and breathing difficulty, whistling sound in children etc. Bangladesh is now experiencing an outbreak of bronchiolitis. A huge number of children are attending general physicians, paediatricians, hospital outpatient departments to seek remedy and many of them are being hospitalised depending on the severity of the disease. All parents should be cautious about the signs and symptoms of the disease and ensure prompt treatment to avoid severe complications.
Bronchiolitis is a viral self limiting respiratory disease. The children are usually below two year (usually less than 6 months) of age. The child can have inconsolable cry, feeding/ sleeping difficulty, restlessness, nasal flaring and increased heart beat. The children have fast breathing (more than 50-60 breaths/min), and wheeze — a whistling sound during breathing.
They symptoms of bronchiolitis usually begin with a runny nose and then gradually cough, respiratory distress (chest indrawing) and low grade fever develop. The diagnosis can be made clinically. The supportive laboratory and x-ray may also help reaching the diagnosis. However, if we can promptly diagnose by physical findings with corresponding history and manage the condition correctly, we can give relief to small kids from unnecessary needle prick and radiation hazards.
Management of uncomplicated severe bronchiolitis needs hospitalisation, support therapy like oxygen, nebulisation, paracetamol and continuation of nutrition either by intravenous fluid or nasogastric tube feeding or breast feeding. Expensive intravenous antibiotics are usually not necessary. Our scientific article entitled "Management of bronchiolitis without antibiotics: a multi-centre randomised control trial in Bangladesh" published in Acta Paediatrica shows that managing bronchiolitis with only supportive measures but without antibiotics remains preferable.
However, if a physician thinks that antibiotic would be beneficial in particular case, oral erythromycin is a suitable option in uncomplicated cases of bronchiolitis. There is high chance (up to 70%) of recurrent wheeze following an attack of bronchiolitis and it is important for counselling of the parents for further management.
Prof ARM Luthful Kabir and Prof Md Abid Hossain Mollah are the President and the General Secretary of Bangladesh Paediatric Pulmonology Forum (BPPF) respectively.