Under a different sky
Goa love - the sea and Aguada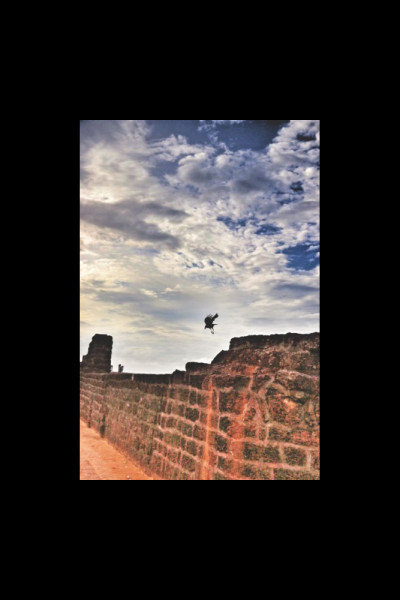 The sun was not setting. The moon was out.  It was one of those days where the moon protests visibly in the sunny blue sky. The ocean had grown tired of all the people dipping in and rolling about his feet. Everyone kept on calling it an ocean though it was a sea. "What's the difference?" some kid, who stood corrected, asked. The Father answered, "A sea is a smaller ocean." The Arabian Sea yawned at the half-right answer. He looked up at Fort Aguada, extended a few sharp knocks at her black slippery rocks and said: 
"How many today?"
"453" answered Aguada 
"Liar," the Sea mocked Aguada, making longer waves and sharper falls.
"200."
"That's more like it. It's June after all. I can't imagine people would come here to sweat on your bricks Aguada." The Sea had caught a slight cold, his body was warm.
'Still enough people do." Aguada watched the over-dramatic couples, giggling and holding each other from slipping on the rocks. 
"Do they know how old you are? Do they know your language?"
"No, no one speaks Portuguese here."
"I do, Aguada, I do." The Sea then loudly pronounced Aguada a few times, "Aguada, Aguadaaa, Aguaaadaaaa."
"What do you want?" Aguada looked down
"I want us to be together."
"Not going to happen, I will stand here and be the Fort I was meant to be."
The Sea cackled, "I have seen plenty of Forts collapse in my days, I even got a few in my belly." 
Aguada did not pay attention to the Sea's pleas. It was constant, it got old. She stood watching the sky. The moon was still visible, the sun was still not setting. 
Aguada sighed. She was holding 67 people in different parts of her. Most of them were couples and then there were a few photographers, a family here and then there. And friends who wanted to be lovers and lovers who became friends. 
She sighed. She wanted to shed a tear. She used to hold so much water, and a bright light, to guide the lost, to bring home the found. Those were all things of the past now. Now she was a Bollywood icon, and selfie central, an overpriced hotel's backyard and a slight commercial success.
"How long have I watched them now?" Aguada threw a question to the Sea, who had crawled up high with a wave to touch her shoulders, and splash a few excited audience. 
"Hundreds of years, you were born in the 17th century, right in front of my eyes, they had put in a lot of work to build you up. I waited for you to rise; I fell in love with your structure, your colour. You were different."
"I am Portuguese, you are used to Africans and Arabs and Pakistanis."
"You are Portuguese-Indian. All the men who jumped off you into my lap and died, selecting you as their last place to rest, and the women who came after them and cried, we watched them all."
"See that girl in that red shirt? Her Grandmother came here when she was five years old."
"No way!" The Sea got closer, rose up a little to take a look at the said girl.
"How long have you watched them?" Aguada asked the Sea.
"I am not telling, if I give away my age you will never fall for me."
"I will never fall for you anyway." Aguada stood firmly, just as firm as every day.
"Watch out for that one!" the Sea splashed gently on a rock, a man was standing there alone, looking dizzy. 
"He is going to jump."
"Yes. Today? You think?"
"Maybe, let's see. If he waits till the Sun sets then I would say yes."
The Sun was long gone. Had dressed some funny clouds as monsoon's first edition and checked out on the other side. The Moon protested against such irresponsible acts. No Man paid attention, not even the one who wanted to die. The Sea continued throwing passionate fits at Aguada's feet. Aguada accepted none of it yet stood half-drenched, half-old, fully-grand to win her evening show with her, only her, Arabian Sea.