Shab-e-barat special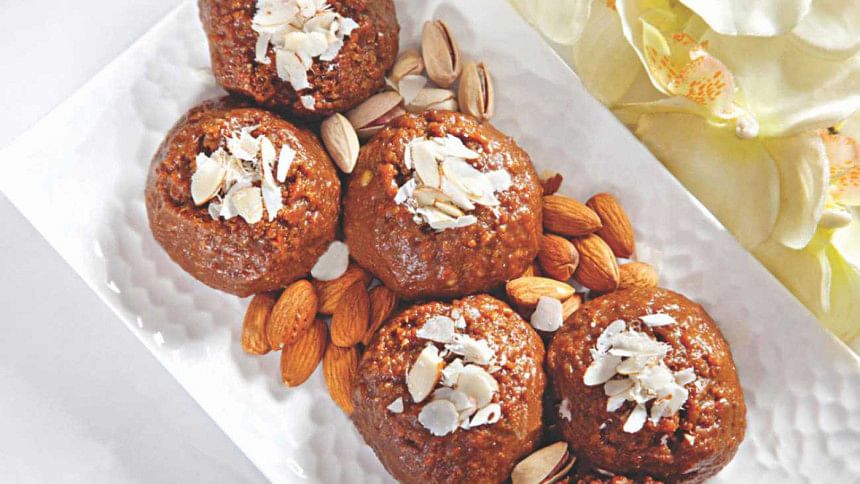 Akhrot (walnut) halWa

Ingredients

1 cup walnut

1 cup khoya

1 cup sugar

2 cups powder milk

1 litre fresh milk

8 green cardamom

3 tbsp ghee
Method

Finely grind cardamom and sugar. Add milk to it and cook the mixture on a low flame until it thickens. Heat ghee in another pan, release whole cardamom in it and when it releases its aroma, add khoya, walnut, powder milk and roast. Keep stirring. 
When the khoya, the walnut and the powder milk are combined, put the thickened milk, and stir to combine, cooking on a low flame. When milk dries, roasted with halwa, mixed nicely. Dish out and serve.
Tip

For homemade khoya, add 2 cups powder milk to 2 tablespoons of condensed milk in a mixing bowl and mix until it forms a dough. Steam the dough in a steamer for five minutes. Homemade khoya is ready.
Bombay halWa

Ingredients

200g sugar, 125ml water

1 tsp cardamom powder

½ cup cashew nut, 50g corn flour

100g ghee, 1 tsp lime juice
Method

Take a pan. Add sugar and water, and bring the mix to a boil. Then add lemon juice. Remove from flame. In a small bowl, add water to corn flour and mix well, to bar any lumps from forming. 
In a non-stick pan, add some ghee before turning on the stove. Now add the corn flour mixture to it and mix. Switch on the flame on a very low setting. 
When the mixture thickens, switch off the flame and add sugar syrup little by little. Keep mixing to avoid lumps. Repeat the same till syrup is completed.
Now switch on the flame and keep mixing, add ghee very slowly and keep mixing; repeat the same process till the ghee is finished. 
Now add food colour and cardamom powder. Cook till ghee is oozing out, and then add broken cashew nuts and mix well. 
Once done, transfer the mix onto a ghee-greased plate, and press into homogenous flatness. Keep aside for an hour and cut into small pieces.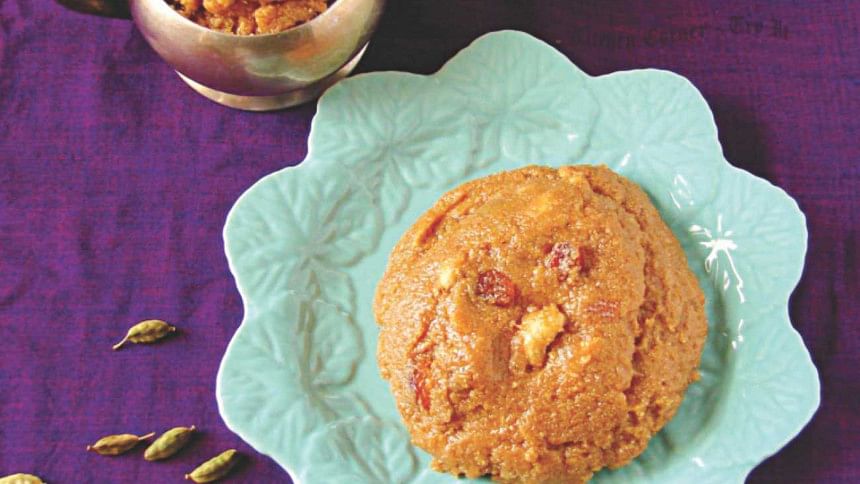 Habshi halWa

Ingredients

2 litre fresh milk

3 tbsp white vinegar

1 tsp citric acid, mix it with 1 cup water or 1 lemon juice

1 cup sugar

2 tbsp coco powder 

½ cup flour 

½ cup crush almond

½ cup crush walnuts 

1½ cup ghee

1 tsp cardamom powder

8-10 pieces pistachios sliced

4 tbsp liquid glucose
Method 

Bring the milk to a boil. Add citric acid and water. Mix in the milk. Turn off the flame and cover it for a few minutes till the milk separates. Now cook it on high flame till the water dries up. 
While drying the water add cocoa powder, cardamom powder and mix well. Switch off the flame; add sugar, vinegar, plain flour, and half of the ghee. 
Mix well, and on the flame set to low or medium, keep stirring. While stirring, keep adding the remaining ghee (1 tbsp at a time), till the ghee comes on the surface. 
Once the ghee comes on the surface add some nuts, mix well. Add the liquid glucose, mix well. Make sure there is no water in it. Now transfer the halwa in a ghee-greased tray, garnish it with the remaining nuts and pistachio. Leave to cool down. Cut in pieces and serve.  
Suji with coconut halwa

Ingredients

2 cups suji (semolina)

1½ cups ghee

2 cups coconut shavings

1½ cups custard sugar

1 cup almond crushed

½ cup milk

1 tbsp kewra water
Method

In a pan, add ghee and fry the suji on low flame. Keep stirring. When it turns lightly brown and releases aroma, add coconut shavings and crushed almonds. 
Add sugar and mix well. Keep stirring continuously on low flame. Add milk with kewra water. Mix well till the halwa consolidates and releases the ghee. 
Take a flat bottom plate and grease it with ghee and pour the halwa; spread evenly. Keep aside for an hour; cut into small pieces.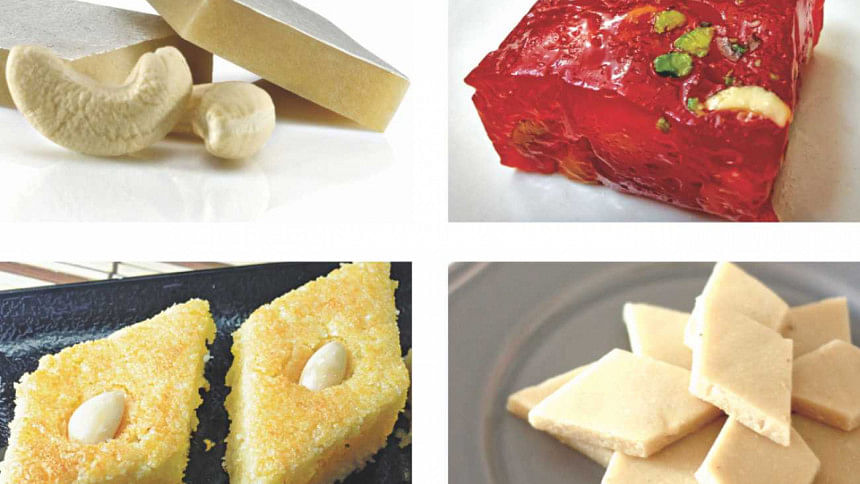 Beetroot halwa

Ingredients

4 pieces shredded/grated beetroot

1 cup sugar

2-3 tsp cardamom powder

8-10 crush and roasted cashew nuts

2 cups milk

4 tbsp ghee
Method

Heat a pan and add half of the ghee, and beetroot on low flame, mix continuously until all the moisture is absorbed. Then add liquid milk and stir continuously until it gets absorbed. Add sugar and cardamom powder, mix well. 
While stirring, keep adding the remaining ghee till it comes on the surface. Now add the crushed nuts, mix well. Transfer the halwa in the greased tray and garnish it with the remaining nuts; leave to cool down. Then cut in pieces and serve.
Badam/almond barfi

Ingredients

1 cup almond,

1 cup powder sugar

2 tbsp ghee

½ cup milk

10-12 saffron strands
Method 

Boil 2 cups of water. When the water starts boiling turn off the flame and drop the almonds in it. Cover and keep aside for 5 minutes. 
In a different bowl, pour some milk and saffron strands in a bowl. Keep aside. 
Drain out the almonds after 5 minutes and transfer them in a bowl filled with cold water. Now peel the nuts and soak them in hot water for an hour. This will make them fluffy and then you can grate them to make the almond paste. 
Drain out the almonds and put them in a mixer grinder along with the saffron mixed milk. Add the remaining plain milk.