Chicken satay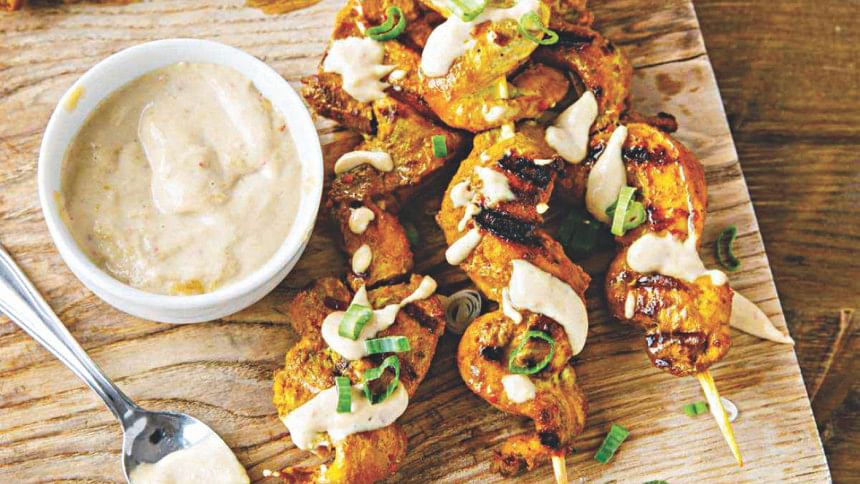 Ingredients
4 medium sized chicken breasts
For marinade —
2 tbsp lemon juice
1 tbsp dark soy sauce
1 tsp oil
1 tsp red chilli powder
Salt to taste
For sauce —
¼ cup roasted peanut
1 small sized onion
1 tsp oil
½ tsp red chilli powder
1 tbsp dark soy sauce
3 tbsp tomato puree
2 tbsp honey
Salt to taste
Method
Cut the chicken breasts into half-inch broad strips; slightly flatten them. Mix all the marinade ingredients thoroughly, add flattened chicken strips to it and leave aside for an hour. Thread marinated flattened chicken strips equally onto eight-inch long wooden skewers. Heat a non-stick flat tawa, grease it slightly with a few drops of oil and place skewered chicken, a few at a time. Cook on high heat, turning them frequently.
Cook for about 3 to 4 minutes, or till it is just cooked. Meanwhile prepare the sauce. Crush roasted and skinned peanuts to a coarse powder. Peel and grate onion. Peel and chop garlic. Heat oil in a pan, add garlic and onion. Cook on high heat, stirring continuously for half a minute.
Add red chilli powder, and dark soy sauce, tomato puree, honey, peanuts, salt and one cup of water. Bring it to a boil and simmer for five minutes, stirring occasionally. Serve chicken satay accompanied with peanut sauce.
Photo: Collected