Experiencing Desar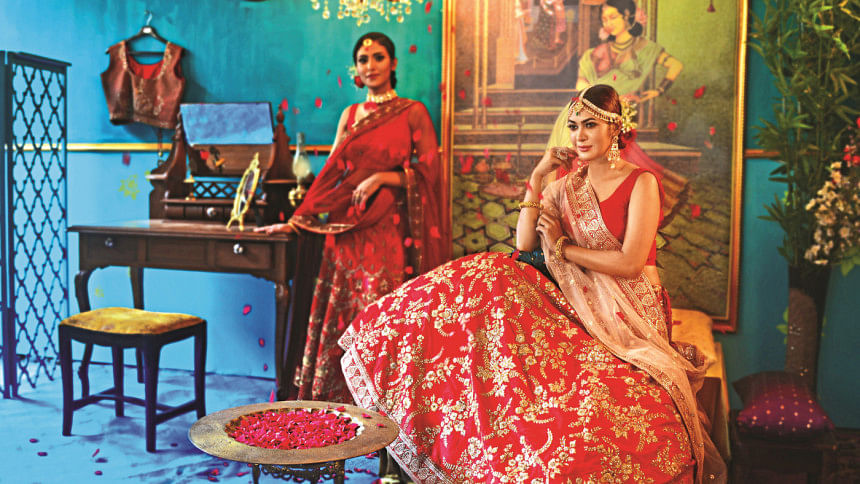 For the perfect outfit to reflect one's inner queen, and undoubtedly leave a long-lasting impression on anyone's mind, Desar brings a range of traditional and ethnic outfits, with an imperial and unique flare fit for any event where one might need to steal the spotlight.
Having opened in May 2017, the store specialises in ethnic wear and makes sure to keep their clothing up to date, trendy, and stylish. Not only are the clothes fashionable and have detailed patterns, but the quality of the fabric and each delicate clothing item remains impeccable and exquisite.
Women have an array of options, starting from stitched and unstitched saris, a diverse selection of kameezs to sherwanis and lehengas, in soft pastel shades like baby pink, and regel hues and bold colours with rich and meticulous embroidery. The store specialises in making luxurious handwork zari designs, zardosi and hand embroidery to give every kameez, lehenga and sari its own personality and integrity.
What sets the à la mode store apart is the intricate designs and uniqueness displayed in the bridal line which includes mainly silk, organza, cotton and shamus, khadi and many more fabrics, to give brides and bridegrooms more options to play around with contrasting yet complementary outfits.
To keep the bridal look elegant and royal, the designs come in pure raw silk with delicate zardosi and zari thread work, sequins and pearls, and a variety of pastel shades, such as baby pink. Other than that, for those looking for the classic yet charismatic bold red outfit, designer lehengas decorated with glamorous patterns and in extravagant designs are also available — everything to release that inner queen!
Ladies, rest easy. You are highly unlikely to end up twinning with someone else when shopping with Desar. Almost everything in the women's line is exclusive, as nothing is mass produced and each product has a unique design. In addition, tailored options are also available for not only eccentricity, but also to ensure everyone's contentment.
Fear not for men have not been forgotten. The store offers an exclusive line of panjabi, vests, sherwani and koti, which come in various designs and shades along with tailoring options for the groom and his group.
The extensive collection does not end here. The store also takes package orders for events like, holuds, making Desar the pit stop needed to complete the wedding wardrobe.
Ensuring sophistication and vigour, yet also getting  that awe-inspiring and grandiose look for the queen in every girl, Desar leaves no stone unturned. The store invites everyone to dress to impress.
Essentials —
Address: House #37, Level #1, Road #12, Block E, Banani, Dhaka.
Follow them on social media, https://www.facebook.com/official.desar; https://www.instagram.com/desarbd
Photo courtesy: Desar