Retail Remedy Therapy
Last week, we walked into one of RR's (Retail Remedy Ltd) workstations in Dhaka, amidst a sea of sample clothes dangling in the hangers and associated props including throngs of nude stilettoes lying about in clusters. Fresh faces, apparently employees of the brand, led us through the corridor and into a larger room where two young ladies and long-time friends, namely Rabita Rashid Majumder, Managing Director at RR, and Benazir Alam Aunon, Director at the same company, were enjoying a conversation between themselves, seemingly discussing their next photo shoot idea.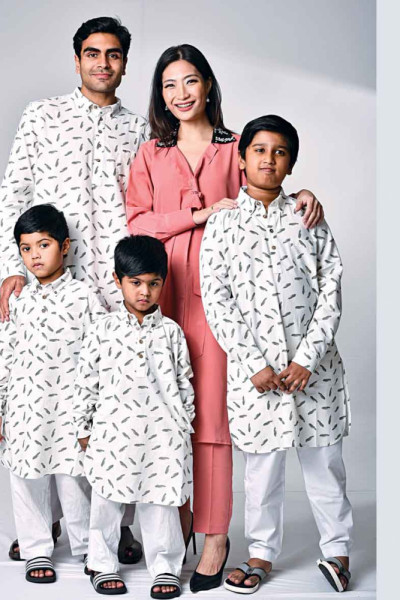 Rabita asked us to join in and view their latest collection.
"You will be surprised at how much work we do at RR's on a daily basis. We have almost everything from sleepwear to traditionals, to party wear and even office wear, and that's a lot of work," admitted Rabita.
She continued to show all her collections including ones which she initiated just months after completing her MFA in Fashion Merchandising, to the ones they have been planning together, for the upcoming Eid celebrations in 2021.
"We started very small, just like any boutique store would, but then shifted to a larger scale production. Personally, I always wanted to go big and become a renowned clothing retailer brand in Bangladesh. My idea with RR is to make it the 'one-stop shop' for every household in town. From children's clothing items to lounge wear, if anyone is looking for something to wear, they can simply come to RR and we'd have something for them", claimed Rabita.
With such ambitious ideation, one would naturally imagine the brand to have plenty of brick-and-mortar stores in and around the metropolis. But the duo had different plans for their brand.
"We believe that, in this day and age of modern technology, people are more inclined towards an online platform. So we have stressed more on building an efficient website and rock-solid online presence, where our customers can easily 'log-in' and take as much time as they want, to select and order their desired items. Also through the online existence, we can make sure our products can reach all throughout Bangladesh and even abroad," revealed Benazir.
From their latest collection, the Spring-Summer Collection 2021, the duo showed an enthralling blend of smart silhouettes including a layered satin kurti in ivory white, which we still can't get over. A sneak peek into their Instagram page, which the duo claimed to be quite popular with the clients, and we saw an exclusive array of clothes and also RR's unique models.
Amongst those who modelled for the label are Sobia Ameen, social media influencer, Prejual Chakma, indigenous celebrity model, Nazia Hassan, fitness guru etc., the result was not only a celebration of RR's beautiful collection but also a tribute to women's individuality and uniqueness.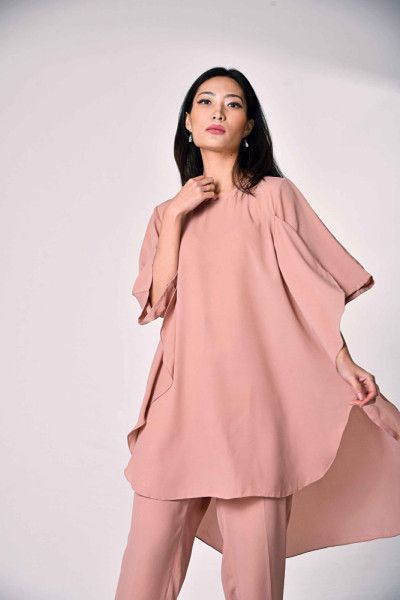 If you thought that was it, RR reminded you again, that they had an enormous collection for the men and the children.
"Actually we are quite popular with men's formal wear. People have come to us time and again for a complete wardrobe solution, especially as office wear," said Benazir.
Having seen it all, one question that repeatedly popped on our minds was how much 'deshi' was RR? "Thanks for asking the question, I have been wanting to talk about this from the beginning," said an eager Rabita.
She went on to say, "Our idea from the foundation, was to become a sustainable brand that was completely local. We take pride in the quality of our fabrics and particularly our tailoring style.  Our team at RR Ltd has travelled to peripheries of the country to source authentic yarns and fabric. As individuals we are proud to be born a Bangladeshi and the same reflection can be seen in our clothes. Someday, we hope to go global, and by this we mean highlight our 'very much deshi products' in the international runways", said the hopeful entrepreneur.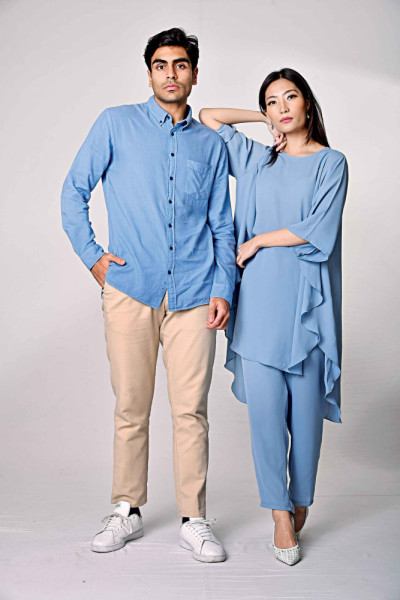 Finally having seen everything from upfront, right where it was made, it seemed all the collections were made to perfection, from the swirling satins to the dresses in soft pastels, every design was customisable , a final jewel to the crown of the RR customer.
"We make clothes in all sizes, from extra small to extra-large; we don't want our customers to fret over sizes when they like a design. For us at RR, fashion is for everyone and not only for a certain body type."
Thank you RR for being so positive and thoughtful.
Photo Courtesy: Retail Remedy
Models: Prejual Chakma, Firat Etem, Azaan Azim Zaman, Ayaaz Azim Zaman