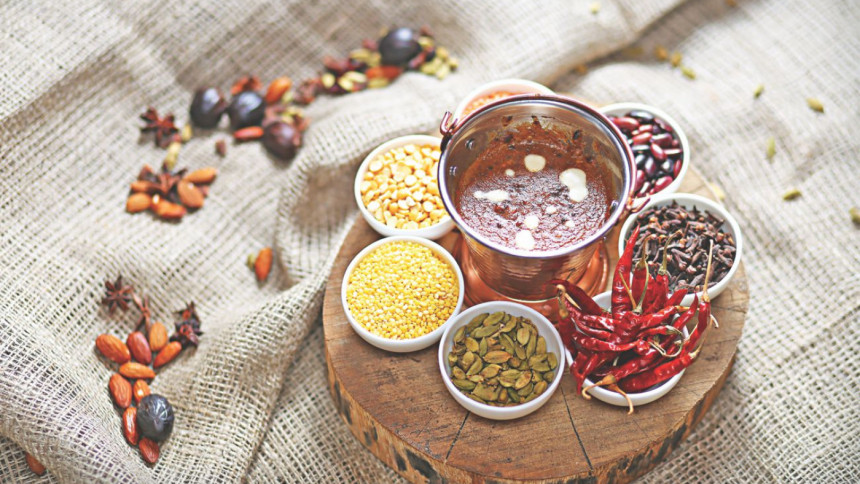 Located on the 6th floor of Kazi and Ahmad Tower at Dhanmondi Road #2 (beside Shimanto Square), Thali has already won the hearts of its customers since its opening on 1 December, 2017.
"The idea of starting this restaurant dawned on us when we realised that after a whole day's work, everyone just wants to visit a homely place that promises good food, that we can all enjoy with our family and friends.
"Eventually, after much of our ventures in the food voyage, we ourselves came up with a plan to start a business that not only served great food, but also promised to tell a unique story", said A D Mahmood Ullah.
Thali — House of Spices, essentially serves authentic Indian food and is the brainchild of childhood friends, A D Mahmood Ullah, Rafiqul Hamid Tushar, and Md Ali Hussain Miah, who decided to start the place with an appreciation of our love for good food. However, that is not all the place has on offer!
I was mesmerised by the creative interior highlighting the ins and outs of the restaurant. Starting from bright red umbrellas hanging upside down by the entrance, to the exposed brick walls giving an unfinished look, and the structure of closed window panes attached to the wall all gave off a novel look to the restaurant. The spacious room also had a well-organised seating arrangement, dividing the place into two zones — on one side, sofas and small tables are placed, creating a more lounge like feel. On the other side, the fancy tables and chairs offer more of a fine dining experience.
When asked about the highlight of the décor, Mahmood Ullah said, "In most restaurants, a common corner for children is a generic place with balls and slides. I wanted to avoid that and create a place for my child that not only gives her a good time but also engages her in a creative process. Hence came the idea of the corner with a black board and basket of colourful chalks."
The place is diverse in the assortment of dishes they serve. Their pricing strategy makes it possible for two people to have a filling meal with just about Tk 600, which is the food for value defined. Their menu comprises all essential Indian cuisines and they offer exciting offers almost every week.
Looking at the gleaming faces of the children, fabricating stories over colourful drawings while their parents engaged in a silly game of tic tac toe on the black board, it was evident to me that this was the place to be.
Thali offers an Indian experience within a reasonable price, catering to the taste-buds of their valued clientele. For new and exciting offers, visit their Facebook page, www.facebook.com/thalihouseofspices
Photo courtesy: Thali