Aiburo bhaat
Our weddings are both elaborate and diverse, and every community has its own set of rituals, traditions, and ceremonies, making the entire extravaganza a memorable affair for both the couple, and their families.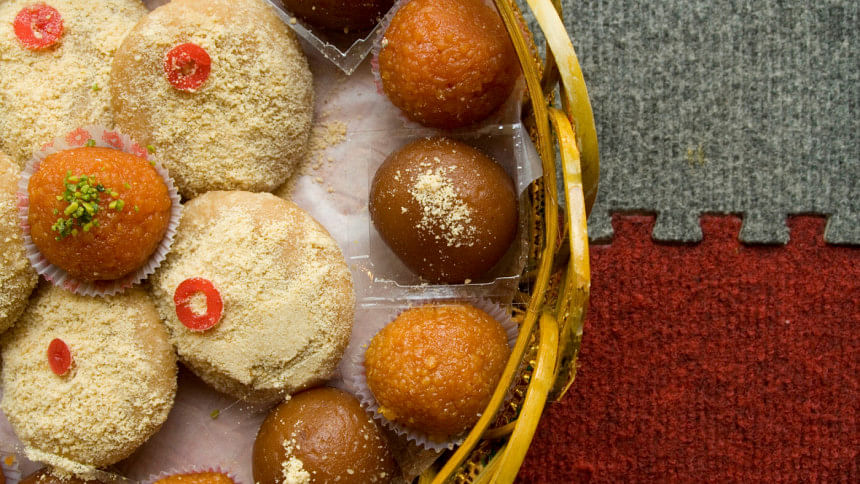 An integral part of the wedding celebrations here is the 'aiburo bhaat' — a symbolic sendoff meal arranged by the family, featuring delectable dishes the bride is fond of. Traditionally hosted by the family a day before the big day, nowadays, families host this feast for their beloved children two-three days in advance.
KOSHA MANGSHO
Ingredients
For the marinade —
1 kg mutton
½ cup hung curd
1 tsp ginger paste
1 tsp garlic paste
1 tbsp mustard oil
For the gravy —
2 tbsp mustard oil
2 bay leaves
3-4 green cardamom
1-inch cinnamon stick
2-3 cloves
3-4 dry red chillies
1 tsp sugar
1 cup sliced onion
½ cup tomato, chopped
1 tsp coriander powder
½ tsp cumin powder
2 tsp red chilli powder
1 tsp turmeric powder
½ tsp garam masala powder
Salt to taste
Method
Mix all the ingredients and marinate the meat pieces for 3-4 hours.
Heat mustard oil in a pan. Add whole garam masala, bay leaves, and dry red chilli. Fry for few seconds.
Add onion and fry till light brown. Add ginger-garlic paste, and fry until nicely browned. Add tomatoes and cook for 1 minute. Now add the mutton pieces and fry for 5-6 minutes. Add red chilli powder, turmeric powder, coriander powder, cumin powder, and salt.
Cook for another 2 minutes. Now add a cup of water and cook with the lid on. After 5 minutes, open the lid and add garam masala powder and sugar to it. Cook for 3-4 minutes on low heat until the gravy is thickened.
Garnish with fresh coriander and serve.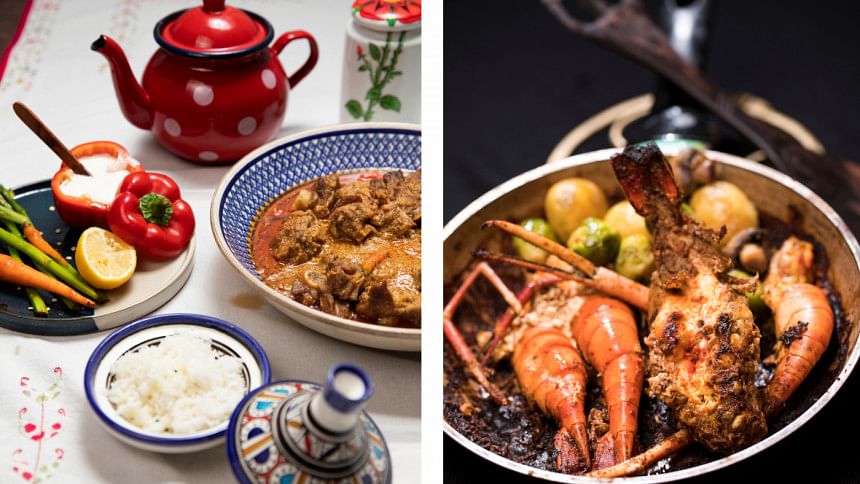 YOGHURT CHICKEN CURRY
Ingredients
1 kg chicken
3 tbsp ghee
2 tbsp vegetable oil
3-4 clove
2 green cardamom
1 cup onion, chopped
2 tsp ginger-garlic paste
2 tsp muskmelon seeds
2 tbsp poppy seeds
10-12 cashew nuts
1 tsp turmeric powder
2 tsp red chilli powder
½ tsp garam masala powder
4 tbsp yoghurt
Salt to taste
Fresh coriander, for garnishing
3-4 boiled eggs, cut into halves
Method
Soak poppy seeds, muskmelon seeds, and cashew nuts in warm water for 30 minutes. Grind to a paste. Heat oil and ghee in a pan. Add cloves, green cardamom and fry for a few seconds. Add onion and fry till translucent.
Remove the pan from heat and let the onion mixture cool. Once cooled, put the mixture in a grinder, along with a little water to make a smooth paste. Transfer the paste in the pan, along with the seeds and the nuts paste. Add little water if required. Cook for a minute.
Add turmeric powder, red chilli powder, garam masala powder, and salt. Cook for another 3-4 minutes.
Add the chicken pieces and cook on high heat for 2 minutes. Add yoghurt, and half a cup of water. Cover and cook the chicken for 15 minutes. Keep stirring in between. Garnish with fresh coriander. Arrange the boiled eggs on top. Serve hot with rice, naan or paratha.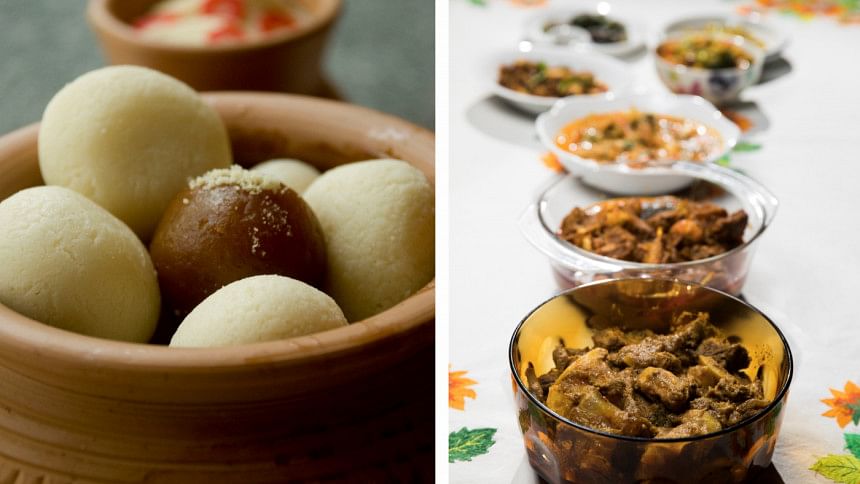 CHINGRI MACHER BHORTA
Ingredients
250g shrimp
4 green chillies, sliced
4-5 dried red chillies
2 medium sized onions, sliced
2-3 cloves garlic, sliced
1 tbsp mustard oil
1 tbsp coriander leaf, chopped
Salt to taste
Method
Cut and wash the shrimps. Let the water drain out. Heat a pan with mustard oil, and fry the shrimps and transfer onto a plate. In the same pan, add green chillies, red chillies, onions, and garlic, and fry the ingredients as well. Set aside. Now grind all the ingredients. Mix in salt and coriander leaves. Mix well and serve.
KOCHU PATAY BHAPA ILISH
Ingredients
6 pieces ilish or hilsa
1 tbsp black mustard seeds paste
1 tbsp white mustard seeds paste
¼ cup coconut paste
¼ cup yoghurt
6-8 green chillies paste
3 tbsp mustard oil
1 tbsp turmeric powder
Salt to taste
Water as required
Method
Wash and clean the fish pieces and drain the water. Sprinkle salt and turmeric power over it. Mix it well and keep aside. Take a mixing bowl, add mustard paste, green chilli paste, coconut, yoghurt, turmeric powder, mustard oil and salt. Mix it together. Add the fish into the mixed paste and coat each fish piece nicely with the mixed paste and cover the bowl. Marinate the fish in it for 30 minutes. In the meantime, take the arum leaves, wash thoroughly with fresh water, and then wipe it with a paper towel. Cut the leaf into required size so as to easily wrap it up to make a packet with. Take each piece of leaf and put a piece of marinated fish with paste and wrap it up to make a packet. Then take the cotton thread to tie it up nicely to secure the packet from dripping. Now steam it for 1 hour. When it is done, remove from heat and rest for 15 minutes. Remove and serve it with steaming hot rice.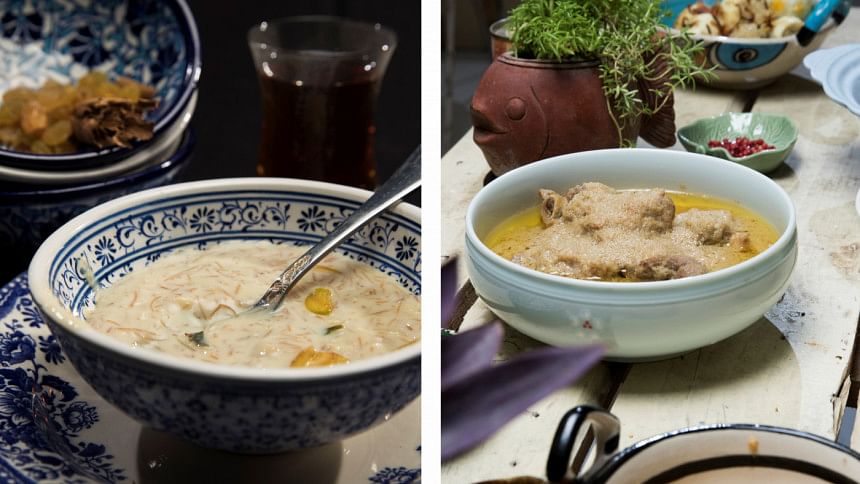 PINEAPPLE CHUTNEY
Ingredients
1 pineapple, crushed
2 tsp oil
1 tbsp lemon juice
½ tsp brown mustard seeds
2 tbsp sugar
Salt to taste
Method
Heat oil in a non-stick pan. Add mustard seeds and let splutter. Add crushed pineapple, sugar and salt, and simmer for 5 minutes. Stir in lemon Juice and cook for another 1 minute. Let it cool to room temperature before serving.
RAJBHOG
Ingredients
2 cups cottage cheese
1 tbsp semolina
3 cups sugar
½ tbsp saffron soaked in milk
4 tbsp mawa
¼ cup cashews
¼ cup almonds
¼ cup pistachios
1 tsp cardamom powder
Few drops yellow colour
Method
Make a powder of all the dry fruits. Knead the cottage cheese and semolina into a smooth dough. Mix the nuts powder, mawa, saffron milk, and the cardamom powder as well. Make a smooth paste of it. Add the cheese mixture too. Make small balls of this mixture.
Now in a pan, mix sugar and water. Let it boil until you get a thin syrup. Add a yellow colour to this. Put all the cheese balls in this syrup. Cook it on high flame for 10-15 minutes. Let it cool and serve chilled.
DOODH DULARI
The base for this recipe is regular shahi vermicelli kheer. And this kheer is then pampered with colourful gems, like varieties of jelly, roshogollas, or gulab jamun, some nuts, and finally, fresh homemade mawa is added.
Ingredients
2 litre milk
½ cup condensed milk
1 tbsp corn flour
½ cup roasted vermicelli
1 packet strawberry jelly
1 packet green jelly
250g rabri
200g cream
250g mini roshogolla
½ cup mawa, scrambled
Method
In a large pan, boil milk for 20 minutes or until thick, add ½ cup vermicelli, 1 tablespoon of corn flour dissolved with ¼ cup of milk.  Add condensed milk and mix well, and cook till thick. Remove from heat, and allow it to cool completely. Dissolve each jelly packet with 1 cup of water and set till firm, cut into cubes and add to the cooled milk gently. Now add cream, rabri and mawa. Pour the mixture into a serving bowl. Garnish with the mini roshogolla and mawa. Serve chilled.
Photo: LS Archive/Sazzad Ibne Sayed