Simple soul food
KASUNDI SAUCE
Ingredients
20 green chillies
1½  tbsp yellow, mustard seeds
6 garlic cloves, peeled
2 small green mangoes, peeled, pitted, and shredded into fine julienne
3 tsp salt
2 cups water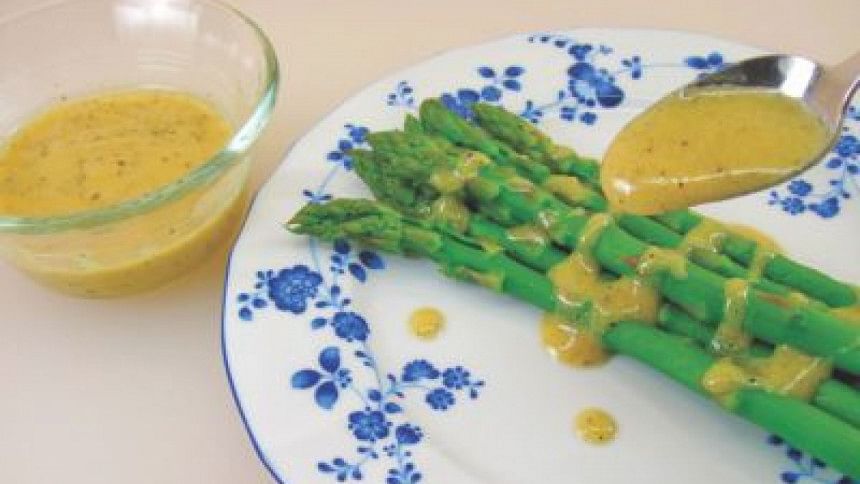 Method
Put all the ingredients in a food-processor. Pour 2 cups water and grind or blend to a smooth liquid. Put mixture in sterilised jars and keep in a cool dark place. Use after two weeks. Refrigerate the jar after opening.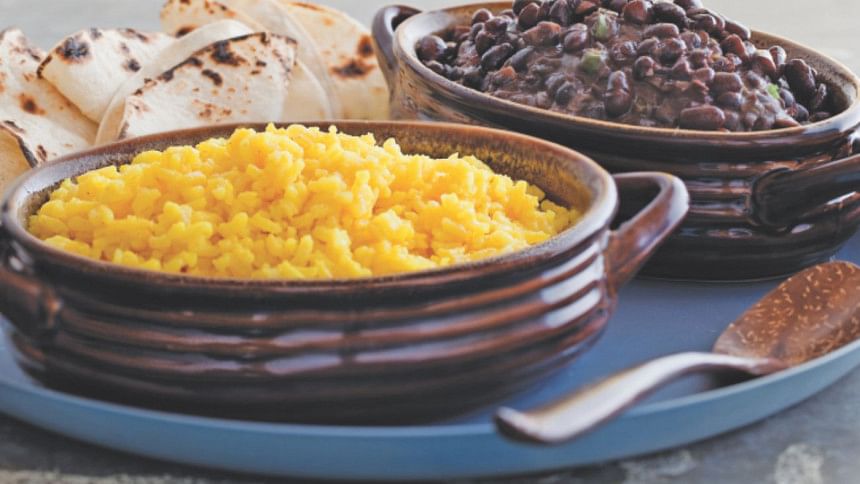 YELLOW RICE
Ingredients
500g basmati rice
3 tbsp ghee
1½  tsp turmeric powder
5 cups coconut milk
½ tsp salt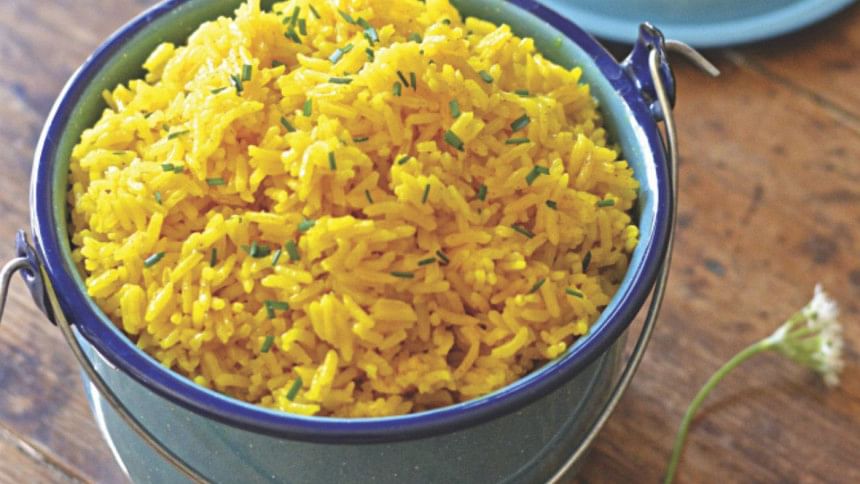 Method
Heat a heavy pan over a medium flame. Add rice, ghee and turmeric powder. Sauté until rice starts popping. Pour coconut milk and cook, stirring for a few moments. Add a little water if necessary and sprinkle salt. Cover the rice after it is tender, allowing it to cook in its own steam.
GREEN BANANA CUTLET
While 'aalur chop'  (potato cutlet) is probably the most popular among deep-fried snacks, Bengalis make 'chops' from all kinds of vegetables and dals, with or without stuffing. Deshi cooks employed by British clubs and families in colonial India began applying the term 'chop' to any fried snack they prepared. In this recipe, green bananas  substitute potatoes, once quite scarce in the tropical countryside. 

Ingredients
6 green bananas 
2 tbsp onion, chopped
1 tsp black pepper
1½  tsp cumin powder
8 green chillies, chopped
2½  tsp salt
½ cup lettuce, chopped 
½ cup cabbage, chopped
2½  tbsp mustard oil
1½  tbsp soya oil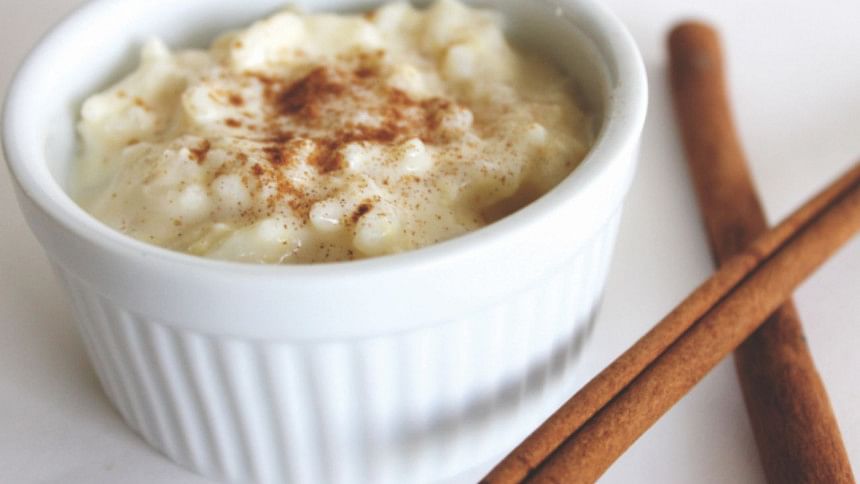 Method
Boil and mash the green bananas. To these add chopped onion, pepper, cumin powder, chopped green chilli, salt chopped lettuce, chopped cabbage and mustard oil. Mix well to merge all the ingredients, knead using your knuckles to form a soft dough. Take 3 tablespoons of banana dough and form a flat patty, pointed at one end. Brush ¼ teaspoon soya oil on a non-stick pan and shallow-fry the patties in batches, 3 minutes on the first side and 2 minutes on the other. 
PEPPER WATER
Pepper Water and its extended form, mulligatawny soup, originated in Madras. It's broth or soup is eaten on its own, rather then poured over or mixed with rice - no doubt, considered a novelty by the local cooks at the time it started appearing on the British officers' tables. Nothing of the sort was consumed in the subcontinent. So when local cooks were asked to prepare a soup the closest thing they could whip up was 'rasam' (broth) made from black pepper, tamarind and water, which in Tamil is called 'molo tunny/milagu tunni' (papper water).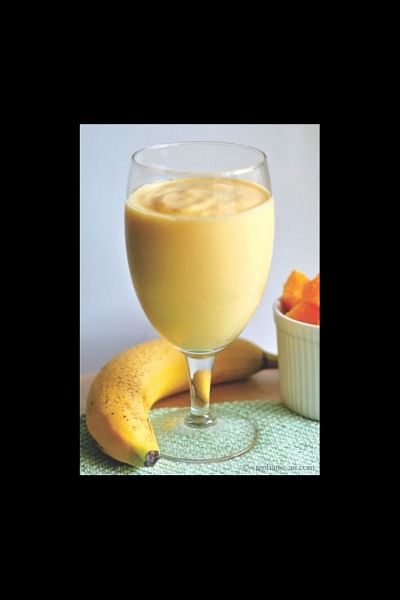 Ingredients
1 kg beef, with bones
8 cups water
3+2 sprigs curry leaves
1+2 onions, chopped
2 tbsp oil
½ tsp mustard seed
½ tsp cumin powder
½ tsp coriander powder
½ tbsp ginger paste 
1 tbsp garlic paste
2 tbsp tamarind purée 
Method
Put beef, 8 cups water, 3 sprigs curry leaves and 2 chopped onions in a pressure cooker. Cover with a lid. Pressure cook until meat is tender; strain the stock into a container (there should be at least 8 cups of stock). Set stock aside.  In a separate pan heat oil and toss in mustard seeds, 1 chopped onion and 2 sprigs curry leaves, in the given order. Sauté until onions turn brown. Stir in cumin powder, coriander powder, chilli powder, ginger and garlic paste. Fry until the aroma of spices is released. Pour in the stock and tamarind. Cover with a lid and simmer on slow heat for about 30 minutes. Strain the preparation and serve in a soup tureen.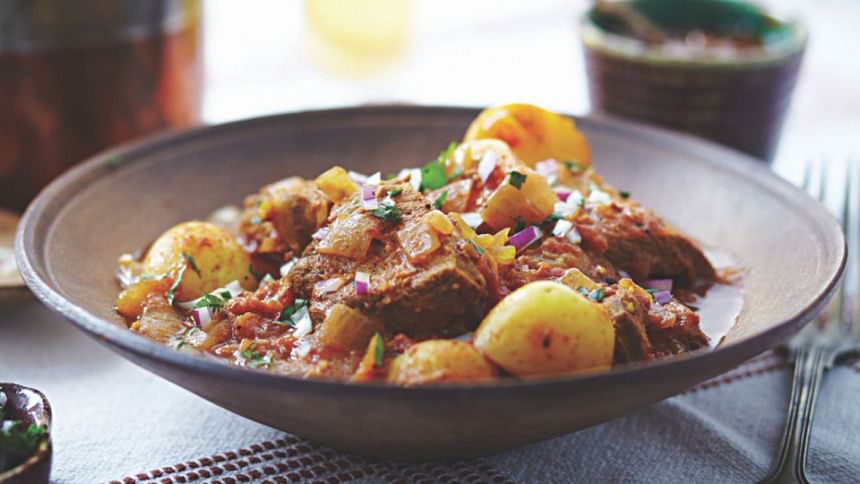 DUCK VINDALOO: DUCK IN EXTRA HOT GRAVY
'Vindaloo' is a Goan curry adopted from the Portuguese dish,' came de vindo elbos.' The term 'vindaloo' is a garbled pronunciation of 'vindo e albos.' Under the influence of their Moorish rulers, the Portuguese had adopted the taste of sour and fruity meat marinated and cooked in vinegar, in accordance with a popular Arab tradition. Indian cooks applied the techniques of making 'vindaloo' to all sorts of meats, duck being the favourite. The British were first introduced to 'vindaloo' in 1797 when they invaded Goa. When the British left in 1813, they took their Goan cooks with them. That's how 'vindaloo' made its way to British Bengal.
Ingredients
100g ginger
100g garlic
75g dry, red chillies
1 tsp red mustard seeds
1tbsp coriander seeds
½ tbsp cumin seeds
1½ kg duck, cut into pieces
1½  tsp turmeric powder
4 tsp salt
1½  cup vinegar
250g mustard oil
1 tbsp coriander seeds
2 tsp cumin seeds
Method
Pound roughly (do not grind) ginger; garlic; dry, red chilli; mustard seeds; 1 tablespoon coriander seeds; and ½ tablespoon cumin seeds. In a heavy pot combine meat, turmeric, pounded spices, salt, vinegar, mustard oil and a little water. Place the pot over a low flame. Cook, stirring occasionally, until meat is tender. Heat a 'tawa' (griddle) and dry roast 1 tablespoon coriander seeds and 2 teaspoons cumin seeds. Transfer roasted seeds to a mortar and pound to a fine powder. Add this powder to the cooking 'vindaloo.' Cook until oil separates and meat is ready.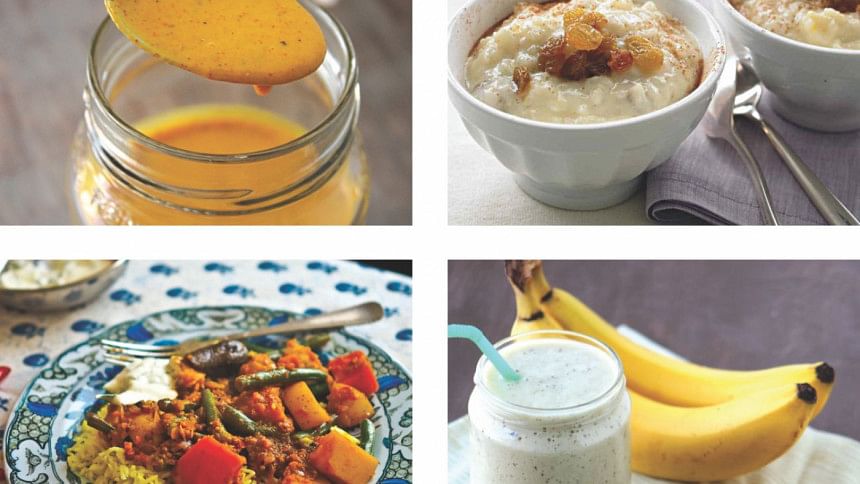 RICE PUDDING
Using rice with short or medium-size grain will give the preparation a soft and chewy texture. Longer grains would be hard to chew. If you use glutinous rice, the pudding will be too sticky.
Ingredients
4 tbsp butter
4 cups kalijira (fragrant) rice
4 tbsp sugar
2 tsp cinnamon, ground
6 cups orange juice
4 eggs
4 cups milk
Juice of 4 lemons
4 tbsp raisin
Method
Melt butter in a pan over a medium flame. Pour the rice and mix well. Cook, stirring until the rice is translucent. Add sugar, cinnamon and orange juice. Mix well and cook until juice begins to boil. Lower the flame and let the rice simmer for 2 to 3 minutes until juice is absorbed. Whisk the eggs and then add them to the milk. Pour the egg-and-milk mixture into the cooking rice and mix well. Continue cooking until rice re-boils.
Set the flame to its lowest and let the rice simmer until it turns soft and creamy. Cover with a lid. Take pan off the flame and let the rice sit for 2 to 5 minutes. Squeeze lemon on the rice, Serve in individual dessert bowls after garnishing with raisins.