Travelling through Sicily: How to prolong summer under the Sicilian sun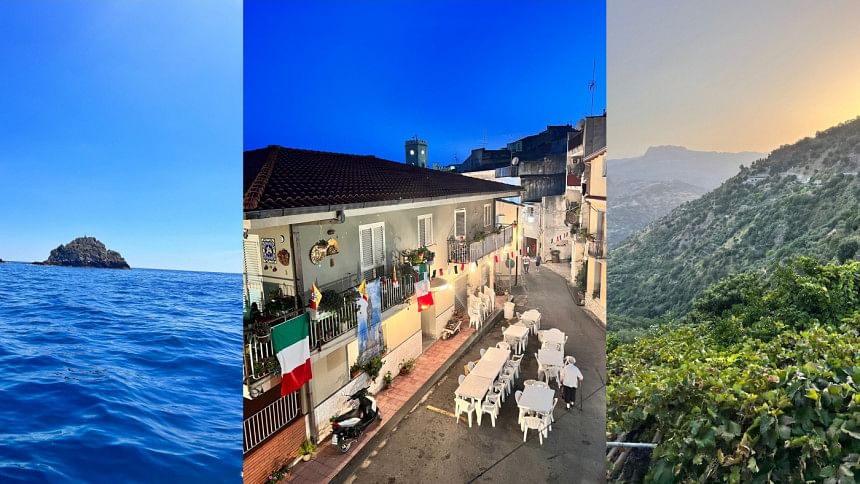 As a Bangladeshi living in Berlin, I am perpetually cold. The city has one month of proper summer when the native Berliners or northern Europeans all melt under the heat and I flourish like a Sunflower in full bloom. So, when I realized that come September, the city would somehow drop 13° and become unbearably cold for 'autumn,' I thought what better way to prolong summer, than to escape to Sicily for a long weekend with a good friend (also Bengali). And so, we did, booking a trip three months in advance, knowing full well we would love our past selves for this — boy were we right, because Sicily is an absolute delight.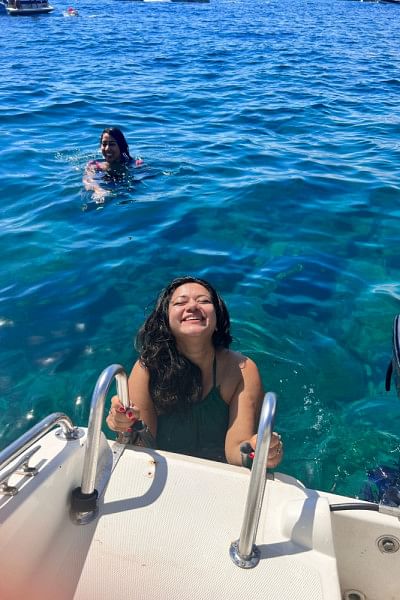 For those of you not in the know, Sicily is an autonomous island at the toe of Italy and also the largest Mediterranean island. It is almost three hours by plane from Berlin. We arrived in Sicily on a Thursday afternoon and were picked up at the airport by our host at Due Dicilie Maison de Charme —Tanja. 
From the moment we got to Sicily, we felt a sense of familiarity with the island, it is as if we had been there in another lifetime, and this was no different from our connection with Tanja, who felt like a soul we had certainly encountered in another lifetime. We drove for one-and-a-half hours from the airport to Casalovecchio, a beautiful ride through the rolling hills to the tiny village on top of a hill. 
Now picture this; a tiny Italian village, carved in stone paths, with cute little homes stacked next to each other, with a view of the beautiful green hills that it sits on top. And on the horizon, you can see the sea, blue, sparkling, and enticing.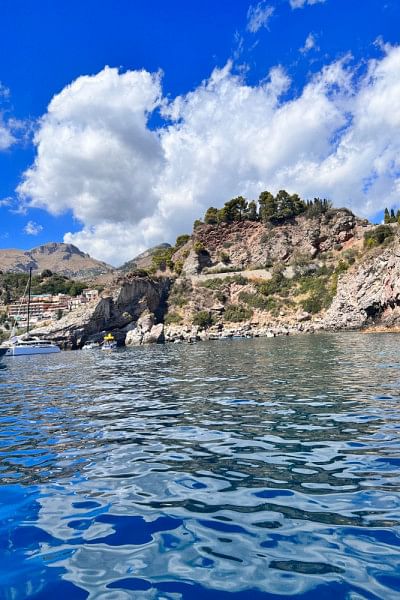 We arrived at Due Dicilie Maison de Charme just as the sun had set and the tiny town was lit up in festive lights to celebrate their patron, Saint Onofrio. Tanja, our wonderful host, explained to us that during that one week in September, the otherwise sleepy and quiet town lights up for this celebration and we were lucky enough to be able to experience it all. So, we got changed and went for a little stroll through the cobblestones streets of the town to see what was on offer. 
Apart from the décor, which was rather similar to Dhaka during Durga Puja — the roads were lined with street food, and on offer were various grilled meats and sandwiches that included a salsiccia sandwich, which sent us straight to heaven. We wandered around with a salsiccia (a particular type of Sicilian sausage) sandwich and a drink in each hand to see all the locals queuing at the various food stalls and then sitting on one of the main squares in front of a centuries-old church. 
We sat there eating our sandwiches, listening to live music being played by a local band, sharing stories, and learning about the history of this little town that dates back hundreds of years.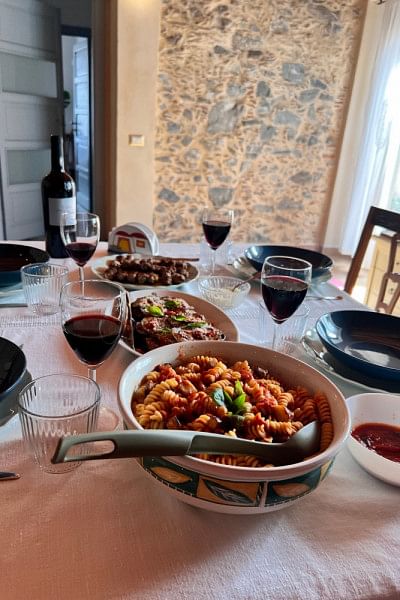 Sicily is a very special island; it has been occupied by and hosts people from all ends of the Mediterranean. For thousands of years, this island has been home to people from so many places that to be Sicilian would be a colourful array of the people the island has been and continues to be home to. 
Sicilians feel very strongly about being Sicilian, with a rich history and culture to back up their love for their home. The island is as geographically diverse as it is culturally and socially. Home to Mount Etna, which is one of the tallest volcanoes in Europe and the most active volcanoes in the world, standing some 11,014 feet high, Sicily has extremely fertile lands perfect for growing delicious produce and some world-renowned wines. As a UNESCO world heritage site, Mt Etna is an absolute must to hike and see if you love nature – and so we did. 
After an almost 2-hour ride to Mt Etna, we learned from our guide Antionello about the volcano eruption that took place in 2013. The vegetation of Etna is tiered according to the height you are at, in lower bits, up to 3000 feet you will find vineyards, olive groves, citrus plantations, and orchards. This includes also densely populated cities and towns including Catania.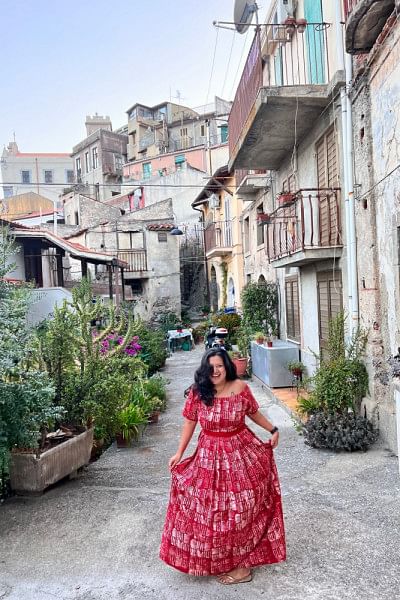 When you go further up, the mountain grows steeper with forests of chestnut, oak, pine, and birch. When you go even higher, the mountain is covered with ashes, sand, fragments of lava and some more plants. You can see the remnants of a resort that was completely demolished by an eruption, with no casualties because of the very effective early warning system. The air up there is something to be written about, crisp, sharp with a lingering fragrant of all the vegetation it boasts. It almost felt like I was breathing for the very first time this year. 
We made our way from Mt Etna to a beautiful old winery to eat lunch overlooking acres of vineyards. The Sicilian wine itself is distinct from other parts of Italy due to the mineral composition of the soil around the Etna. Much like it affects the food on the little island, the wine is also distinctly more acidic and has a different palate due to the volcanic activity. And truly, I have never tasted Italian food as delicious as what we ate in Sicily. It was like I ate pasta for the first time in my life. Every single piece of food we ate in Sicily was something to write home about, and write home I will.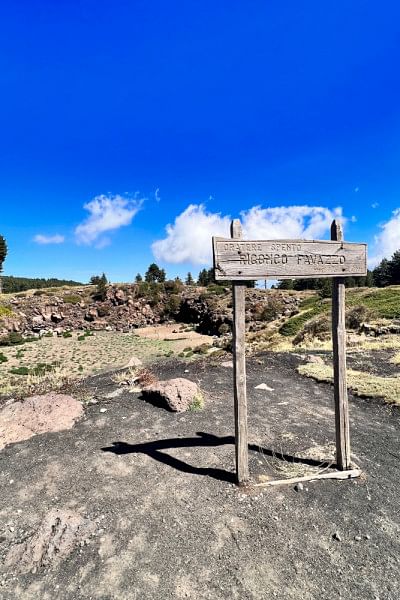 Tanja and her mother organised a traditional Sicilian cooking lesson for us. Here, we learned how to make a cold version of eggplant parmigiana, which is typically eaten on hot summer days. I have eaten eggplant parmigiana all over Italy and usually, it is always been served to me warm, but this one was just perfect in its cold form. To make this one must assemble sliced eggplant fried in olive oil with a delicious tomato sauce with herbs and parmesan and let it rest in the fridge to cool and interchange the flavours. A perfect starter for a perfect lunch. 
For the main we made involtini, which is a very thinly sliced rump steak dipped in olive oil, coated in breadcrumbs, stuffed with herbs and parmesan, and grilled to smoky perfection. This was accompanied by a pasta Alla Norma, which involved cooking diced eggplants in a fresh tomato sauce and then tossed with pasta and copious amounts of parmesan. Now I cannot say this happens often, but I saw stars at some point after that meal because it left my taste buds dancing with flavours.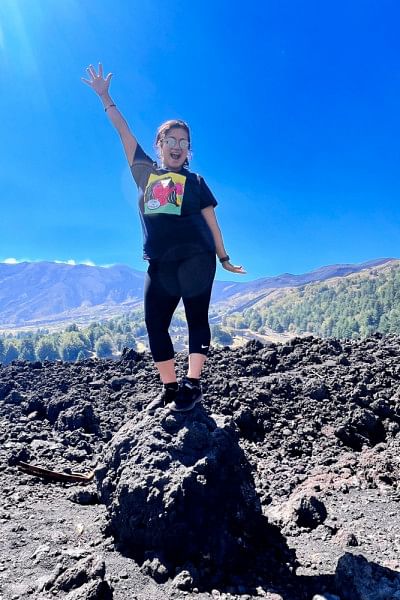 The concept of Dolce Fer Niente came up during lunch that day. And I wanted to share the beauty of practicing this phrase in our lives, with you. The phrase itself translates to "the sweetness of doing nothing." 
In our modern fast-paced lives, we are often riddled with anxiety when we are left with nothing to do but the essence of being present and mindful, which is also common in other cultures, is perhaps very lost on us in modern times. 
I loved being present and mindful while we ate freshly prepared Italian food made by our hosts at Due Sicilie Maison de Charme. We took our time to taste all the fresh ingredients in the food, savour everything and simply enjoy time pass us by. I felt that we did well in leaving behind the hustle and bustle of our fast-paced life in Berlin and lost ourselves in the simplicity and the beauty of the moment in this little Sicilian village.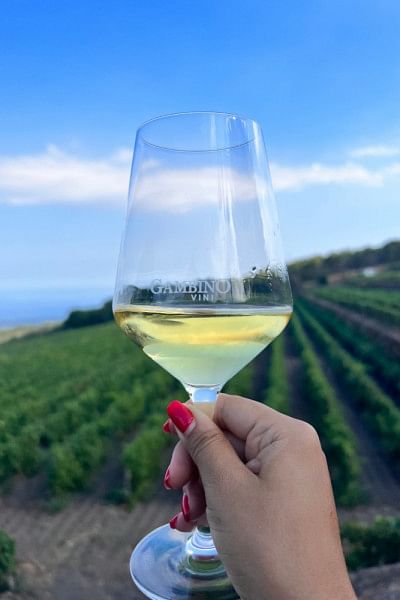 On our last and final day, after a beautiful Sicilian breakfast of granita and brioche, we headed down to Taormina for a private boat ride around some of the more beautiful spots on the island. 
Sicily is magic, from the mountains that look handcrafted to the crystal-clear waters that surround it, it feels right to say that God took their time to curate this beautiful island. 
We sat on the boat and sped through the waters of the Mediterranean Sea, soaking in the sun, we would stop from one glamour spot to the other to take a dip. Jumping in and out of that boat was one of my most fun memories of this year, all the laughter, the music, the sun, the sea, and the sweetness of doing nothing but laying on the boat, napping, and tanning. There are parts of that boat ride when we sailed into the caves and I was left speechless by the blue water and the age-old cave formations. 
When we were on the bus to the airport, we were talking about those many little moments that made Sicily so special. Whilst northern Europe waited for us with chilly weather and its cold inhabitants, Sicily helped us prolong summer for just a little longer with its warm climate and even warmer people.