The perfect New Year's Eve dishes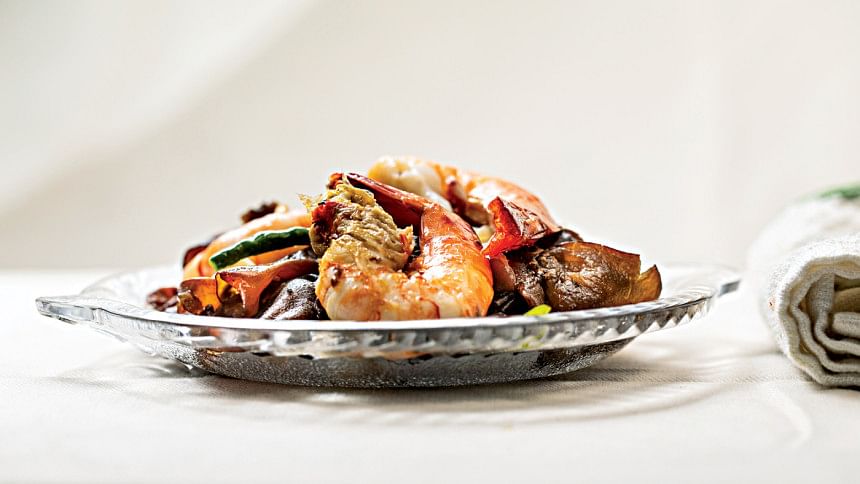 There's no better way to welcome the coming new year than with food, and these recipes are the perfect place to start from.
MINCED CHICKEN SKEWERS
Ingredients
500g chicken mince
1 onion, finely chopped
1 fresh red chilli
2 tbsp Thai red curry paste
1 tsp brown sugar
1 tsp ground coriander
1 tsp ground cumin
1 egg white
8 lemon grass stalks
Method
Mix the chicken, onions, chilli, curry paste and sugar together in a bowl to a thick paste. Stir in the coriander, cumin, and egg white and mix again. Preheat the grill at high. Divide the mixture into eight equal portions and squeeze each around a lemon grass stalk. Arrange on a grill rack and cook under the preheated grill, turning frequently, for eight minutes, or until browned and cooked through. Serve immediately, accompanied by cooked rice with chopped spring onion stirred through it. Garnish with the coriander sprigs.
PRAWNS WITH MUSHROOMS
Ingredients
16 medium sized whole prawns
4-6 oyster mushrooms
4-6 Chinese mushrooms (dried)
6-8 mushrooms
1 medium sized capsicum
1 medium sized yellow capsicum
2-3 garlic cloves
1-inch piece ginger
2 spring onions
2 tbsp cornstarch
2 cups chicken or fish stock
2 tbsp soy sauce
1 tbsp oyster sauce
Salt to taste
¼ tsp tasting salt
1 tsp crushed peppercorn
4 tbsp oil
1 tbsp malt vinegar
Method
Wash and shell the prawns, keeping head and tip of the tail intact. Devein, wash thoroughly and pat dry. Soak oyster mushrooms and Chinese mushrooms in sufficient hot water for fifteen minutes. Drain, wash and slice them. Cut capsicums into thick strips. Finely chop garlic, thinly slice ginger and diagonally slice spring onions. Blend cornstarch in one cup of stock. Mix soy sauce, oyster sauce, salt, tasting salt and peppercorn in the remaining stock. Heat oil in a wok, add chopped garlic and stir fry briefly. Add sliced spring onions, ginger, prawns, capsicums and mushrooms. Continue to stir fry for two minutes, tossing continuously. Stir in prepared sauce and spice mix. Cook on high heat for half a minute. Add blended cornstarch and continue to cook for a minute till the sauce thickens, stirring continuously. Stir in malt vinegar and serve hot.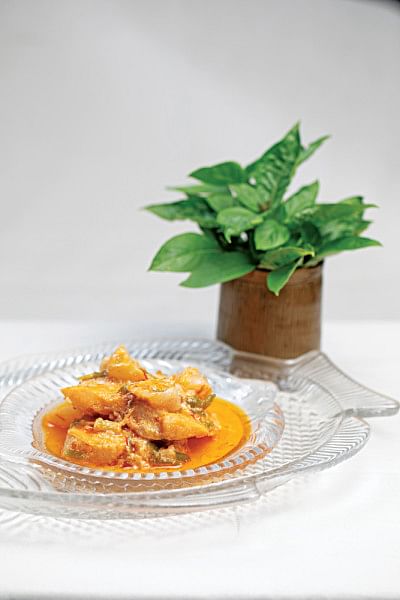 SOUR AND SPICY CHICKEN SOUP
Ingredients
1 medium sized chicken breast
6-8 mushrooms
1 medium sized carrot
5-6 French beans
2-3 garlic cloves
½-inch piece ginger
2 green chillies
1 spring onion
1 egg
3 tbsp cornstarch
1 tbsp oil
1 tbsp soy sauce
2 tbsp green chilli sauce
¼ tsp tasting salt
½ tsp white pepper powder
Salt to taste
5-6 cups chicken stock
2 tbsp vinegar
Method
Clean, wash and finely shred chicken breast. Clean, wash, trim and finely slice mushrooms. Cut carrots into julienne, cut French beans diagonally into thin diamond shaped pieces. Finely chop garlic, ginger, and green chillies. Chop spring onions and reserve some for garnish. Break egg into a bowl and whisk lightly. Blend cornstarch in half a cup of water. Heat oil in a wok, add shredded chicken and stir fry briefly. Add chopped ginger, garlic and green chillies and continue to stir fry for half a minute more. Add chopped spring onion and continue to cook for a minute. Add carrot julienne, sliced mushrooms and French beans. Add soy sauce, green chilli sauce, tasting salt, salt and white pepper powder. Mix well and stir in chicken stock.  Bring to a boil, reduce heat and simmer for 3-4 minutes. Stir in blended cornstarch and cook for a minute, until the soup thickens, stirring continuously.  Stir in whisked egg in a steady stream so that it forms into threads as it cooks. Add vinegar and serve piping hot, garnish with chopped spring onion greens.
YOGHURT FISH
Ingredients
600g any kind of big fish
1 cup yoghurt
Salt to taste
2 small sized onions
3 green chillies
2 tbsp ghee
2 bay leaves
4-6 cloves
3-4 green cardamoms
Method
Cut fish into medium sized pieces. Whisk yoghurt, add salt and marinate fish in this for twenty minutes. Grate onions, slit green chillies into two and keep aside. Take ghee in a pan and add bay leaves, cloves and cardamoms, cook for 15 seconds. Add grated onions. Sauté for 5-7 minutes, add green chillies and fish marinated in yogurt. Bring to a boil. Cover and cook on low heat for 7-8 minutes and serve hot.
Photo: Sazzad Ibne Sayed