Level up your oatmeal game with these add-ons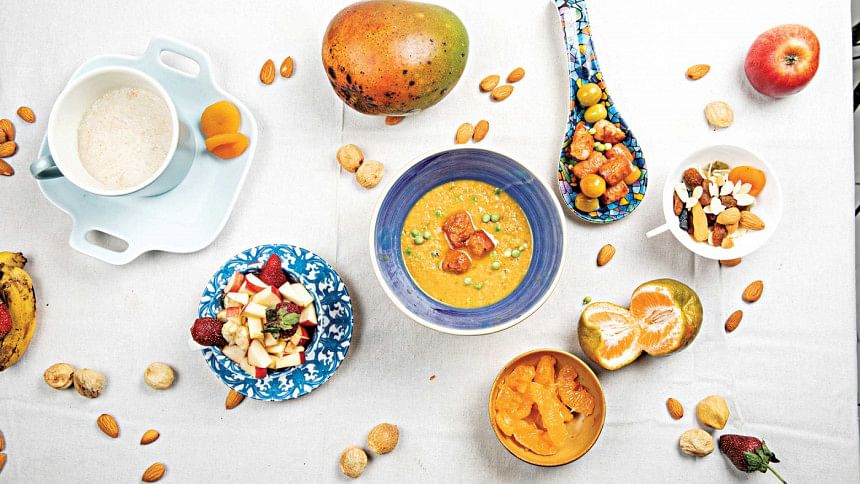 Oatmeal has a reputation for being the most filling, long-lasting, and of course healthiest of breakfast options— ideal to kick-start your day. This heavy grain is especially good to warm up winter mornings; a warm bowl of milk-soaked oats can do wonders in shooing away the chills and preparing you for the day, but different preparations can make it perfectly suited for summer consumption too.
There are a host of health benefits to oats, including a high content of dietary fibre and protein, as well as its effect on reducing cholesterol and provide long lasting energy throughout the day. This makes it a good option not only during normal healthy eating days, but also during Ramadan, especially for sehris, as its slow burning quality lets people feel full for longer, staving off hunger until iftars.
During Ramadan we tend to indulge on spicy, deep fried foods. It makes a good decision to replace all that with a bowl of healthy oatmeal. 
Some detractors might say oats, and a lot of other healthy food, might be tad bit bland, and thus not as tasty as all the other options. Bu that is not true at all, is it? It just depends on the one who prepares these meals, and here we give you some ideas to up your oats game in a fun way.
Fresh fruits
The texture of oats contrasted with the sweetness of fruits is a well-established combination full of dietary goodness. In Ramadan, having the same sehri meals can become a bit boring, and the easy way of just switching the topping can make oats feel and tase different every day, and keep you full until iftar too.
Freshly cut fruits like bananas, mangoes, apples and all types of berries are the most popular toppings to go with oatmeal, mainly because of their accessibility. You can either mix them up or just stick to a single fruit type according to your taste. Rich in vitamins, fruits will not only add a touch of freshness to your palate but also help you satiate the dessert cravings.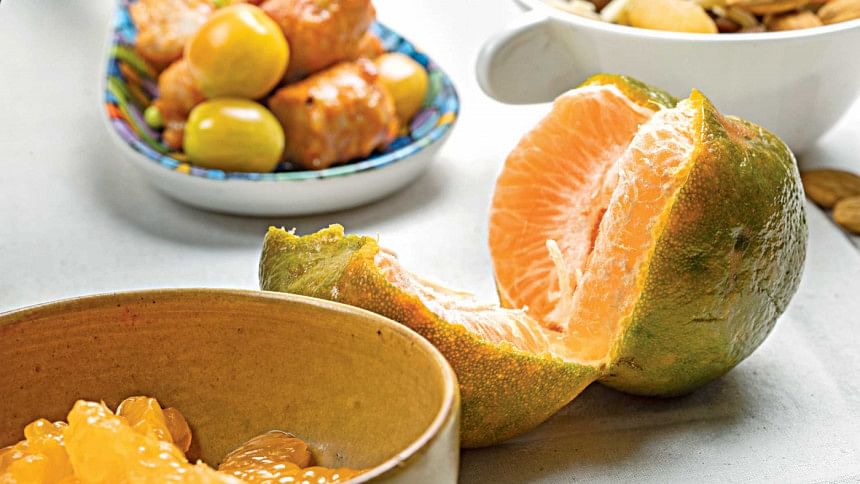 Dry fruits
The compatibility of oats with fruits is not just true for fresh ones, but also dried ones, as well as nuts and seeds. Apricots, dates, raisins, etc. are not only loaded with nutrients but natural sweetness as well. They have the power to transform your plain oatmeal into a rather fancy and delish bowl of wholegrains without the need of added sugar. Therefore, you can enjoy your oatmeal sweet while keeping your calorie count in check. Furthermore, these fruits will bring an array of colours to your bowl, making it look more appetising. Remember we eat with our eyes first!
Honey and syrup
Honey, maple syrup, and other syrups too, can be suitable alternatives to sugar to make oatmeal preparations. Since the whole point of having oatmeal is treating your body to a healthy meal, you might not prefer anything sugary. The healthy sweetness of honey and delicious maple syrup have got your back. Only a few swirls of these will make your oatmeal pleasantly sweet and way yummier.
Nuts and seeds
Another group of scrumptious add-ons for oatmeal are nuts. Nuts such as almonds, walnuts and pecans, will add crunchiness to your mushy oatmeal, adding a variety of textures to your oatmeal dish. Moreover, nuts are loaded with healthy fats and antioxidants and hence are responsible for an impressive number of health benefits. They also provide a really good source of proteins and good fats, and that makes them all the more suitable for sehris during Ramadan. However, be careful to not overdo the nuts as they have a warm effect and very calorie rich, and overeating them is unhealthy. Six to seven nuts per bowl will do just the right job of nourishment and flavouring.
Chocolate?
Although overall sweet milk chocolates are considered unhealthy for regular consumption, dark chocolate is actually quite healthy. That means, a healthy dose of dark chocolate shavings can help you elevate the oatmeal sehri breakfast without much guilt. Besides, there cannot be a better way to brighten up your morning than relishing on some chocolatey goodness! Coconut flakes is an equally healthy option. Furthermore, it will add a dash of sweetness and aroma to your plain oatmeal.
Spice it up!
If you are not one with a sweet tooth, there are a host of recipes to make spiced versions of oatmeal Spices like cinnamon, black pepper, paprika and cayenne, will not only take the heat up a notch but also bring out a savoury flavour to your oatmeal. Chopped blanched vegetables, eggs, cheese, and host of other savoury options are easy pairable with oatmeal preparations for healthy breakfasts, and iftars and sehris during Ramadan. 
Photo: Sazzad Ibne Sayed
Styling: RBR