World No Tobacco Day: Can Bangladesh be tobacco-free by 2040?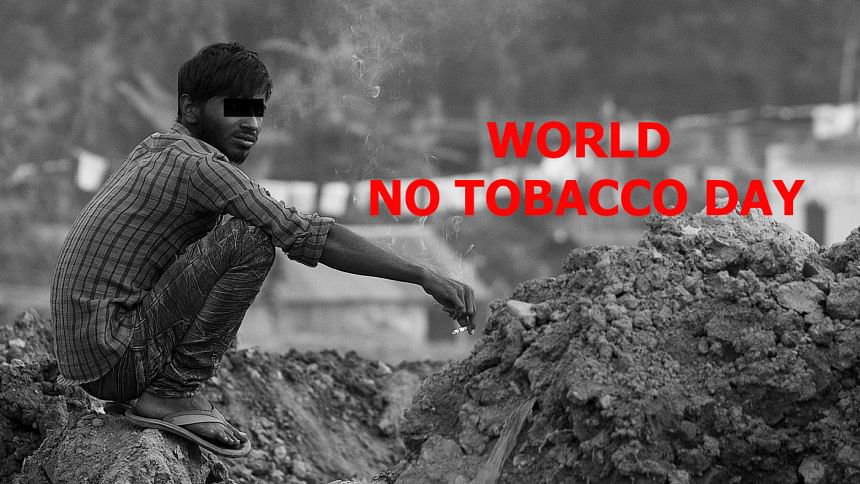 Bangladesh aims to become a tobacco-free country by 2040. The goal was officially set in 2016 when the head of the Government on the World No Tobacco Day announced that making the country free from tobacco can be pertinent to achieve sustainable development. Five years have passed, and the vision seems to lack clarity, direction, and purpose.
Tobacco kills. Tobacco causes cancer. We came to know about these lethal effects of tobacco in recent years, since 1964 to be specific when for the first time in history, the health hazards of tobacco use and consumption were reported in England. The preceding world history of tobacco is interesting and remarkable. According to a study conducted by the Boston University Medical Center, the origin of tobacco dates back 6000 B.C. when tobacco plants used to grow natively in North and South America. In that period, tobacco leaves were believed to be pain killers and healers. American Indians used to worship tobacco plants due to its such medicinal characters. In 1492, they gifted tobacco plants to Christopher Columbus and the sailor brought tobacco to Europe. Sensing the commercial potential of tobacco, European colonialists spread the cultivation in homelands and their colonies. Several sources including a study report published by Policy Research Institute confirm that farmers in this country started cultivating tobacco in the 1750s. For its immense demand and sale, tobacco remained one of the major cash crops of Bangladesh for decades. The profitable business of tobacco attracted and involved money, power, and stakes. This long history told in brief shows how tobacco has become a part of all forms of culture – livelihood, political, social, and economic – in Bangladesh. To become free of such a deeply rooted and used item, a low-income developing country like Bangladesh requires sophisticated public policy programs.
In response to the globalization of the tobacco epidemic, World Health Organization (WHO) initiated a Framework Convention on Tobacco Control (FCTC) in 2003 that came into force through UN General Assembly in February 2005. Bangladesh was one of the first countries to sign and ratify the Convention. Following the Convention, the Country enacted the Smoking and Usage of Tobacco Products (Control) Act in 2005 (amended in 2013) and prepared a set of regulatory rules in 2015. The Act banned smoking in public places and advertisements of tobacco products, and placed restrictions over the distribution and sales of the products. A dedicated Government body – National Tobacco Control Cell – was established in 2007 to implement and monitor these control mechanisms.
According to the Global Adult Tobacco Survey, the use of tobacco among the adult population in Bangladesh has decreased significantly. The 2017 Survey states that about 35.3% of adult who are older than 15 years use tobacco (46% of men and 25.2% women) which is a 18.5% relative decline from the usage recorded in the 2009 Survey. However, this 35% of adult constitutes 37.8 million of people of this country. Tobacco Atlas, a global organization, notes that about 1.86% of children were also found to use tobacco in 2015. 
Tobacco usage causes huge damages to human body and mind. According to Tobacco Atlas, every year about 160 thousand people die in tobacco-related diseases in Bangladesh and another 382 thousand people become suffer from paralysis. It is also associated with a range of mental disorders including schizophrenia, anxiety disorders and depression. Thousands of farmers produce tobacco leaves and thousands of workers work in factories to produce tobacco products. The process damages both health of those farmers and workers, and the environment of the nature. Yet, Bangladesh remains one of the largest producers of tobacco leaves in the world.
The pertinent question is – how can the country get rid of such a deadly item? Like many other issues, tobacco control is also a complex public policy case. Firstly, being a developmental state, Bangladesh needs a huge amount of revenue to finance its projects and unfortunately, tobacco companies continue to be one of the valued and largest sources. Along with putting taxation for smoking and smokeless tobacco products, the Government introduced the Health Development Surcharge Management Policy 2017 to accumulate funds for financing the policy programs and targeted health services. However, WHO calls for reforming tax policy to put reasonably high tax on tobacco products which can potentially result in increase of both revenue generation for the Government and the price hike for the consumers. The task of creating a suited tax structure for such diverse range of products is tough but not impossible.
Secondly, the country needs to recognise that politics of tobacco control. According to a 2019 report, the Government of Bangladesh holds a share of 0.64% of the most noted operating tobacco company – the British American Tobacco Bangladesh. Many political leaders including members of the parliament have had shares in tobacco businesses. The businesses involve millions of people in the farming, production, marketing, and sales of tobacco products. Creating a tobacco-free country is more of a foreign idea brought to this country that lacks home grown political commitment. People responsible for implementing the policies are often seen smoking is demoralising as well. 
Thirdly, several reports confirm that farmers are the victims of ill tobacco businesses. The Government must provide the farmers with alternative solutions both in terms of farming winter crops and of generating credits. A set of social protection interventions for the farmers and the workers in the industry can pave the way. The task force committees formed at district level can play a crucial role in reducing the production of tobacco leaves.
Finally, the policymakers must acknowledge that tobacco is deeply rooted an issue. They are supposed to attack the issue from all sides. Unfortunately, the policies do not attack the cultural aspects of the issue. The social norms of tobacco use are weirdly placed in our society. All big events – social, cultural, and political – are often seen celebrated with some forms of tobacco products in place. The ongoing campaign is heavily focused on building awareness instead of creating new norms.
Becoming a tobacco-free society is itself a sustainable development. The current crisis of Covid-19 allows us to redesign our health policies and to reflect on much damaging social norms like tobacco use. A comprehensive public policy attack on this pressing issue is imperative.    
The writer is Doctoral Research Fellow at the Institute of Development Studies in the United Kingdom.