The iconic Marble Palace, Kolkata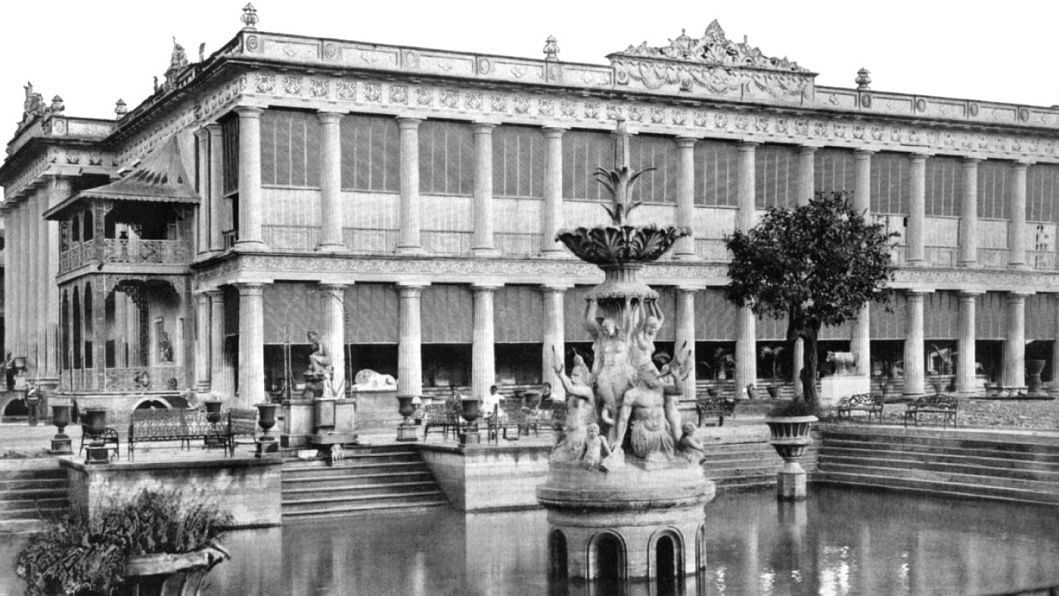 On a languid summer afternoon way back in 1973, after a hearty lunch I had settled down comfortably in bed and started to flip through the pages of the latest issue of the prestigious The Illustrated Weekly of India, a much sought after English magazine in those days. I was then living in Dhanmondi, Dhaka. Summer afternoons, especially during weekends, were usually long, lazy ones. One read books, or even better, took an afternoon siesta. Dhaka, the new capital of Bangladesh was still very much a laidback provincial city.
The Illustrated Weekly of India, now sadly defunct, was a coveted magazine. The editor at that time was the renowned Indian journalist and writer Khuswant Singh. I turned the pages to read his wonderful essay on Mughal Delhi and Emperor Bahadur Shah Zafar at the start of the Great Rebellion of 1857, that is, before the East India Company's siege and capture of the Red Fort. Khuswant's impeccable choice of words was as evocative, as was his eloquent poetic-prose style of writing. It captivated me. But soon my attention was riveted on to another article, which was on the Marble Palace at Chorbagan, Kolkata. I had never heard of it before. There were quite a few photographs of the palace and its artefacts, albeit not in the best of print quality. However, images of the grandiose house, history of the ancient Mullick family who owned it and the remarkable collection of antiques, mementos and paintings at the palace intrigued me. I resolved then and there to visit it someday. The monotonous drone of the old whirling ceiling fan churning  the balmy air would soon lull me to sleep as I mused over the two wonderful pieces I had just read.
In the meantime, 18 years would elapse before I could actually visit the Marble Palace in Kolkata. On my return to Dhaka in 1986 from the USA after a decade, I joined the premier multinational corporation the Bangladesh Tobacco Company (BTC), now renamed as the British American Tobacco ( BAT). Those were the heydays of the company, especially when it came to its management training programmes, in which the company invested heavily and partnered with the Indian Tobacco Company (ITC), which had developed an excellent corps of in-house management specialists with commendable expertise and experience. In 1991, I was sent by BTC to Chennai (Madras), India, to attend an ITC sponsored management training programme for seven days. It was a great educational experience. Well in advance, I had also taken an extra five days off on conclusion of the programme at Chennai, and flew back to Kolkata to stay with my Pesho-Moshai (uncle) B S Chaudhuri and his wife my Kum-kum Pishi (aunt) at their splendid colonial-era mansion at Batanagar, 24 Parganas. And, what a ball of a time I had while touring Kolkata! I have already mentioned this memorable visit of mine earlier in a feature article written for The Daily Star. With a full-time chauffer driven car, courtesy of my now late Pesho-Moshai, I extensively toured Kolkata and savoured its many "sights and sounds" with great relish. And, high on my agenda of visits was, of course, the Marble Palace in North Kolkata, located at 46, Muktaram Babu Street.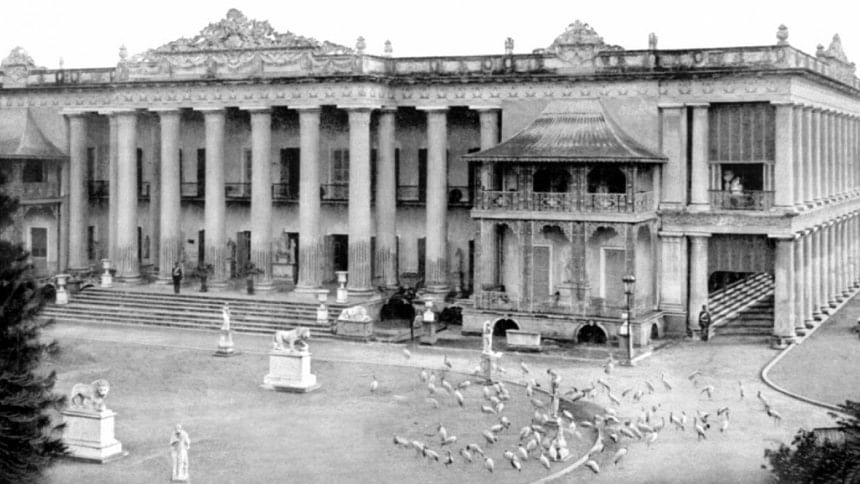 As far as I can recall, the ITC head-office located at Chowringhee, Kolkata, was leased from the Mullick family. Consequently, a courteous official at ITC, Kolkata, sent a request to Hirendra Mullick to see that I, as their guest, was provided with a guide on my visit to the Marble Palace. On a fine morning as scheduled, I arrived at the gate of the Marble Palace exactly at 10:00 am, just as it was being opened to visitors. There was no entry fee. A Nepali darwan (security guard) in baggy Khaki shorts, with puttee coiled around his legs, saluted as my car entered the palace premises. It was a gorgeous view. I stood awed by the large neoclassical palace, with ample grounds covered with garden, fountains and marble statuary. It was built in 1835 by the illustrious merchant belonging to the Subarnabanik caste, Raja Rajendra Mullick Bahadur, a leading citizen and socialite of 19th century Kolkata, fabulously wealthy and famously known for his philanthropy. It is alleged that the then Viceroy and Governor-General of British India, Lord Mayo, on a visit  to the palace in 1870, was so impressed with the profusion of marble used in the building and statuary that he aptly named it "The Marble Palace". The name has stuck to this day.
A staff of Hirendra Mullick was awaiting my arrival. He warmly received me at the entrance to the palace, led me up a flight of steps and ushered me into a large opulent drawing room on the ground floor with Victorian era furnishing, Italian and Grecian statuary, paintings, large porcelain vases, urns, huge ornate wall-mirrors, a grand piano and two humongous  cloth-draped chandeliers. He then went away to inform Hirendra. As I was looking around, Hirendra came in with a cheerful smile. We exchanged pleasantries. He was handsome and of a medium height. We were about the same age. Thus, the rapport was instant. After a brief overview of the history of the Mullick family and the palace, he handed me over to the same man who had ushered me in for the grand tour of the Palace and its grounds. Hirendra, articulate, warm and of an amiable deportment, most graciously asked me to join him for tea at the conclusion of the tour. The guide was a courteous fellow and tried his best to answer my queries. However, photography was strictly forbidden. I was also informed by the guide that a noble, unbroken tradition started by Rajendra Mullick is still continued unfailingly by his descendants. Every afternoon 500 destitute are fed outside the palace premises regardless of religion, caste or creed with gruel prepared by the palace kitchen.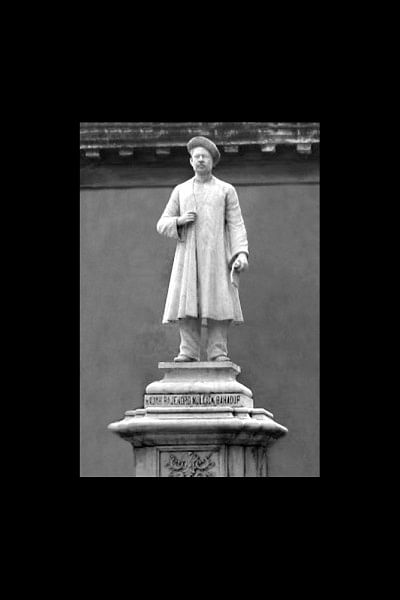 It has been 27 years since I last visited the Marble Palace. But while my memory still serves, I shall try to reproduce the tour as best as I can. While the palace is atypical of the times, that is, built in the neoclassical style then prevalent, the layout of its open courtyards is largely of a traditional vernacular or Bengali design (visit the Ruplal House in Farashganj, old Dhaka). Adjacent to the inner courtyard is a marvellous thakur-dalan, or a place of worship, for the exclusive use of the Mullick family. However, during the Durga Puja, Holi and Diwali festivals, guests are invited to enjoy the magnificence of such occasions. The palace is a three-storied building with tall fluted Corinthian columns and ornamented verandas with fretwork and sloping roofs at both ends of its frontal façade, built in the style of a Chinese pavilion. The large premises also includes a garden with lawns (to the west and north), a rock-garden, pools with attractive fountains and sculptures, a small lake and a menagerie. The palace is replete with an over-abundance of statuary and artefacts both in the interior as well as outside. In the interior there is an Art Gallery (76 rare artworks were brought in the 1830s, from Italy and Belgium alone); a Reception Hall; a Red-Veined Marble Chamber; Billiards Chamber;  and the Southern and Western staircases with an array of paintings by European artists. A huge teakwood statue of a sombre Queen Victoria adorns an inner chamber; there is a Rubens Chamber with 18th and 19th century European paintings from old English, Dutch, Flemish, Italian, French and Belgian Schools of Art, marble art-works, bronzes, tapestries and porcelains; an impressive Durbar Hall; a Red Room with European paintings by old master's like Rubens, Van Dyke, Titian, also including those by Sir Joshua Reynolds, Bartholome Esteban, Murillo, John Opie, Van Goyen and Piero del Polaiolo; a Ball Room with a grand piano and an assortment of paintings; and a Raja Rajendra Mullick Chamber with paintings by both European and Indian artists (Bengal School and by Raja Ravi Varma). All rooms are embellished with chandeliers, candelabras, rare Persian and oriental carpets/rugs and antique clocks (grandfather, wall and mantle-piece).
A general comment on the overall, mind-boggling collection. The palace is a veritable treasure-house. Although, there is nothing comparable to it in Kolkata, to a discerning eye, let alone a curatorial one, the collection may occasionally appear to be a bit haphazardly put together or even somewhat cluttered. Rare and beautiful pieces of artwork are curiously juxtaposed with Victorian bric-a-bracs vying for equal space and attention which may strike, especially, an aesthete, as a bit odd. The problem is surely compounded by the sheer diversity and large volume of the collection and the insufficient space available to house such an exhibit. However, it still remains a stupendous collection worthy of a visit. Nobody, touring Kolkata should miss out on the Marble Palace. A visit will also provide one with a nostalgic glimpse into a past, when grand mansions once dotted the landscape of 19th century Kolkata, thereby, earning it the rare distinction—the enviable sobriquet of  "The City of Palaces".
At the conclusion of the tour, I was taken into a well furnished smaller room at the palace, with expensive period pieces. Soon Hirendra came in followed by his younger brother, an exceptionally fair young man. It instantly reminded me of Nirad C Chaudhuri's (see The Autobiography of an Unknown Indian, 1951) incisive observation, that he was often surprised to find in some elite Bengali families in colonial Kolkata, people of a very fair complexion akin to Europeans. He had used the term "selective breeding" to explain it. That is, fair and handsome young couples chosen with meticulous care by adroit match-makers at their betrothal, would after marriage often reproduce offspring of a lighter complexion. After tea, snacks and a long enjoyable chat with Hirendra, I profusely thanked him for his hospitality, complimenting him on his dedication in painstakingly preserving his heritage. We exchanged visiting cards. He then told me to wait a little since his Kaka Babu (uncle) had wanted to meet me and would be joining us soon. The upper floors of the palace housed the private residential quarters of the Mullick family. An elderly man (probably an octogenarian) elegantly clad in a silk dhoti and an exquisitely embroidered  Jama, with a fine Kashmiri shawl draped over his shoulder, wearing a pair of zari-chappals (slippers) shuffled into the room. The old man was of medium build, very dignified with an aristocratic bearing. He held the pleat-end of his silk dhoti with a delicate golden border in his left hand, while shaking my hand with his right. He was a spitting image of a Bhadralok (gentleman), a Bengali Babu of the legendary 18th/19th century Kolkata. He wore a heavy gold neck-chain and several rings on his fingers. He wanted to meet me because he had heard that I was from Dhaka. He fondly reminisced about his last visit to Dhaka in 1937, and the delicious Elish macher jhol and bhaat (rice and Hilsa curry with ample gravy) he had relished eating on the steamer (paddle-boat) at the Goalundo Ghat. In Dhaka he had stayed as a guest of the zamindar at the Ruplal House, Farashganj, in old Dhaka. I was a bit surprised to note that he spoke to his staff in Hindustani. From him I was lucky enough to get a whiff of the Babu culture of a much earlier Kolkata. Finally, I bid adieu to Hirendra after a memorable three-hour visit to the Marble Palace. Afterwards, we occasionally kept in touch through surface mail for some time. I still have Hirendra's old letters somewhere, emblazoned with the beautiful family crest of the Mullick's.
Now, on a personal note: Kolkata has always held a special place in our hearts ever since childhood. My father's family had migrated from Malda, West Bengal to East Bengal (now Bangladesh) during the partition of British India in 1947. However, my mother's family although originally from Bogura, East Bengal, were once for all practical purposes Kolkata people. My maternal grandfather, Maulvi  Samiruddin Ahmed (1882-1967), a notable educationist, lived in Kolkata for 42 years prior to the partition. Consequently, my mother and her siblings were all born and brought up in Kolkata. We grew up listening to mother's fascinating stories of her life in pre-partition Kolkata. Her family was once enamoured of Kolkata. Thus, it was with profound regret and angst that they bid a tearful goodbye to the great city and their friends during the partition, to start all over again.
On to a more philosophical note: why is there a primordial need in human beings for a tirtho-jatra (spiritual pilgrimage/ sentimental journey) or the compulsion for a last darshan (view/sight), especially, as one grows older? Nostalgia is said to be the bane of the elderly, for it stems from the programmed memories within each one of us, which is deeply embedded within our sub-conscious/soul, perhaps from the very moment of our birth. I have often ruminated, why was it that my maternal uncle, Badrul Alam, just before his death in Dhaka at age 84 in 2017, had so desperately wanted to revisit his childhood one last time in Kolkata? Sadly, he never made it. Was he chased by a recurring premonition that he would soon die? Again, why was it that my maternal grandfather aged 85 in 1967, in his dying moments in Bogura, when barely conscious, had mumbled almost inaudibly, "Kolkata koto durey?" (How far is Kolkata?). I rest my case.
The celebrated Indian Urdu poet Gulzar has most succinctly captured this emotional yearning in human nature in a pathos-laden, spiritually moving lyrical verse rich in its cadence, which is also hauntingly beautiful:
"Where did it begin from
I do not wish to forget
In frenzy do I return
In search of those footprints".
---
Waqar A Khan is the Founder of Bangladesh Forum for Heritage Studies.
---
Follow

The Daily Star Opinion

on Facebook for the latest opinions, commentaries and analyses by experts and professionals.
To contribute your article or letter to The Daily Star Opinion, see our

guidelines for submission

.
---