Executive director of icddr,b wins Prince Mahidol Award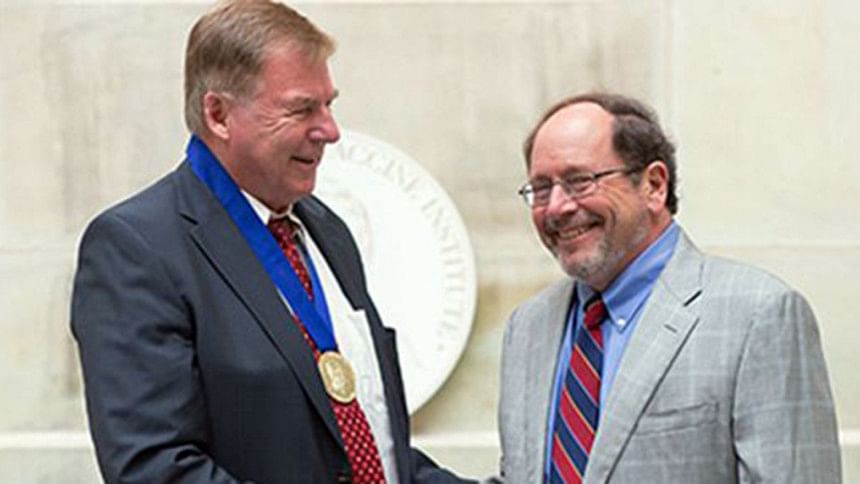 Prof John D Clemens, executive director of International Centre for Diarrhoeal Disease Research, Bangladesh (icddr,b), has won this year's Prince Mahidol Award for his contribution to the development of oral cholera vaccines that have revolutionised cholera control efforts globally.
Prof Clemens is one of the two medical scientists who won the award this year.
The co-winner of the award is Swedish immunologist Prof Jan Holmgren, who worked with Prof Clemens for over 30 years to develop, evaluate, and introduce the world's only safe, effective, and affordable internationally licensed oral cholera vaccines (OCVs).
Prince Mahidol Award Foundation, of which Princess Maha Chakri Sirindhorn of Thailand is the president, has recently made the announcement, according to a press statement by icddr,b.
Established in January 1992, The Prince Mahidol Award is Thailand's tribute to personalities and institutions reputed for the advancement in medicine and public health.
In January next year, Princess Maha Chakri Sirindhorn will confer the Prince Mahidol Award-2018 to the two medical scientists at a ceremony in Thailand. Each award consists of a medal, a certificate and a sum of US $100,000. 
Both scientists have long been associated with icddr,b and their work in Bangladesh, beginning in the 1980's, was critical to the development, licensure, and global endorsement of oral cholera vaccines, the press release read. 
In reaction, Prof John D Clemens, said, "I am honoured and humbled to have been selected for the Prince Mahidol Award. It is especially meaningful to have received the award for work done with my long-term friend and colleague, Jan Holmgren, and while I am serving as Executive Director of the icddr,b, where the oral cholera vaccine story began."
Prof Jan Holmgren said, "It is a pleasure to acknowledge with profound gratitude the long-standing collaboration I have had also with many other scientists both in Sweden and abroad, and to especially recognise the support from many collaborators at icddr,b in Bangladesh, in Vietnam and in India, which has been pivotal for our now so honourably awarded work on oral cholera vaccines."