Covid may now spread even faster
Health officials warned yesterday of the possibility of Covid-19 transmission rising since the ongoing lockdown has been withdrawn for a week from today.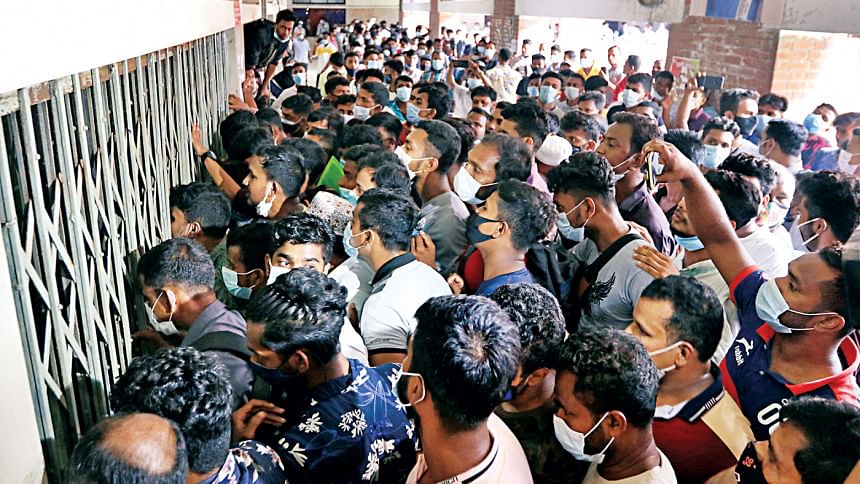 Health officials have warned of a possible rise in Covid-19 transmission as the "strict lockdown" has been withdrawn for a week from today.
"We think there is a chance transmission will increase, as public transport services will resume and shopping malls will reopen from tomorrow [today] ahead of Eid-ul-Azha," Robed Amin, spokesperson of the Directorate General of Health Services (DGHS), said in a virtual briefing yesterday.
The warning came at a time when the country saw 210 deaths from Covid-19 in 24 hours ending at 8:00am yesterday.
With this, the total number of Covid deaths in the country has reached 17,052.
In the past seven days alone, a total of 1,359 Covid patients died countrywide.
Bangladesh on July 7 logged 201 deaths -- the first time the daily death toll crossed the 200-mark.
Meanwhile, 12,383 people tested positive for the viral infection in the 24 hours, raising the total number of cases to 10,59,538.
As the government announced the ease of the lockdown from today, the DGHS also advised that health safety guidelines are maintained strictly on public transport, shopping malls, cattle markets, and other gathering places.
Amid fears of a further rise in transmission following the reopening, health officials warned the new transmission will create pressure on hospitals already overburdened in the last few weeks.
"As transmission is rising, there is pressure on hospitals. If we cannot keep the hospitals from crowding, we will be in danger," Robed Amin said.
According to DGHS data, there are 18,188 beds in 139 Covid-19 dedicated hospitals across the country.
Of yesterday's deceased, 131 were men and 79 women. Among them, 197 died in hospitals and 13 at home.
The highest 69 of the deceased were from Dhaka division followed by 46 from Khulna.
'AVOID PUBLIC GATHERINGS'
The Cabinet Division yesterday asked people to avoid all sorts of public gatherings, wear masks and follow the health safety rules to prevent the spread of Covid-19.
The instructions came a day after the division, in a circular, said restrictions imposed to stem surges in coronavirus cases and deaths would be relaxed from today for the celebration of Eid-ul-Azha and ease of public movement and economic activities ahead of the festival.
A nationwide "strict lockdown", imposed on July 1, ended yesterday.
The Cabinet Division, in a letter, said although the restrictions have been relaxed, everyone must follow the health rules.
"During this period [July 15-July 22], visits to tourist spots, resorts, community and entertainment centres, participation in all social gatherings, including wedding receptions, and birthday parties, and political gatherings should be avoided," said the letter.
On Tuesday, the government said a "strict lockdown" would be enforced for two weeks from 6:00am on July 23.
In an order, the Supreme Court yesterday asked civil and criminal courts and tribunals to hold all hearings, except recording of depositions, virtually between July 15 and July 22.
Health guidelines should be followed during filing of cases and holding hearings, reads the order, signed by SC Registrar General Ali Akbar.
Earlier, the Bangladesh Bank gave directives to banks to carry out their activities from 10:00am to 4:00pm daily before the start of the Eid vacation.
After the vacation, banks will once again operate for three and a half hours daily till August 5.
Meanwhile, State Minister for Shipping Khalid Mahmud Chowdhury yesterday called upon passengers to wear masks while travelling on launches.
He also directed the vessel owners and workers to keep launches clean.
"The BIWTA, launch workers and members of law enforcement agencies will take measures to make people follow the health guidelines," he said while visiting development works at Sadarghat Launch Terminal in the city.