Ties at new historical starting point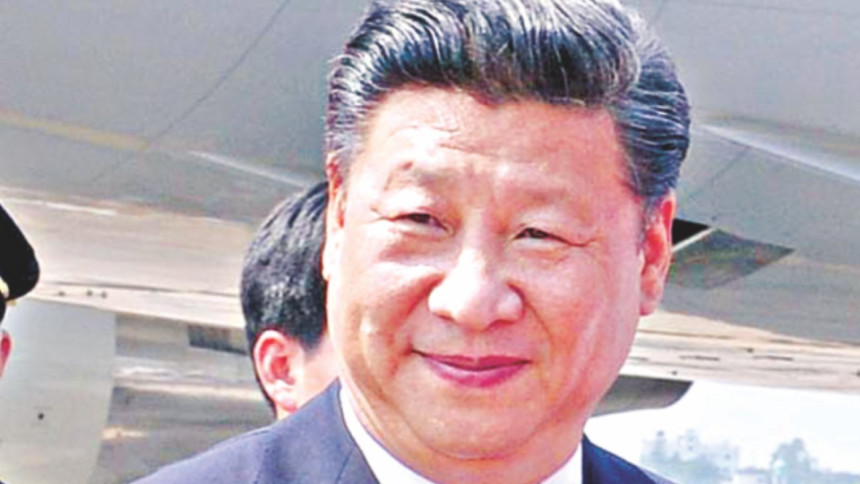 China-Bangladesh relationship is now at a "new historical starting point" and heading towards a promising future, visiting Chinese President Xi Jinping said yesterday.
"China is ready to work with Bangladesh to move along the path of development as friends and partners who trust and support each other and to add more substance to the China-Bangladesh strategic partnership of cooperation," he said.
The Chinese president was making press statements following a meeting with Prime Minister Sheikh Hasina and the signing of 27 Memorandums of Understanding (MoUs) and agreements between the two countries at the Prime Minister's Office.
Terming his meeting with Hasina "warm and productive", Xi said they reached agreements on a number of important issues.
He said both the countries agreed to elevate their relationship from a "closer comprehensive partnership of cooperation" to a "strategic partnership of cooperation".
The countries agreed to jointly advance the "belt and road initiative", he said, adding that they also agreed to launch a joint feasibility study on a China-Bangladesh FTA (free-trade agreement) to strengthen trade and investment cooperation, and strengthen practical cooperation in key areas like infrastructure, production, capacity, energy and power, transportation, ICT and agriculture.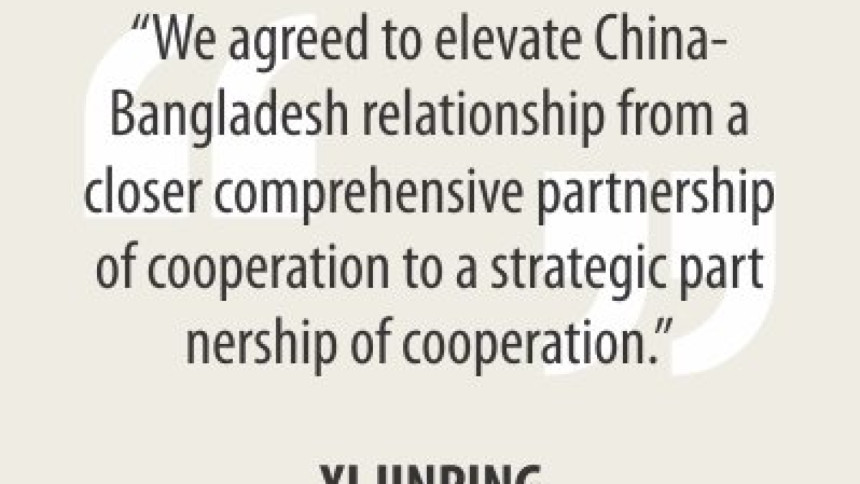 The Chinese president said they agreed to establish and carry out institutionalised cooperation in areas like maritime affairs and counter terrorism, jointly advance the BCIM economic corridor and increase communication and co-ordination on international and regional issues of shared interest.
Terming Bangladesh and China "good neighbours, good friends and good partners," Xi said China will continue to do its best to provide capital, technological and human resources, and carry out more cooperation on big projects with Bangladesh to support its economic and social development.
"We agreed to designate the year of 2017 as the year of exchange and friendship between China and Bangladesh during which colourful events will be held to carry forward traditional friendship between our two countries.
"This way China-Bangladesh cooperation will deliver more fruits to our people and also contribute to peace, stability and development in the region," he added.
Xi hoped that he would use this visit to chart the course for future growth of China-Bangladesh relations from a strategic and long-term perspective together with the leaders of Bangladesh.
Later in the day, the Chinese president met President Abdul Hamid at the Cabinet Hall of Bangabhaban.
During the meeting, Xi appreciated Bangladesh's economic stability and mentioned that Bangladesh is a very important country in South Asia, reports UNB.
He said the diplomatic relations between the two countries that established 41 years ago is being expanded day by day.
Referring to his meeting with PM Hasina, he said they agreed to work together and have a master plan to expand the relations further.
'IMPORTANT PARTNER IN SOUTH ASIA'
In an arrival statement at Hazrat Shahjalal International Airport in Dhaka, Xi Jinping said China considers Bangladesh as an important partner in South Asia and the Indian Ocean region, reported the China Daily.
"We are ready to work with the Bangladeshi side to further deepen our political mutual trust and elevate our relations and practical cooperation to a higher level," he said.
"In the 41 years of our diplomatic relations, China-Bangladesh ties have kept moving forward," Xi said in the statement.
The Chinese president pointed out that China and Bangladesh face similar task of development.
He said the Chinese dream to achieve the great rejuvenation of the Chinese nation is "in perfect harmony" with Bangladesh's dream of a "Sonar Bangla" (golden Bangla).
"I look forward to having broad and in-depth exchange of views with President Abdul Hamid, Prime Minister Sheikh Hasina, and other Bangladeshi leaders on China-Bangladesh relations and issues of mutual interests to chart the course for our future cooperation and jointly usher in a new chapter in our bilateral relations," he added.
Upon his arrival, he also said China attaches great importance to relations with Bangladesh and is ready to join hands with the country to lift their bilateral relations and practical cooperation to a higher level, Xinhua reported.