Lightning, rain wreak havoc
City life thrown out of gear as roads go under water; lightning strikes kill 15 across country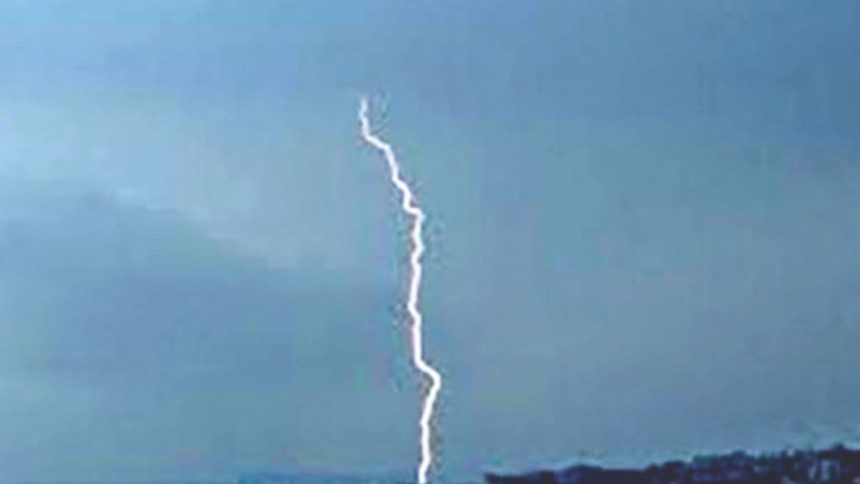 Lightning and thunderstorms killed at least 15 people as nor'wester raged through the country yesterday, disrupting life in the capital where heavy rain inundated many roads.
The nor'wester swept through the capital and most of the country from 6:00am to 12noon, with the highest 69-millimetre rainfall recorded in Mymensingh, according to Met office records.
Around 55 millimetres of rainfall was recorded in the capital during the six hours when many thoroughfares went under knee-deep water in Dhanmondi, Mohammadpur, Farmgate, Karwan Bazar, Begunbari, Badda, Green Road, Mirpur, Shewrapara, Sher-e-Bangla Nagar and Old Dhaka.
It took hours for the water to recede, bringing misery to public life.
One such thoroughfare was Tejturibazar Road in front of Tejgaon Mahila College that went under knee-deep water despite preventive measures taken earlier. The authorities laid down large-diameter storm water drainage pipelines underneath the road in last winter, keeping it off limits for traffic for months.
"We thought that we would not suffer from waterlogging this monsoon because of the newly built underground drainage pipelines, but nothing has changed. The road was flooded by rain caused by a normal nor'wester with this year's monsoon yet to set in," said Mojibor Rahman, a resident of east Tejturibazar.
Commuters and rickshaw-pullers were seen wading through knee-deep water on different city streets in the afternoon.
The rain after two days of stifling summer heat, however, brought a sigh of relief with the mercury level down and dust-free air for the city dwellers. Dark clouds kept the sun out for most of the morning and cast a night-like ambience over the capital.
Tenth-grader Emran Hossain Akas, a shooter of Pirojpur Rifle Club, who came to the capital to take part in a national shooting competition, said during the rain at Hatirjheel, "Any amount of rain in our region gets accumulated in rivers, canals and lowland. But in Dhaka, every single drop of rain gets clogged on the streets."
The Met office said heavy to moderate rain accompanied by thunders and lightening swept across the country except Barisal and Khulna divisions.
A rainfall of 45 to 88 millimetres during 24 hours is considered heavy, said Ruhul Kuddus, a meteorologist at Dhaka Met office.
Five people including a father and a son and two college students died in different upazilas of Sirajganj, a school student in Noakhali, a farmer in Lalmonirhat, a woman in Rangamati, a day labourer in Brahmanbaria and two persons in Gazipur, our correspondents report.
News agency UNB adds that three people were killed by thunderbolt in Magura in separate places of the district while a farmer died in Sunamganj.
A man died and another woman was injured after coming in contact with a downed power cable during the heavy rain and storm in the capital's Wari area yesterday morning.
Jinnah Choukidar, 48, a bicycle mechanic, was electrocuted when he touched the shutter of a shop in Bongram area around 9:00am. He was declared dead at Dhaka Medical College Hospital, police and family members said.
The shutter was carrying electricity when water submerged the area during the rain, said Rafiqul Islam, officer-in-charge of Wari police.
The woman, whose name could not be known immediately, got electrocuted in the same shutter but was out of danger, the OC added.
Jinnah's brother Solaiman said his brother was on way to Bongshal in the city from his house in Narayanganj. The accident took place when he was waddling through the clogged water holding the shutters of the roadside shops after getting down from a bus nearby.
Inclement weather halted inland passenger water vessels services at Sadarghat Launch Terminal for several hours.
The Bangladesh Inland Water Transport Authority (BIWTA) yesterday suspended all types of water vessel services from Sadarghat thrice following suggestion of the metrological department, BIWTA Joint Director Alamgir Kabir told The Daily Star last night.
The services remained halted from 9:30am to 11:00am, 12:00noon to 1:30pm and 3:00pm to 6:00pm, he informed.
The Met office weather update says a trough of westerly low was lying over West Bengal and adjoining areas with a seasonal low over south Bay.
In its forecast till 9:00am today, it says rain or thunder showers accompanied by temporary gusty wind and lightning flashes are likely to occur in most places over Rangpur, Rajshahi, Dhaka, Mymensingh, Khulna and Sylhet divisions and in many places over Barisal and Chittagong divisions with heavy to very heavy rainfalls in some places and hails at some places across the country.